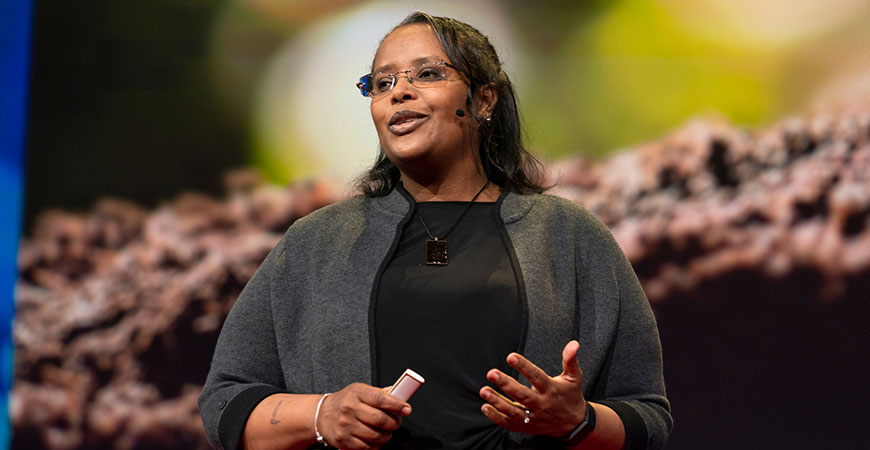 President Joe Biden has nominated UC Merced Professor Asmeret Asefaw Berhe to be the new director of the Office of Science in the federal Department of Energy.
In honor of Earth Day, the White House today announced nominations for a variety of federal posts in the departments of Energy, Transportation, State, Interior and Commerce, as well as for NASA. The Department of Energy's Office of Science is the lead federal agency supporting fundamental scientific research for energy, and the nation's largest supporter of basic research in the physical sciences.
Like all the nominees, Berhe will have to be confirmed by the U.S. Senate and would serve for as long as Biden is president.
Berhe is a professor of soil biogeochemistry in the Department of Life and Environmental Sciences in the School of Natural Sciences; the Ted and Jan Falasco Chair in Earth Sciences and Geology; and the interim associate dean for Graduate Education.
Her research is at the intersection of soil science, global change science and political ecology with an emphasis on how the soil system regulates the Earth's climate and the dynamic two-way relationship between the natural environment and human communities.
Berhe is widely recognized for her research, including having been an invited speaker at the TED conference in 2019, and for her advocacy for inclusion, anti-harassment and anti-bullying. She previously served as the chair of the U.S. National Committee on Soil Science at the National Academies; was a leadership board member for the Earth Science Women's Network; and is a co-principal investigator in the ADVANCEGeo Partnership — a National Science Foundation funded effort to empower (geo)scientists to respond to and prevent harassment, discrimination, bullying and other exclusionary behaviors in research environments. She is a fellow of the American Geophysical Union and the Geological Society of America, and a member of the inaugural class of the U.S. National Academies New Voices in Science, Engineering and Medicine.
Berhe was born and raised in Asmara, Eritrea. She earned a B.Sc. in soil and water conservation from the University of Asmara, an M.Sc. in political ecology from Michigan State University, and a Ph.D. in biogeochemistry from UC Berkeley. In 2020, she was named a Great Immigrant, Great American by the Carnegie Corporation of New York.