Every Fourth of July, the Carnegie Corporation of New York honors the legacy of its founder Andrew Carnegie, by recognizing an extraordinary group of immigrants, who are now naturalized American citizens, and who have made notable contributions to the progress of American society.
This year, soil biogeochemistry Professor, and Ted and Jan Falasco Endowed Chair in Earth Sciences and Geology, Asmeret Asefaw Berhe is among them. "I was very surprised when I got the news, and humbled to be included in the distinguished list of folks they have recognized for this honor," Berhe said. "I was born in Eritrea, but spent pretty much my entire adult life in the U.S. Leaving home, and learning the cultures and everything about a new place is obviously a daunting task. My story is a story of how you can overcome all sorts of hurdles that life may throw at you if you have the right support system; and that education is an effective tool for social integration."
The Great Immigrants initiative is a tribute to the legacy of Carnegie, a Scottish immigrant who rose from poverty to become a leading industrialist. Carnegie founded more than 20 philanthropic organizations, including Carnegie Corporation of New York, a grantmaking foundation established in 1911 to advance the causes of democracy, education and international peace.
Berhe stands among 37 other distinguished immigrants who represent 35 countries of origin and a range of fields, from human rights and computer science to art, journalism and sports.
This year, the Corporation is highlighting the work of millions of immigrants who are playing an essential role in the global health crisis as COVID-19 responders. A third of the honorees are nurses and doctors, as well as scientists, who are striving to find effective treatments and a vaccine.
Berhe's work studies the ways soil regulates the composition of the earth's atmosphere by controlling the flow of greenhouse gases between land and the atmosphere. She is a faculty member in the Department of Life and Environmental Sciences in the School of Natural Sciences. In April 2019 she delivered a TEDTalk on soil at the annual TED conference, which achieved 1.8 million views.
Among her many accolades, Berhe has been recognized as a New Voice in Science by the National Academies of Science, Engineering and Medicine and received a Presidential Award for Excellence in Science, Mathematics and Engineering Mentoring as a leadership board member of the Earth Science Women's Network. She is a 2019 recipient of the Randolph W. "Bill" and Cecile T. Bromery Award and in 2020 was recognized as Fellow of the Geological Society of America. She has also received a National Science Foundation CAREER award and won a Hellman Family Foundation Award in 2011 and the Young Investigator Award from Sigma Xi in 2014.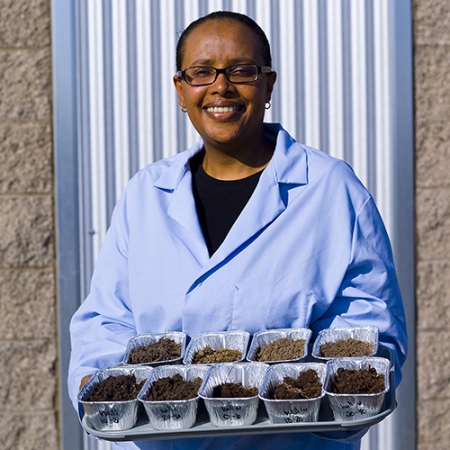 According to Berhe, her work has been largely influenced by her immigrant roots.
"My immigrant experience continues to affect every aspect of my life and work. In particular, I am always reminded of the fragility of peace, human rights and democracy," Berhe said. "Growing up in a different climate (atmospheric and social climate) I believe also gives me a broader perspective on how to think about climate change and its impacts, and the state of humanity globally."
The 2020 honorees, who mark the 15th class of Great Immigrants, will be recognized with a full-page public service announcement in the New York Times on July 4. A complete list of recipients can be found online.