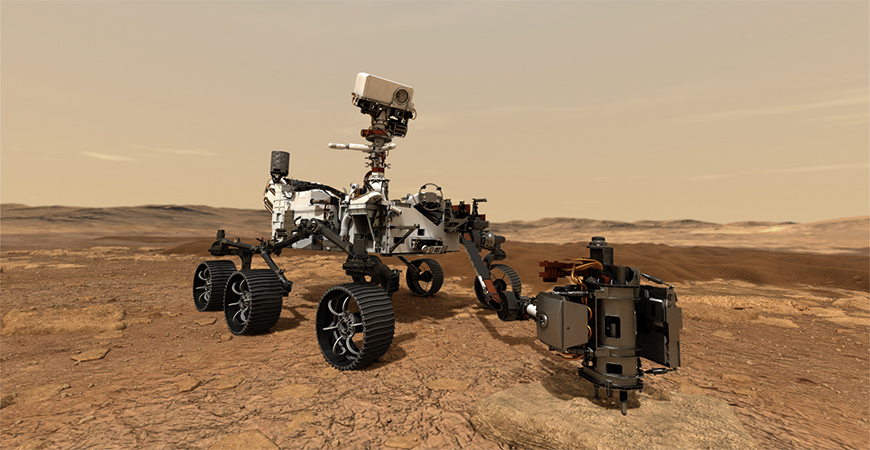 NASA's fifth exploratory rover is scheduled to head for Mars later this month to try and answer key questions about the potential for life on the red planet.
Before the rover leaves Earth, current and former members of UC Merced's Fundamental Tribology Lab conducted critical tests that will provide key information for the mission's success.
The Jet Propulsion Laboratory's (JPL) Mars 2020 mission is part of NASA's long-term Mars Exploration Program. The Mars Perseverance rover is expected to launch from Cape Canaveral Air Force Station in Florida as early as July 30. Once the rover arrives, its Sampling and Caching System will collect, package and store about 40 surface samples — a crucial part of the mission — to possibly be returned to Earth to help NASA identify potential biological specimens.
System level tests on the rovers' Adaptive Caching Assembly's (ACA) mechanisms found sensitivities to friction in functional performance testing. Investigations focused on possible frictional increases due to unexpected behavior of dry film lubricants used on components within the ACA that can impact the ability to perform certain functions on Mars.
"In the extreme environments of space, it is absolutely critical to understand how these materials are going to interact," said Duval Johnson, who leads the laboratory for Applied Tribology at JPL. "If our actuators don't work as expected, if our lubricated materials don't behave as they should, it could be a mission-critical type thing."
JPL sought the expertise of UC Merced's Fundamental Tribology lab, led by mechanical engineering Professor Ashlie Martini, to test the ACA's dry film lubricants.
"The mission will rely on mechanical components that can't be maintained. There won't be people up there to repair parts once the rover arrives on Mars," Martini said. "The traditional mechanisms and engineering approaches that we use here on Earth aren't necessarily applicable on Mars.
"We have to ensure that all of the mechanical components on the Mars 2020 project are highly efficient and function as long as necessary in the Mars environment without maintenance."
Johnson knows the tribology lab's capabilities well because Martini was his faculty advisor from 2014 to 2018, while he was earning a doctoral degree in Mechanical Engineering from UC Merced. (Read more about UC Merced alumnus Duval Johnson)
Johnson sent samples made of the same materials as the rover components and coated with the same dry film lubricants to Ph.D. student Azhar Vellore to test using the lab's tribometer — an instrument for measuring friction and wear. Such measurements quantify the resistance to motion, which determines how much energy it takes to move, and how much wear occurs, which enables prediction of how long moving parts will last.
"These samples are coated with the dry film lubricants that they plan to use in those [ACA] components," said Vellore, who is leading the project at UC Merced. "Based on the results I gather from testing, I can help NASA understand if these coatings can perform the way they want them to on Mars."
The Martini research group is performing some very critical and important data gathering for us and presenting that data in a way that helps us make critical, mission-sensitive decisions for Mars 2020.
Vellore began this investigation in December 2019 and wrapped up the testing in May, giving JPL time to implement the findings on the Mars Perseverance Rover before it launches. (Read more about graduate student Azhar Vellore)
"The Martini research group is performing some very critical and important data gathering for us and presenting that data in a way that helps us make critical, mission-sensitive decisions for Mars 2020," Johnson said.
"I'm incredibly proud of what Duval has done on his own and honored to have been part of his journey to achieve his goals," Martini said. "I'm excited to be working with Duval again and also proud of the contributions of our research group and of Azhar in particular."
Johnson said he enjoys JPL's collaborations with his alma mater — especially working with Martini and Vellore to increase the knowledge that the world has about tribology — but it's greater than that.
"It feels good to be part of something that has the ability to increase our knowledge of other planets and their creation and formation and life that has possibly been there before," Duval said. "It just feels good to be part of something that is bigger than this Earth."
Senior Public Information Representative
Office: (209) 228-4203
Mobile: (209) 628-8263