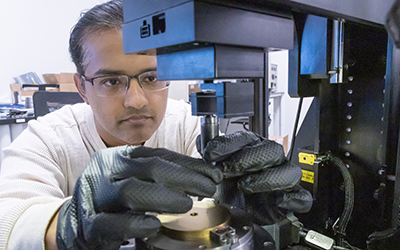 UC Merced Mechanical Engineering Ph.D. student Azhar Vellore has been critical in helping NASA's Jet Propulsion Laboratory test dry film lubricants to resolve friction-related issues for its Mars 2020 mission to extract and store Martian rock and soil samples.
For Vellore, this project is a dream come true.
"Since I was a kid, I've been incredibly interested in space," he said. "I was always checking out the science and technology section in the newspaper for space related stuff and what NASA was doing."
Vellore, who is from India, earned a master's degree in mechanical engineering at The State University of New York at Buffalo where he worked in developing a new kind of additive manufacturing technology.
The work he conducted for JPL is related to his dissertation research. Working in UC Merced's Fundamental Tribology Lab, he uses new and different technologies to perform experiments and discover innovative surface engineering and lubrication techniques for energy-efficient design.
"My work in tribology is essentially using experimental techniques to measure friction and wear on lubricants that might be liquid lubricants, solid lubricants or dry film coatings, which are currently being used for the Mars rover mission," he said. "I never knew I would be working on a project with NASA. I've come full circle."