UC Merced's Graduate Division hosted its third National Labs Day on April 21. The goal of the day-long event is to connect graduate students and postdoctoral scholars with researchers from across the nation, including campus alumni.
Associate Graduate Dean and physics Professor Sayantani Ghosh said the Graduate Division was delighted to revive the event after a three-year hiatus due to the pandemic.
"This event offers a unique networking opportunity for our graduate students and postdocs, and this year we had the additional chance to welcome back four UC Merced alumni as part of this event," she said.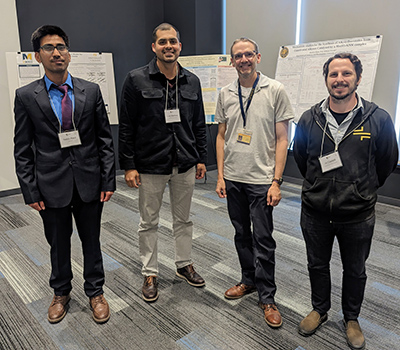 Researchers from four Department of Energy national labs discussed their career trajectories, current research, their campus's long-term plans and provided insights into their labs' recruitment processes. The speakers included:
Tanja Woyke, Microbial Genomics program lead and deputy director of the User Program at Joint Genome Institute (JGI) at Lawrence Berkeley National Laboratory, who is an adjunct professor at UC Merced.

From the National Renewable Energy Lab (NREL), Director of the Materials Science Center in the Materials, Chemical and Computational Science directorate Kirstin Alberi and research advisor Rob Hovsapian.

From Lawrence Livermore National Laboratory (LLNL), staff scientist in the Quantum Coherent Device Physics Group Kristin Beck, senior science adviser David Rakestraw and postdoctoral scholar Alessandro Castelli, who is a UC Merced alumnus.

Postdoctoral scholar Nabin Raut from the Thomas Jefferson National Accelerator Facility, who is a UC Merced alumnus.
"At Lawrence Berkeley National Lab, there's a strong emphasis on team science. Bringing different teams together that have different expertise and different skill sets to tackle questions that are only possible in a multidisciplinary team," Woyke said.
Attendees enjoyed an interactive physics workshop before lunch led by Rakestraw using the Phyphox app. He showed how to use the sensors in a mobile phone for experiments such as detecting the frequency of a pendulum using the accelerometer or measuring the Doppler effect using its microphone.
Graduate students and postdoctoral scholars had ample opportunities to make future career connections during breaks and lunch, which included a poster session.
The one-day conference concluded with a question-and-answer panel with Rita Kuo from Joint BioEnergy Institute/Agile BioFoundry at Lawrence Berkeley National Laboratory, Eric Schwegler, former UC Merced postdoctoral researcher David Quint and alumnus Luis Martinez, all from LLNL.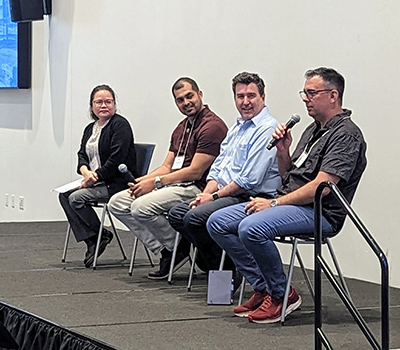 Senior Public Information Representative
Office: (209) 228-4203
Mobile: (209) 628-8263