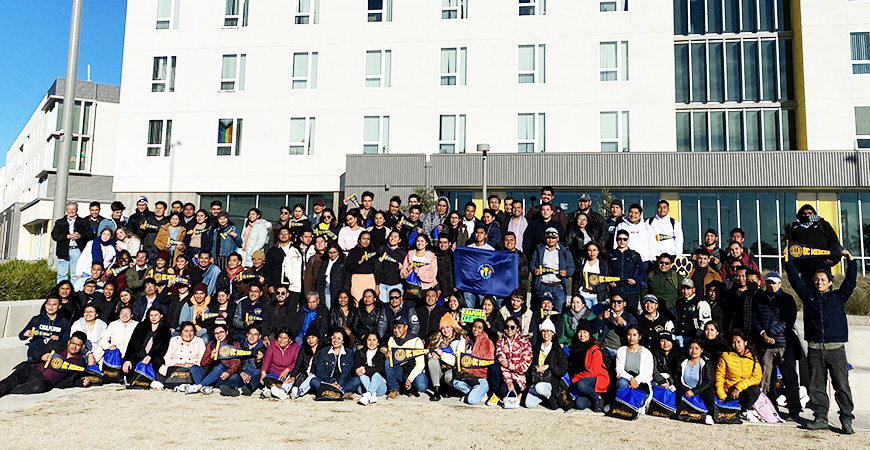 When three buses rolled onto campus on one chilly winter morning, UC Merced gave the occupants a warm Bobcat welcome.
More than 100 undergraduate students and faculty members from Universidad Autónoma Chapingo — an agricultural institution in Texcoco, Mexico — visited the UC Merced campus on March 1 to learn about research programs and graduate studies.
Last year, Chancellor Juan Sánchez Muñoz and other campus representatives traveled to Mexico to help launch a climate change initiative and create a pipeline for students in California and Mexico.
During their trip, they visited several universities and met with leaders from Universidad Autónoma Chapingo and discussed opportunities for further research collaborations between UC Merced and the institutions.
"Chancellor Muñoz is very committed to increasing our research and educational ties with Mexican universities," said Special Assistant to the Chancellor Marjorie Zatz, who led the event. "We are becoming known as an agricultural technology powerhouse and these students are from the top agricultural university in Mexico. We can learn a lot from one another."
The University of California has a long history of strong partnerships with Mexico. In 2019, Alianza UCMX was formed through the integration of three existing UC systemwide programs: the UC Institute for Mexico and the United States (UC MEXUS), Casa de la Universidad de California en Mexico (Casa de California) and the UC-Mexico Initiative.
The visitors' day started with a campus tour — highlighting the campus's greenhouses and Experimental Smart Farm — followed by faculty and staff presentations about research in the areas of agricultural technology, plant biology and sustainable agriculture.
Fabian Martínez, who is in his final year of undergraduate studies as an agricultural engineer specializing in agricultural parasitology, said his father's love of nature and insects taught him that he needs to take care of the environment.
"That has had an influence on me," said Martínez, who is following in the footsteps of several engineers in his extended family.
"UC Merced's technology and resources are great. The professors have an eye to the future," he said. "I appreciate that all these innovations and multidisciplinary areas are being shared with others."
Belem Jaimes González, who is also in her final year of undergraduate studies to be an agricultural engineer specializing in agricultural parasitology, enjoyed visiting the UC Merced campus.
"It has been incredible. There are a lot of differences between universities in Mexico and ones in the U.S.," she said. "The ones here are larger, they're maintained well, and this one is impressive from the moment you walk in, including the size of the buildings and how they're laid out."
During lunch, the students were offered more information about graduate programs at UC Merced and drone research opportunities in hopes of encouraging them to consider graduate studies at the campus, while faculty from the two institutions met to share ideas for future collaborations.
Zatz said convening binational research teams with the faculty from the two institutions is another goal of the visit.
Before leaving campus, Jaimes González offered UC Merced students an invitation: "If any of you would ever like to visit Universidad Autónoma Chapingo, you all are welcome."
Senior Public Information Representative
Office: (209) 228-4203
Mobile: (209) 628-8263