Many faculty members are experts in their fields, pioneering new ways to think about complex subject matter. But how does one communicate that research in a simple way, specifically when seeking funding to further their research? That's where the Office of Research Development steps in.
In January, the vice chancellor of research, school deans, Organized Research Unit directors and the Office of Research Development facilitated the first Faculty Success Initiative-Extramural Funding Fellowship. An inaugural cohort of 15 faculty fellows from a variety of departments were selected from the applicant pool to learn key ways to synthesize their work for wider audiences. The aim of the program is to support faculty in the pursuit of extramural funding, with the goal of growing the university's research enterprise, advancing concepts in science and enhancing national health and welfare.
"For faculty, we want them to feel fully supported and know they have campus partners in their pursuit of extramural funding," said Melinda Laroco Boehm, director of research development.
Each fellow received $2,000 for participating in the week-long program and may receive an additional $1,000 if a grant is submitted within 12 months of program completion.
As the youngest university ever to receive Carnegie R2 classification, the UC Merced academic community is focused on advancing the work of its faculty, something important to School of Social Sciences, Humanities and Arts Interim Dean Jeff Gilger, who was a driving force in getting the program off the ground.
Gilger collaborated with many colleagues to make the program a reality. Key partners include: Vice Chancellor of Research Sam Traina, School of Natural Sciences Dean Elizabeth Dumont, School of Engineering Dean Mark Matsumoto, Graduate Division Dean Marjorie Zatz, Health Sciences Research Institute Director Deborah Wiebe, Research Development Director Melinda Laroco Boehm and Research Development Officer Kelly Bolcavage.
"This campus collaboration started this past summer when we all agreed that there was a need to facilitate the success of faculty," Gilger said. "We then created this program for our campus, as well as a presubmission/resubmission external review program for grant writers at any stage of their career. It was a great pleasure to see the schools, divisions and institutes work so well together."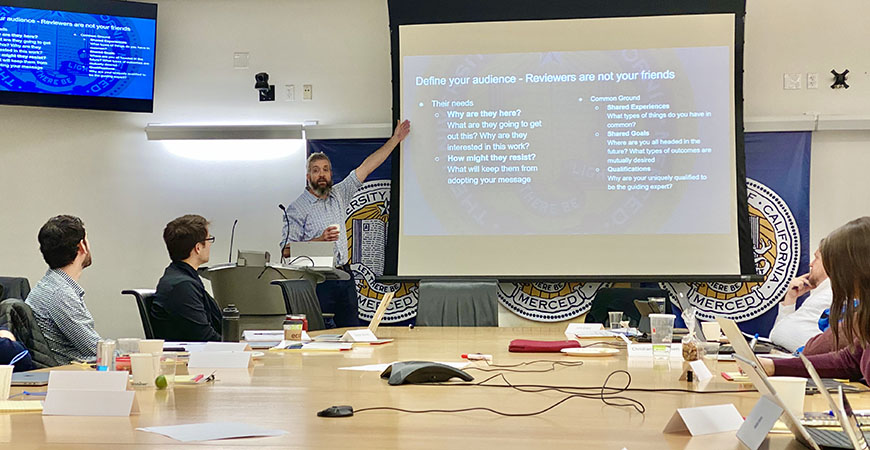 The program was facilitated by John Crockett, senior director of sponsored research project development and management at San Diego State University. Over the course of the week, Crockett showed fellows proven tools to help them communicate their goals and secure funding for their research. The program focuses on mentoring early-career faculty and new investigators in skills that range from corresponding with grant officers, to finding funding opportunities, developing successful proposals, interacting with the media and more.
"Beyond providing valuable training in applying for extramural grants, the FSI-EFF program taught me strategies to more effectively communicate my research to audiences outside of my field," said fellow Denise Payan, a professor in the Department of Public Health.
Those interested in applying for the next Faculty Success Initiative-Extramural Funding Fellowship can expect applications to be available by late fall.
Senior Public Information Officer
Office:(209)585-6341