The Bobcat culture of giving will be celebrated with cookies and fun on Thursday, as the campus marks UC Merced Philanthropy Day hosted by the Student Alumni Association.
"The annual celebration highlights and supports the spirit of philanthropy across the campus community," said Alumni Relations Specialist JaeJae Julian ('10), a graduate who advises the Student Alumni Association. "This truly is a day for Bobcats to define what philanthropy means to them and learn ways we can make a difference in our communities — whether it's dedicating our time to volunteer, sharing our skills as mentors, or fundraising for student scholarships."
This year's Philanthropy Day is putting a spotlight on the MSSM Friendship Scholarship, which was founded by Dr. Christine McFadden, a Merced veterinarian, philanthropist and writer, in celebration of the lives of her children Melanie, Stanley, Stuart and Michelle.
The children are honored in the McFadden-Willis Reading Room atop the campus library, where there is a portrait of the four.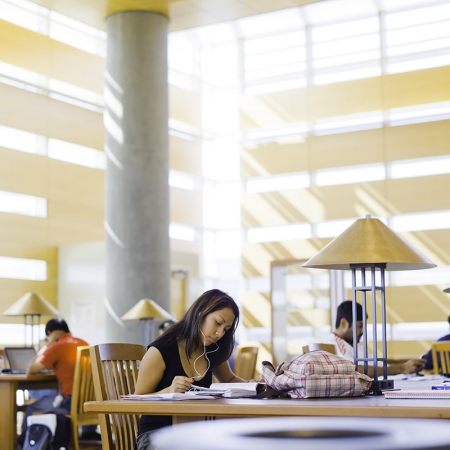 This year, the foundation awarded MSSM Friendship Scholarships of $1,000 each to four UC Merced students.
Fourth-year environmental engineering major Spencer McDermott says the scholarship has helped him fund his education without having to rely as heavily on his family.
"It means everything to be accepted for any scholarship, but particularly for the Friendship Scholarship," McDermott said. With its theme of friendship, he said, "I feel especially honored to be recognized, and I hope to someday be able to give back to the community."
On UC Merced's Philanthropy Day, anyone wishing to support the MSSM Friendship Scholarship for UC Merced students will be able to do so by purchasing "Friendship Cookies."
The pawprint-shaped sugar cookies will be sold for $2.86 each, with $1 of each sale going to the scholarship fund. The cookies will be available in the Lantern from 7 a.m. to 7 p.m. on Thursday.
Bobcats also will be able to use the cookies to create "Friendship Goodie Bags" for their friends. Tables set up on Scholars Lane from 10 a.m. to 2 p.m. will have stations for people to create friendship cards or bracelets and take photos.
They also will be able to learn about the many forms of philanthropy that are supported by UC Merced clubs and organizations through both volunteer hours and fundraising. Signage on campus will highlight the many ways UC Merced alumni and students have made a meaningful impact on the campus community. For example, showcasing alumni donors, class gifts, and the incredible turnout of student participation in the annual Give Tue UC Merced campaign.
Despite its young age, UC Merced has already proven to be a campus with one of the nation's strongest cultures of giving. Last year, U.S. News and World Report said UC Merced's rate of alumni giving ranked No. 27 in the nation among public universities . Already, a dozen Bobcat alumni have committed to endowing scholarships by pledging $10,000.
Julian, who is among the 12 alumni who have endowed a scholarship, said Philanthropy Day is about continuing the tradition of giving.
"That's what builds our community," she said. "And that's what makes us Bobcats."