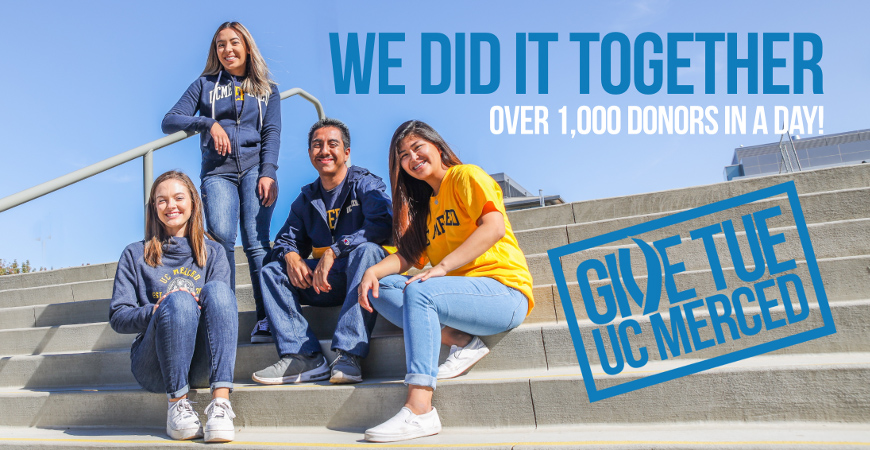 Goal achieved! UC Merced supporters turned out in force on Giving Tuesday with a record number of donors contributing to campus scholarships and fellowships.
More than 1,300 individuals donated during the 24-hour Give Tue UC Merced campaign on Dec. 3, surpassing the event's goal of 1,000 donors.
"What an amazing demonstration of support for UC Merced!" said interim Chancellor Nathan Brostrom. "I have been so impressed by the generosity of our students, faculty and staff, along with their friends and family. Our students in particular really, really amaze me and their tremendous spirit of giving made this year's Give Tue UC Merced so successful."
Current Bobcats accounted for the majority of donors this year, making up nearly 60 percent of those who contributed.
More than $180,000 was donated on Tuesday, surpassing last year's contributions and bringing the total raised in the six years of the campaign to nearly $1.8 million.
The Give Tue UC Merced campaign benefitted from $100,000 in matching funds from Foster Poultry Farms. Generous matching gifts also were provided by Dr. Robert Bernstein and Dr. Jane Binger, and Vice Provost and Graduate Dean Marjorie Zatz.
Carolyn Vara, president of the San Joaquin Valley UC Alumni Network and a longtime UC Merced supporter, encouraged students on campus Tuesday to donate by offering to match their gifts.
Bobcat alumni revved up support by posting selfies and "shout outs" on social media challenging their fellow alums to pitch in. Donations came in from at least 16 states, and as far away as New York and Massachusetts.
The contributions demonstrated the university's solid record of alumni backing. This year, US News & World Report ranked UC Merced as No. 27 in alumni giving among public universities even though its alumni, with an average age of just 27, are considerably younger than those from most other universities.
The Give Tue UC Merced campaign is the main funding source for the Build the Future Scholarship Fund, which is helping 144 students in the 2019-20 academic year. Contributions also help other areas of UC Merced, including fellowships to support graduate students.