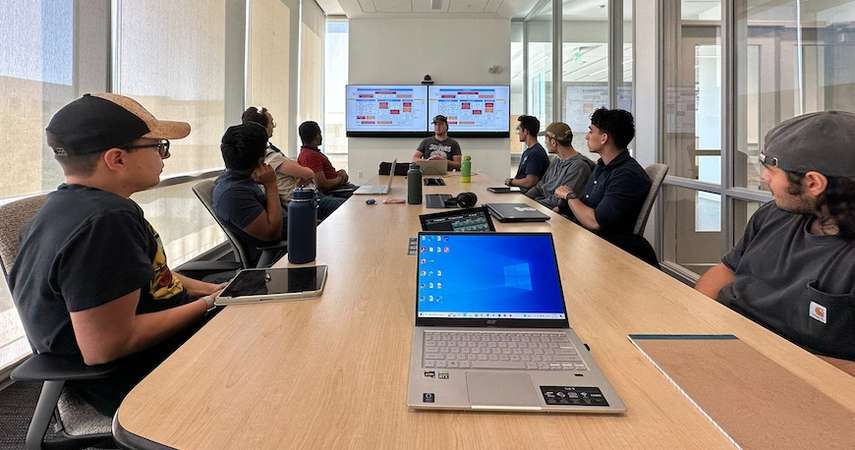 A team from UC Merced has been selected to participate in the Department of Energy (DOE) "BattChallenge," a three-year competition to develop a battery for an electric vehicle.
Mechanical engineering Professor Ricardo Pinto de Castro is leading a team of students that will design, build, test and integrate an advanced EV battery pack into a Stellantis vehicle. Stellantis, the manufacturing company formed when Fiat Chrysler Automobiles merged with French automaker Groupe PSA in 2021, is a co-sponsor of the event.
BattChallenge, the collegiate competition, is part of the broader Battery Workforce Challenge Program, which also includes regional training with vocational and community colleges; youth education in science, technology, engineering and math (STEM); and an online tool for career and technical education.
The selected teams were made public at the DOE headquarters in Washington, D.C. UC Merced will compete against 11 other teams, from California State University, Los Angeles, Clemson University, Colorado School of Mines, Jackson State University, McMaster University, Ohio State University, Rose-Hulman University, University of Alabama, University of Michigan, Dearborn, University of Nevada, Las Vegas and University of Waterloo.
Participating universities will develop partnerships with community colleges, trade schools, apprenticeship schools or other vocational partners, collaborating to solve complex battery engineering and manufacturing challenges. The competition is designed to help prepare a diverse workforce for future battery engineering and manufacturing careers, according to Argonne National Laboratory, which is managing the challenge. The DOE estimated that building a domestic battery supply chain will require more than 230,000 jobs by 2030.
Students will learn valuable project management, communications, teamwork and problem-solving skills that will provide them an unparalleled educational experience and ready them for careers in the battery industry, organizers said.
Teams will design a custom battery pack using production battery cells and complete a professional battery design review with the competition's subject matter experts. Once they meet the rigorous automotive safety and design requirements, teams will build, test and integrate their advanced battery packs into a production Stellantis vehicle. This hands-on experience will include functions such as wiring, battery management (monitoring voltage, current, temperature, safety and controlling power interface and cell balancing), structural integrity, thermal management, power interfacing, SOC/SOH/cell balancing algorithms, fusing, power bussing and enclosure that will all be integrated into a Stellantis vehicle.
UC Merced's team is ready to get started.
"As a project manager for the Battery Workforce Challenge, I am committed to guiding and inspiring a diverse team of university and community college students to tackle the critical task of optimizing various facets of electric vehicle batteries," said Dilawer Ali, one of two student leaders of the UC Merced team (Chase Williams is the other). "This challenge will not only drive innovation in the EV industry but also holds personal significance as it aligns with my career as a research scholar dedicated to advancing sustainable transportation solutions and will allow me to contribute significantly to the sustainable mobility revolution."
Added Williams: "The technical portion of the competition will provide students with the opportunity to obtain invaluable knowledge and skills pertaining to computer-aided-design, thermal management, battery management and testing, mechanical design, and more. In my opinion, this competition serves as the perfect catalyst for any student interested in obtaining professional experience, both technically and administratively, pertaining to the automotive industry."