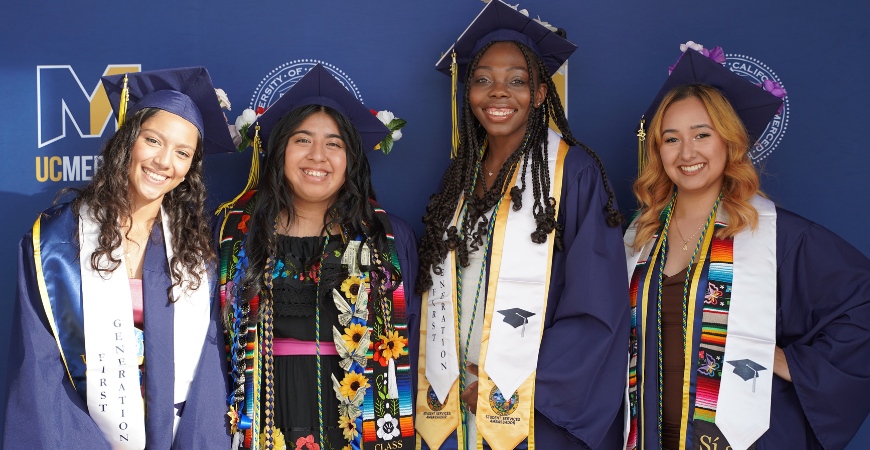 UC Merced has received the 2023 Higher Education Excellence in Diversity (HEED) Award from INSIGHT Into Diversity magazine, the oldest and largest diversity-focused publication in higher education.
As a recipient of the annual HEED Award - a national honor recognizing U.S. colleges and universities that demonstrate outstanding commitment to diversity and inclusion - UC Merced will be featured, along with 107 other recipients, in the November/December 2023 issue of the magazine.
"UC Merced takes seriously its designation as a Hispanic Serving Institution; we are proud that our efforts to cultivate a diverse and inclusive campus where all students can thrive has been recognized with the HEED award," said Delia Saenz, UC Merced vice chancellor and chief diversity officer. "Our campus, the most diverse in the University of California system, was praised for our efforts to support and strengthen retention and graduation rates for historically underrepresented and first-generation college students."
UC Merced makes special efforts to maintain diversity and increase access and inclusion by providing programs including a Transfer Academy to help first-generation college students and low-income transfer students learn about the resources and support we offer to help students succeed, and a Parent Pathways Conference to provide workshops on financial literacy and college preparation to Spanish-speaking parents. University programs and initiatives include free tutoring, a focus on first-generation college student experiences and summer bridge programs, to name a few.
UC Merced was also lauded for intentional programs focused on building inclusive communities and strengthening a sense of belonging. For example, the Division of Equity, Justice, and Inclusive Excellence partnered with the Center for Engaged Teaching and Learning to equip faculty members with the skills and practices to prioritize student learning through anti-racist pedagogy.
To further academic excellence, the Undergraduate Research Opportunities Center (UROC) established the Summer Undergraduate Research Institute (SURI). This program offers six distinct nine-week summer programs tailored to first-generation and underrepresented students, providing services and programming while also alleviating financial burdens through stipends.
"The HEED Award process consists of a comprehensive and rigorous application that includes questions relating to the recruitment and retention of students and employees - and best practices for both - leadership support for diversity, campus culture and climate, supplier diversity, and many other aspects of campus diversity and inclusion," said Lenore Pearlstein, publisher of INSIGHT Into Diversity magazine. "We take a detailed approach to reviewing each application in deciding who will be named a HEED Award recipient. Our standards are high, and we look for institutions where diversity and inclusion are woven into the work being done every day across their campus."
For more information about the 2023 HEED Award, visit insightintodiversity.com.

Public Information Officer
Office: (209) 413-9330