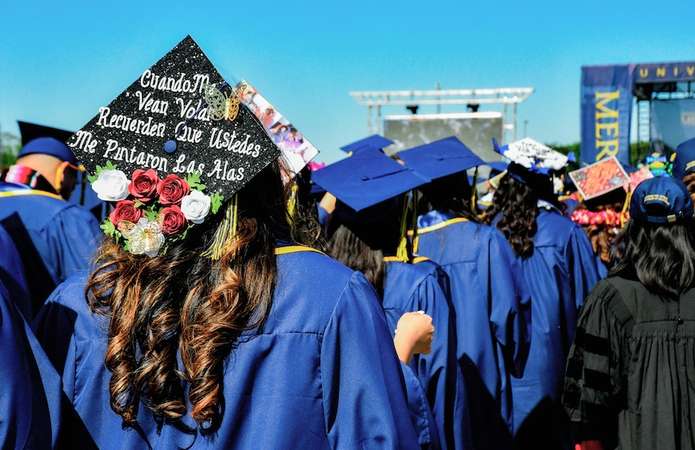 Merced is one of five University of California campuses designated a Hispanic Serving Institution, or HSI. (The others are Riverside, Santa Cruz, Irvine and Santa Barbara.)
But what does it mean to be designated an HSI? Yvette Gullat, University of California vice provost for Equity, Diversity and Inclusion, explained in a Q&A published earlier this year.
"Institutions of higher education like the University of California that seek this designation must request eligibility through a federal application process and meet a threshold that they enroll 25 percent or more of Latinx or Hispanic students," she told the UC Newsroom. "They also need to have a certain percentage of students eligible for federal grants that apply to low-income, first-generation or underserved students."
At Merced, which first received the designation in 2010, more than 53 percent of students are Hispanic and 71 percent of enrolled students identify as first-generation (a student whose parents did not complete a four-year college degree).
First-year student Sara Giron, from Los Angeles, said UC Merced's status as an HSI was a large part of the draw for her to attend.
"I went to a very college-oriented high school," she said. "Most universities are predominantly white. I thought I would find my community here. I enjoy being here because of it."
The efforts at UC Merced have not gone unnoticed by people outside of campus.
In August, the university received a Hispanic-Serving Institution Impact Award from Angeles Investors, a national group of angel investors focused on finding and funding Hispanic and Latino ventures. Assistant Vice Chancellor for Student Engagement Brian O'Bruba represented the university at an award ceremony Aug. 18 in Chicago.
"We are proud to be a Hispanic Serving Institution with a student body that is more than 55 percent Hispanic," O'Bruba said while accepting the award. "We are proud that in recent years our graduation rate for Hispanic students has outpaced other demographic groups. We are proud to be a founding partner of the Hispanic-Serving Institutions Career Collaborative, which builds recruiting partnerships with the nation's top employers.
"We are proud of the work we do every day to ensure the success of our students."
And last year, UC Merced was one of only 10 institutions nationwide to be recognized with the prestigious Seal of Excelencia by Excelencia in Education, a national organization devoted to the advancement of Latino student success in higher education.
Being an HSI is about more than just about numbers and eligibility, Gullat explained. It also means having an intentional focus and sustained effort to create the kind of campus climate that will help students from underrepresented groups thrive.
"That means you're building and cultivating a sense of belonging on the campus and within the campus community and you're creating an environment through teaching, learning and research that is going to respect and value multiple cultural and racial experiences and perspectives," she said. "It means you have a faculty that reflects the students' experience. You have the infrastructure that allows those students to thrive."
But is being an HSI an indication that students, faculty and staff from other ethnic backgrounds aren't welcome?
Not at all, Gullat explained in her interview.
"A campus that is supporting the needs of Latinx students is going to be able to provide support across the broader domain of students," she said. "You see that at UC with the supports we provide for student basic needs for our most underserved students, for specific student populations like foster youth or formerly incarcerated students, and in our pre-college and pre-transfer programs for California's diverse K-12 and community college students.
"That, by extension, benefits and supports the broader array of students, because our classrooms now have those voices and perspectives."