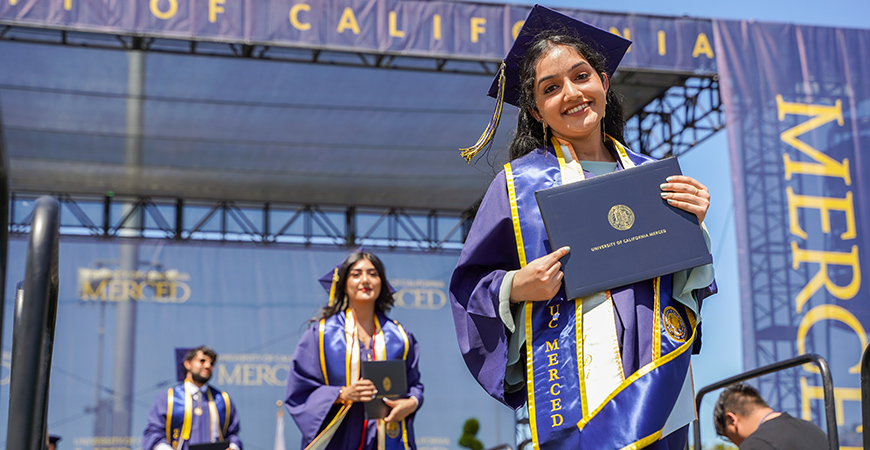 Nearly 1,500 students plan to participate in UC Merced's Spring 2023 Commencement that will be celebrated with three distinct ceremonies on the campus's Recreation Field.
The first ceremony kicks off Friday, May 12, at 6 p.m. for the Graduate Division. Forty-one master's candidates and 61 Ph.D. candidates will cross the stage and be recognized during the ceremony.
A combined ceremony for the School of Engineering (SoE) and School of Natural Sciences (SNS) is set for Saturday, May 13, at 9 a.m. A total of 612 undergraduate students (282 from SoE and 330 from SNS) will take part.
The final ceremony, Sunday, May 14, at 9 a.m., will be for the undergraduate students in the School of Social Sciences, Humanities and Arts (SSHA). That celebration will honor 727 Bobcats.
Graduate students will hear from a familiar voice. Environmental public health Professor Ricardo Cisneros ('08) has been selected as the keynote speaker for Friday evening's ceremony. The UC Merced alumnus focuses his research on environmental health, Valley fever and forest fires, among other topics.
NASA astronaut Joseph M. Acaba will give the keynote address at both weekend ceremonies for undergraduate students. The Southern California native was selected by NASA in 2014 and has logged more than 300 days in space, including a mission that took him on the space shuttle Discovery to the International Space Station.
Gehad Elhanafy has been selected as the student speaker for the SoE-SNS ceremony, while Kimberly Farias will deliver remarks as the student speaker for the SSHA ceremony.
Admission into the ceremony venue requires digital tickets, which students have received via their campus emails. Tickets may be shared with family and friends, but only one person is allowed onto the field with each ticket.
Gates to the field will open two hours before the start of each ceremony. Attendees are encouraged to arrive early to campus to allow ample time for parking and security screenings.
All guests will be subject to metal detector and other screenings, and bag checks may be required. For a faster process, guests are asked to only bring necessary items into the venue. No backpacks or large bags will be permitted; small or clear bags are encouraged.
Prohibited items:
Air horns, beach balls, signs, umbrellas or other distracting items that will obstruct the view of others
Balloons or inflatables of any kind
Alcohol
Any type of smoking or tobacco products
Illegal drugs or drug paraphernalia
Weapons of any kind, including firearms and knives
Drones (UAS - unmanned aircraft systems) or other model aircraft
Animals, except for registered guide dogs
Backpacks (diaper bags or bags carrying medical needs are approved)
Guests are encouraged to check the weather forecast because all three ceremonies will be outdoors. Comfortable shoes are also a good option as graduating students and guests will be walking on asphalt, cement and grass.
The venue will have designated spaces for guests using wheelchairs. Each ceremony will also have a sign language interpreter.
A livestream of each undergraduate commencement ceremony will be transmitted inside the Conference Center on Saturday and Sunday. Limited seating will be available.
People who are not able to make it to commencement in person can enjoy a livestream of each ceremony online. The video feed will also include graduating Bobcats walking through the Beginnings sculpture, signifying their transition from students to alumni.
The breakdown of Spring 2023 Commencement is as follows:
Graduate Division
Friday, May 12, 2023
6 p.m.
School of Engineering and School of Natural Sciences
Saturday, May 13, 2023
9 a.m.
School of Social Sciences, Humanities and Arts
Sunday, May 14, 2023
9 a.m.
More information about commencement weekend is available at commencement.ucmerced.edu.