First-year student Edwin Casillas found everything he was looking for in a university — and more — at UC Merced. Nearly a year after the Sonora native said he "felt at home" when visiting the campus, he is confident he made the right decision to become a Bobcat.
Casillas juggles a very busy schedule. His days often consist of practicing with his teammates on the men's soccer team, running from one class to another, studying and meeting up with his friends. During a recent weekday, he provided some insight into how and why he keeps pushing to be better than the day before.
Soccer is a major part of Casillas' life. Ever since he started to walk, he's had a soccer ball in front of him. For one Christmas, he asked his parents if he could play competitively.
So it's no surprise that the first thing Casillas does after waking up in his dorm is walk across Scholars Lane to practice his soccer skills on Bobcat Field. As a center back, he knows he is the spine of the team and has to put in the time with his teammates.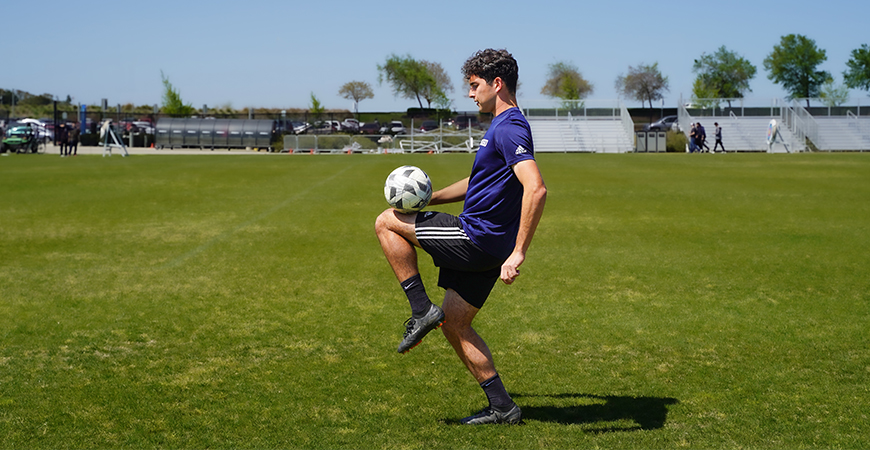 Casillas admits he can feel sluggish in the morning and doesn't always feel like hitting the field, but he keeps on pushing because soccer is that important to him.
"I played club and high school soccer, so my parents sacrificed so much of their time," he said. "Every weekend, my family and I would travel to the Bay Area, LA and the Valley for games."
But it was worth it, he said. Not only did Casillas get to "expand his horizons" and experience cities other than Sonora, he also continued to make a name for himself.
During a club soccer game, UC Merced head men's soccer coach Albert Martins was in attendance and invited him to practice with the team on campus. It was a no-brainer for the young player.
"When I came to practice with the team, that already gave me a really good impression of the campus. It's a very welcoming environment. You feel accepted," Casillas said. "Soccer is what kind of put UC Merced in my mind as a good option for me."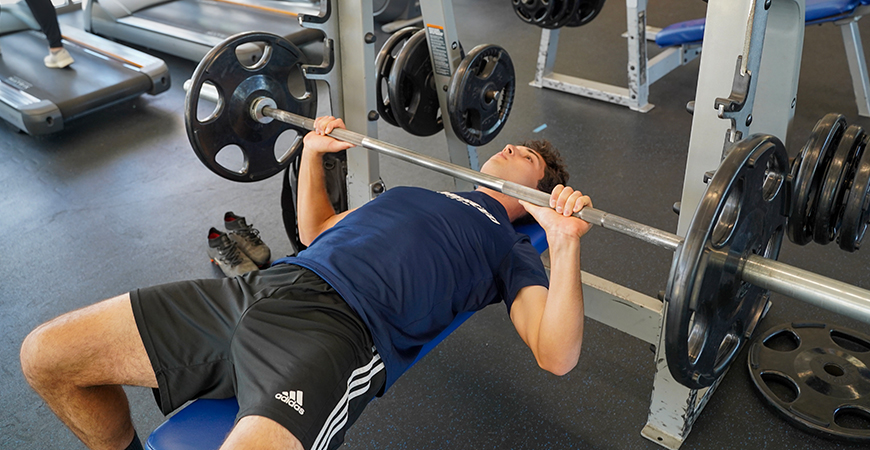 Training doesn't end after an hour or two on the field. Next up is the gym. Casillas walks up to either the Joseph E. Gallo Recreation and Wellness Center, or the Student Activities and Wellness Center — whichever is not too crowded.
There, he focuses on lifting weights and strengthening his core, which he said is vital when it comes to game time. He said no matter how sore or tired he may be from practice, he powers through bench presses, pull-ups and other exercises to stay on top of his game.
Once lunchtime hits, Casillas usually makes his way to the Pavilion to grab a bite to eat. Given that he works out a lot during the morning and has a full day of classes and studying ahead, he said he likes to load up on protein to give him the natural energy he needs.
"I love that it's buffet style because you can get everything you want and need," Casillas said. "It makes it so much easier since I can stop by whenever I want and get a full plate of good food or just a cookie."
After sitting for a bit to enjoy his meal, talking with his friends and taking in the green spaces the campus offers, Casillas heads to his classes. As a mechanical engineering major, he knows his courses are challenging, but he's sticking with it.
"It's like running a marathon. You don't sprint the first mile; you have to pace yourself," he said. "You're not going to go and learn every little thing in class in the beginning. The most important thing is understanding the main concept that the professor is trying to teach in each lecture."
Casillas said there are sometimes misconceptions about students who are studying science, technology, engineering and math (STEM). But he has seen first-hand the different backgrounds and points of views of his fellow Bobcats in his classes.
"Some people think engineering students, STEM majors, spend all their time studying, working hard and probably not socializing," he said. "But I look around in my class and it's very diverse. There are all kinds of students there."
The Sonora High School graduate said finding a university that had both a soccer team and mechanical engineering as a major was very important for him, which is why UC Merced was the perfect choice. He's excited to start his second year and participate in internships because he wants to put into practice everything he's learned so far in the classroom.
What he will do with his degree is still in the works, but he said the possibilities are intriguing.
"I love math, science and understanding what's going on around me," he said. "I've always loved cars and how they function. I'm really curious about that. I really like doing hands-on stuff."
To round out his day, Casillas heads to the UC Merced Library or the second floor of the Student Activities and Wellness Center to study. By now, it's been a long day, but his goal is always at the forefront of his mind.
"I want to be an engineer, I will stick to it, and I'm going to see it through," he said. "That's my mentality. Once I start something, I'm going to finish it."
Casillas said math and science have "always come easy" for him, but he also appreciates that there are several quiet spaces on campus where he can focus on his readings and not be distracted, like the McFadden Willis Reading Room on the fourth floor of the library.
At the end of the day, soccer has influenced just about every aspect of Casillas' life, including socializing and time-management skills. He understands that he's learned more than just kicking a ball or preventing the opposing team from scoring.
"I've been talking to a lot of engineers, and they say team-player skills are really valuable because you have to work in groups," he said. "I know and understand how to talk to people because in soccer you need to communicate what other players need to do, and they need to communicate what you need to do to help them because it's a team sport. You don't defend or score by yourself."
Casillas has worked hard to get to UC Merced and find success during his first two semesters. The first-generation college student said he hopes he's making his parents proud, especially because his family, educators and soccer coaches played big roles in preparing him to get here.
Still, there is much work to be done. Casillas said he is grateful to wake up every morning and continue doing what he loves and achieving his goals.
"When I came to college, I had really high expectations that I would get As in all my classes and that they would be a breeze," he said. "In reality, not everything is going to be perfect, but the twists and turns are what make life fun. Being at UC Merced has helped me find the best version of myself."