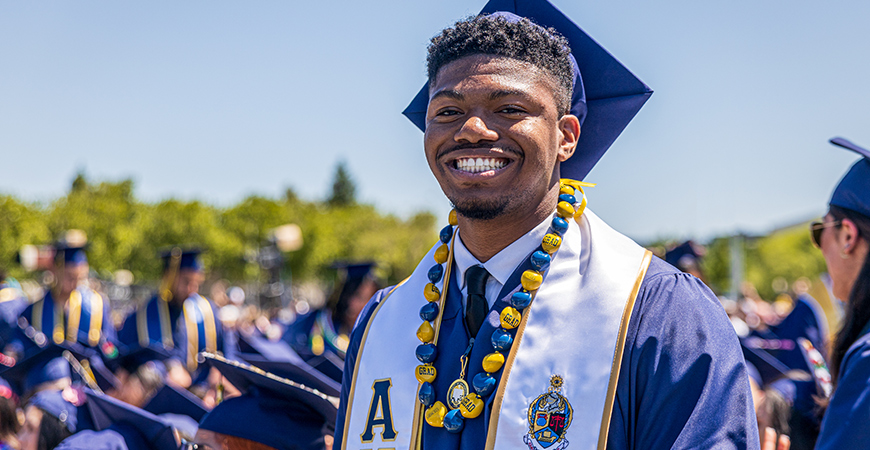 Final exams are keeping Bobcats busy. The temperature is starting to creep up, ushering in the feeling of summer. Spring 2023 Commencement is fast approaching.
For students who are about to graduate from UC Merced, the days and hours before crossing the stage at Recreation Field can feel like both an eternity and a blink of an eye. No matter how many years they have been here, the time spent at 5200 N. Lake Road will live with alumni for the rest of their lives.
It's no surprise, then, that many students are looking for ways to romanticize and immortalize their UC Merced journey. To help with this, the Office of Alumni Relations took to social media to ask, "What is something students should do before they graduate?" Here are 10 of the top suggestions.

1. Take a walk on campus
It's something that students did every day: walk to class, to the Pavilion, to the library and other buildings. But taking a walk with no real destination can be one of the most therapeutic exercises on campus. There may be some bias floating around, but UC Merced is one of the most green and spectacular campuses. Soak it all in one last time before becoming an alum.
2. Hang out with friends
This, too, is something that Bobcats did on a daily basis. With graduation comes the reality that distance may change the frequency with which friends hang out with one another. This is the perfect time to schedule some fun activities with close friends to add to the already long list of memories. It doesn't have to be elaborate or costly; students know that some of the best times with friends have consisted of lounging in a dorm room or living room and just talking about life.
3. Get some sleep
The Centers for Disease Control and Prevention recommends adults get seven to eight hours of quality sleep per night. That's probably not something many college students adhere to, especially as they prepare for graduation. However, the time between a Bobcat's last exam and commencement could be the perfect chance to catch some Zs. After all, graduates will want to look fresh in the hundreds of photos their families and friends will take at commencement.

4. Take a photo at a UC Merced sign
As UC Merced has grown, so has the number of signs that display the campus's name. UC Merced signage is located along Lake Road, Scholars Lane and University Avenue. Students are encouraged to take photos in their academic regalia in front of a sign to capture this important milestone. The images can also be shared with the university on social media by using #UCM2023.
5. Relax at the campus amphitheater
From Shakespeare in Yosemite productions to lunch dates, the Wallace-Dutra Amphitheater is a popular outdoor venue among Bobcats. The neighboring lake and fountain create a tranquil and scenic space. With the hustle and bustle of preparing for commencement, students can stop by the amphitheater for a moment of Zen, or they can even do some stargazing at night.
6. Ride CatTracks around Merced
CatTracks gets Bobcats from points A to B in a timely manner and free of charge. Many students - especially those who live off campus - use the bus system daily, while others may never have gotten around to it because they own vehicles or are part of a carpool. Whether graduating students plan to stay in Merced or move back to their hometowns, taking a ride on CatTracks throughout the city of Merced can evoke some nice memories of the past few years.
7. Walk to Lake Yosemite
A popular spot near campus is Lake Yosemite. Students, faculty and staff are known to make the short walk to the neighboring lake and picnic area, especially when the weather conditions are nice. Having lunch with friends and taking some photos could make for a fun afternoon.
8. Snap a photo at Beginnings
The Beginnings sculpture in the Carol Tomlinson-Keasey Quad is one of the most recognizable icons of UC Merced. Incoming students who participate in Scholars Bridge Crossing begin their journeys at the university by walking through the sculpture. During commencement, Bobcats walk in the opposite direction, signifying their transition from students to alumni. The curved metal coupled with the bright green grass make this the perfect background for a photo.
9. Thank faculty and staff
It goes without saying that faculty and staff are some of students' biggest cheerleaders. Professors share personal cellphone numbers with Bobcats in case they have urgent questions. Staff members put in long hours to ensure that events for students are a success. A simple "thank you" goes a long way and reminds faculty and staff why they are at UC Merced.

10. Stay connected with UC Merced
Upon graduation, every graduate of UC Merced with a conferred degree is granted lifetime membership to the UC Merced Alumni Association. To date, the university boasts more than 16,000 alumni across California, the United States and overseas. Alumni are encouraged to connect with the Office of Alumni Relations and keep their contact information updated to be among the first to know about events and networking opportunities on and off campus. More information is available at alumni.ucmerced.edu.