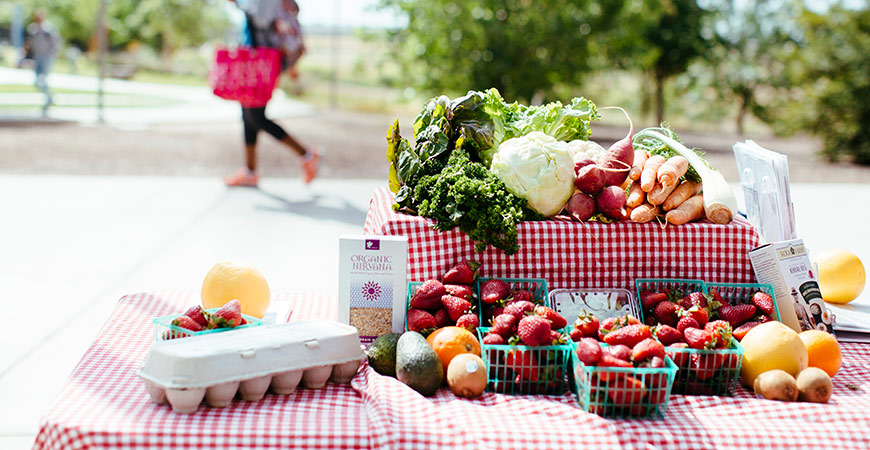 UC Merced's Office of Sustainability's Bobcat Eats Food Waste Awareness and Prevention Program, in partnership with United Way of Merced, Community Initiatives 4 Collective Impact and the 18th St. People's Garden, has been awarded a $250,000 grant from the Department of Resources Recycling and Recovery (CalRecycle.)
The two-year Edible Food Recovery Grant Program will help fund the university's efforts to expand existing and new food waste prevention projects. Projects must reduce the amount of food being disposed of in landfills, thereby helping to achieve the state's climate pollutant goals.
"The CalRecycle grant is crucial to UC Merced's efforts in increasing and scaling up edible food recovery in the county and also decreasing food security because it will allow us to hire assistance to rescue more food and it will enable our partner, the United Way, to purchase a vehicle to help save more food and get it to those in need," Sustainable Food Programs Coordinator Erin Meyer said.
Eligibility for the grant includes:
The project site must have an existing anaerobic digestion system with excess capacity.
The project must either have an existing food waste receiving station with excess capacity on-site or propose constructing a new or expanded food waste receiving station infrastructure that allows for direct receipt of food waste into the anaerobic digester(s).
The project must demonstrate an increase in permanent capacity for the co-digestion of food waste due to the grant.
Among some of the plans for the grant are to hire more staff who can help with food waste prevention projects, including the People's Fridge, a free community fridge where people can take or leave fresh produce.
"With the ability to recover more food, we also want to establish more People's Fridges to get that food to those in need. The goal is to open at least three more within the county this year," Meyer said. "Anyone from businesses to nonprofits to individuals can host a People's Fridge and it is a gratifying way to give back to the community."
 To continue leading efforts to reduce food insecurity in the San Joaquin Valley, Meyer reminds others about the toned for continued donations to the community fridge. Those interested in donating can download the Fresh Food Connect app and schedule to drop off fruit and vegetables.
As another way to give back to the Valley, the campus plans on educating students at local schools about ways to reduce food waste.
"Teaching the kids at the Merced County School District how to reduce food waste can impact their entire households if they then teach their families what they learned," Meyer said. "If they are taught to value their food more, how their choices impact their surroundings and the planet and how to eat more sustainably, those kids may grow up to be more conscious consumers who make other healthier and more sustainable choices."
Those interested in assisting with the university's efforts can mailto: emeyer4@ucmerced.edu. Students who would like to apply for a job opportunity with the Office of Sustainability can do so through the student employment services Handshake.
To get more news from the Office of Sustainability, join its Google Group to receive a quarterly newsletter starting next month — email Meyer for an invitation.

Public Information Officer
Office: (209) 746-5137