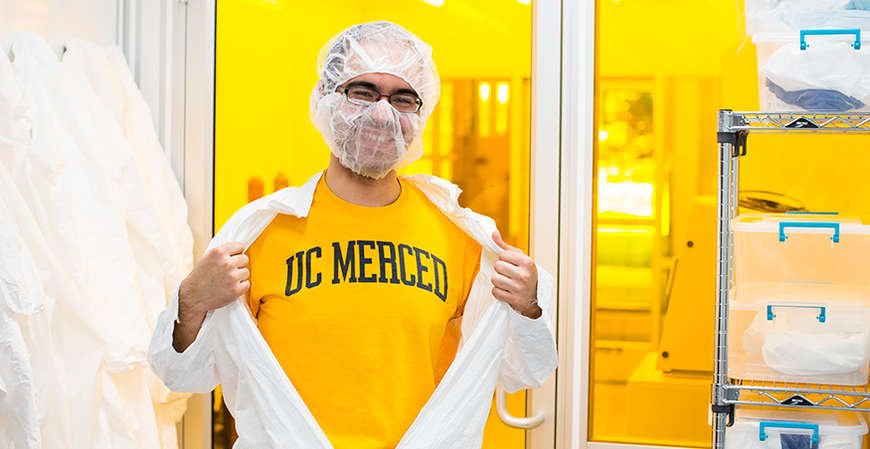 The question: What happens when UC Merced holds Research Week in the middle of a pandemic? The hypothesis: An annual, weeklong presentation of ground-breaking work reaches a big, new virtual audience.
With the Research Week's usual in-person seminars, tours and showcases untenable because of COVID-19, the event will be accessed primarily through Zoom. Instead of attendees coming to campus March 1-5, Research Week is coming to them.
"Like everything else this year, Research Week will be a little bit different, but it promises to be as informative and fun as ever," said Marjorie Zatz, interim vice chancellor for research and economic development.
Highlights include:
Campus experts talking about COVID-19, wildfires and collaborative studies with communities.
Virtual tours of UC Merced's eight core labs or facilities, ranging from the vernal pools on the nature reserve to the Nuclear Magnetic Resonance Lab.
A showcase of research by undergraduate and graduate students. Subjects run the gamut from a study of immigration patterns to Shakespearean performances.
Numerous opportunities to direct questions to students, faculty and research staff.
Research Week is sponsored by the Office of Research and Economic Development. A schedule of events, along with links to Zoom meetings and other media, can be found online.
"Research Week is a wonderful opportunity to interact virtually with UC Merced's research staff and with the faculty and students who are conducting research that will shape our future in the Valley, California and beyond," Zatz said. "I look forward to seeing you there."
Here are some events to choose from:
Monday
9 a.m.-noon: Grad students and faculty from the Health Sciences Research Institute will hold a meeting to discuss studies related to COVID-19.
Noon-2 p.m.: Sierra Nevada Research Institute will hold a symposium to look at wildfires, forest management and air quality, and to spotlight some of the institute's newer researchers.
Tuesday
10-11 a.m.: Virtual tours of the eight core facilities will be conducted in Zoom breakout rooms. In addition to the sites noted above, others on display will include Yosemite Field Station, Imaging and Microscopy and the Stem Cell Instrumentation Foundry.
5-6:30 p.m.: The Resource Center for Community Engaged Scholarship will hold a reception to celebrate community-collaboration research. Rosa Manzo, Ph.D., the university's associate director of medical education, will speak. Signed copies of Manzo's book "Cultura y Corazon: A Decolonial Methodology for Community Engaged Research" will be gifted to attendees.
Wednesday
10 a.m.-noon: The Research Week Showcase is an opportunity for students to present their work through posters, video and other media.
"For students, presenting research is one of those things that can flip their identity to thinking, 'I can do this,'" said Jorge Arroyo, director of the Undergraduate Research Opportunities Center. "It really propels them and their confidence shoots way up."
Thursday
Noon-2 p.m.: GradSTORY will go behind the scenes and into the minds of student researchers. Graduate students will be interviewed about their path to academia and what sparked their research interests. Questions from the virtual audience will be encouraged.