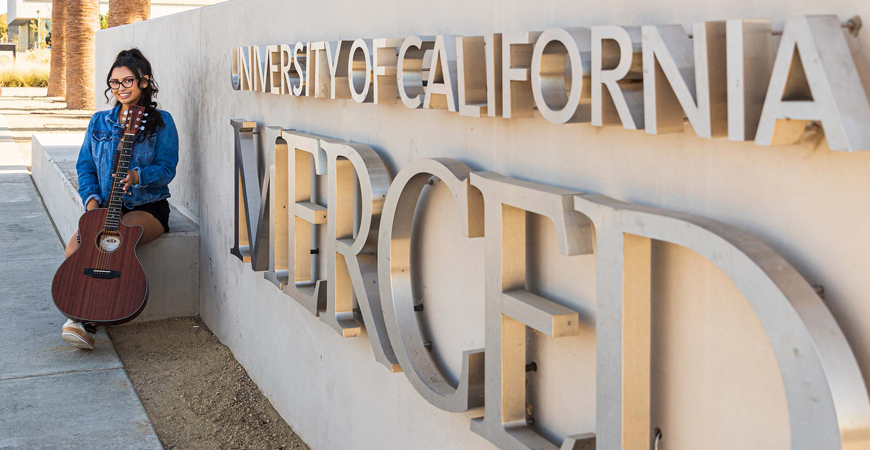 This time around, what happened in Las Vegas will not stay there — at least for Cathryn Flores. The fourth-year undergraduate, who's working on a major in English and minor in writing, reached yet another milestone in her music career as she attended a major Latin music awards show recently to be part of a social media team.
"This is the first time I've ever done something like this, but I was ready to take on the role of being the host for one of the Instagram accounts," said Flores, who performs under the artist name "KATT."
The Fremont native "took over" the account to give followers a behind-the-scenes look at the awards show. She crafted videos and took photos during the pre-telecast, awards show and afterparty.
The whole experience may have seemed a bit challenging, but Flores said it was everything she had hoped it would be. While social media work may not be her end goal, she managed to soak in as much as possible from her professional participation.
"Being the social media takeover host was a bit stressful because you had different responsibilities and couldn't necessarily not have your phone out. I had to make sure I got the best shots," she said. "However, it gave me a good opportunity to see what it's really like to be behind the scenes and to work in the music industry as an employee."
While in Las Vegas, Flores had a "full-circle moment" when meeting her mentor, producer and songwriter Kenya Autie, for the first time in person and not over a computer screen.
Flores hopes to continue to pay it forward herself by sharing her insight about these experiences with her fellow Bobcats and students at other universities.
"You don't have to wait until you're older or have more experience in something," she said. "You can achieve these things right now as you're working toward your career."
Flores recently landed a job as a representative for a chapter of a music industry entity. She is among 13 student reps who are organizing a variety of networking opportunities, including virtual classroom visits and conferences, to help young aspiring professionals who are looking to start careers in music.
"I'll be working to recruit other students if they're interested in music," said Flores. "This could be a great way for them to get their feet in the door with the music industry."
All of this, she admits, has come to fruition after being involved in a variety of programs and projects while at UC Merced. Flores has worked with social media on campus, as well as for her own extended play (EP) and promotional events. She has also conducted research with support by the Undergraduate Research in the Humanities Program (UROC-H, which is funded by the Andrew W. Mellon Foundation), created music videos and songs for Shakespeare in Yosemite's first feature-length film "Imogen in the Wild," and composed the score and sang the theme song for the bilingual production of "Ricardo El Segundo," or "Richard II."
"The guidance from faculty and staff in the English program and UROC has been invaluable as I continue to navigate the music industry," said Flores. "All the productions I've been involved in at UC Merced have helped me because the tools I picked up transcend into my career."
Among several skills Flores has continued to develop as a student are songwriting, collaboration and time management, which she said were vital when taking part in these projects.
These same skills prepared her to work with artists like Sean Kingston. She was a featured vocalist along with Kingston in the song "Phenomenal" by Luca Dayz and Legendary Marquest, which debuted in January.
Over the summer, Flores opened Jason Derulo's concert at the California Mid-State Fair by singing the national anthem. In previous years, she sang it before headliners John Mayer and Pitbull each took the stage at the same fair.
Since 2019, Flores has released three singles — "Bring it Back," "Still See You" and "Baecation" — and an EP titled "Friends at Night." Her music is available on Spotify.
As for what's next, Flores said she is working on a few new singles and has plans for live performances. And she will kick off 2022 on a high note because she has been invited to attend another prestigious music awards show in January.
For Bobcats who are looking to start their own careers in music or any industry for that matter, Flores has a few words of advice:
"Don't be afraid to network with faculty and staff at UC Merced and within the community. Ask questions and ask for opportunities. Take advantage of what may initially seem like a small opportunity because it can turn into something bigger than you imagined."