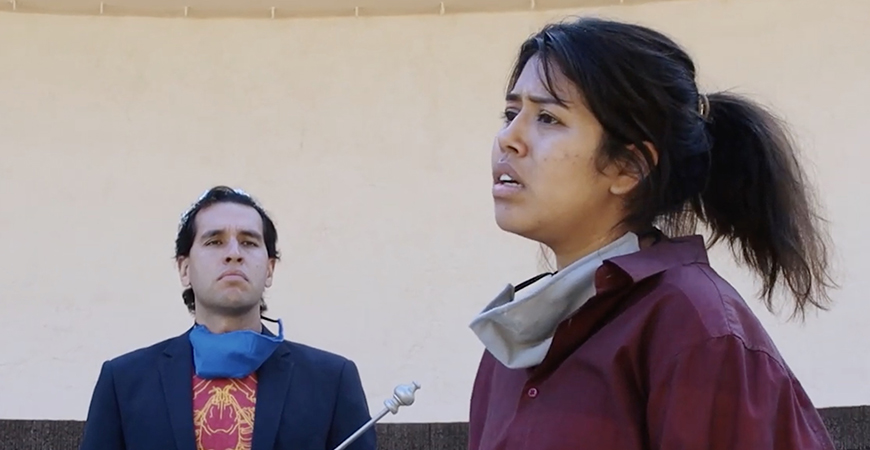 Shakespeare can feel stuffy and difficult to understand. Native English speakers often struggle with decoding the Bard's works, so imagine how difficult it would be to appreciate Shakespeare if you spoke another language.
This is the challenge UC Merced's students and faculty took on with their bilingual production of "Ricardo El Segundo," or "Richard II."
When University of Warwick Ph.D. candidate William Wolfgang, studying under Professor Paul Prescott, was approached by Merced Shakespearefest Founder and Artistic Director Heike Hambley about directing a bilingual version of Richard II for the Merced community, he jumped at the chance to bring his thesis to life. The local Shakespeare company, which is in its 20th season, also conceived of filming and hosting the production online on their YouTube channel amid the COVID-19 pandemic. Wolfgang, who has since begun lecturing at UC Merced, studies grassroots theater as a tool for social justice and saw an opportunity to democratize Shakespeare for a larger audience.
"I was thinking, 'What could we do with that play to make it more relatable? More engaging? More exiting?" Wolfgang said. "How could I connect it with Merced in a way that is meaningful?"
The solution was a bilingual production that is exactly equal parts Spanish and English. The production, which was quickly adapted from a stage play to a video web series due to the pandemic, called upon the innovative talents of a host of UC Merced students and faculty.
"It was one of those things where we committed to doing it online, so we did it. It was something that just gave us hope throughout the pandemic as well as focus, for so many of us," Wolfgang said.
The production was a team effort with many current and former Shakespeare in Yosemite actors. Recent graduate Angel Nuñez ('20) painstakingly translated the English text into Spanish and produced subtitles for both the Spanish and English portions of the videos with the help of co-adaptor Maria Nguyen-Cruz ('20). Third-year English major Cathryn Flores composed the series' score and theme song using Latin instruments and electronic music.
"I would watch the unedited episodes and have my keyboard and play along with different sounds — electronics sounds, violins, cellos, orchestral Latin beats — and use minor keys when there was a sad scene and major keys with happy scenes," said Flores, who has a musical theater background and is a trained musician with formal recording experience. "Music is a universal language and it was great to work on that intangible force of the play to move the mood along with this production."
The final product was a 12-part web series featuring a range of UC Merced students and faculty with more than two hours of content that can be enjoyed by both English and Spanish speakers. The cast features engineering Teaching Professor Alejandro Gutierrez in the lead role as King Ricardo along with a host of students.
For many bilingual people, code switching is a natural part of daily life and the play reveals how intermixed the languages are becoming for many Latinx families.
"'Richard II' is actually a play for 2021 and really, for the end of 2020," Wolfgang said, reflecting on the parallels between the play and the past year. "It's more relevant now than when we started production. It's about the fall of a leader. It's a story of how power changes hands."
"This is truly one of the most inspiring theater stories of 2020, a year that has been brutal for the arts sector," said Professor Katie Brokaw, co-founding artistic director of Shakespeare in Yosemite. "Research on 'Richard II'is making contributions to our understanding of filmed theater, to the use of electronic music in theater and to bilingual Shakespeare — all new and emerging fields in theater studies."
Brokaw also noted the adaptation has received positive reviews from the global Shakespeare community. Professor and Shakespeare scholar Randall Martin of the University of New Brunswick has blogged about it; Argentinian playwright and theatre producer Mónica Maffía has praised it; and it was featured in the magazine Quarto, a publication of the Shakespeare Theatre Association.
Erin Sullivan of the Shakespeare Institute in Stratford on Avon is an expert on digital Shakespeare and tweeted about the production before inviting the team to contribute an essay for her book "Lockdown Shakespeare," which was recently contracted by Arden Bloomsbury, a leading press in Shakespeare Studies.
Bilingual adaptations of Shakespeare are becoming increasingly popular, including the Public Theater's forthcoming audio production with New York City's NPR station of "Romeo y Julieta." Known for its free summer productions of Shakespeare in Central Park as well as being the debut location of "Hamilton," the Public Theater's choice reveals a changing tide in theater of which UC Merced is already a part.
Wolfgang, Nuñez and Flores are already working together for another adaptation for Merced Shakespearefest, which this time will be a Spanish-language play with portions translated into English. The play is Miguel de Cervantes' "Don Quixote" and the crew will use what they learned from "Richard II" to make the production even more cinematic and with English and Spanish subtitles.
"A lot of times ideas like this come from grassroots movements," Wolfgang said. "That's why we're doing this. Because it is the philosophy of a socially inclusive theater."
Senior Public Information Officer
Office:(209)585-6341