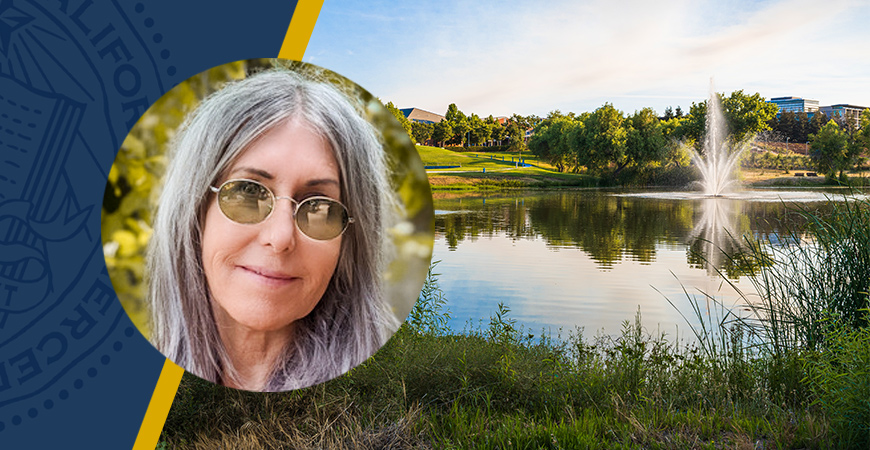 Vice Provost for Academic Personnel Teenie Matlock has been honored with the Athena Award for Academic Leadership by the Women in Technology Initiative at the University of California.
Matlock was selected from a nationally competitive pool of candidates exemplifying high technical achievement along with support for women in technical fields and advancements for gender equity. The award notification stated, "Your leadership in linguistics and HCI [human-computer interaction] and your commitment to mentoring the next generation of researchers and faculty is inspiring."
A cognitive scientist and linguist by training, Matlock researches how humans communicate and reason. She is known for early contributions to the field of human-computer interaction. For instance, she was issued a U.S. patent for rapid symbolic input in small, handheld devices as a result of her work at IBM Research in the late 1990s and early 2000s. She also did seminal work on how people think about and describe emerging technological developments, such as search engines when the Web was popularized.
"This award — appropriately named for a female deity of wisdom — is well deserved," Chancellor Juan Sánchez Muñoz said. "Professor Matlock's contributions to her academic field, issues of diversity and inclusion, to the growth of human knowledge and to UC Merced have been invaluable. We enthusiastically join the Women in Technology Initiative in celebrating her career."
Matlock has published over 100 peer-reviewed articles in fields such as cognitive science, psychology and human-computer interaction, and has served on many editorial boards for journals such as Cognitive Science, Metaphor and Thought, and Environmental Communication. She was associate editor for Cognitive Linguistics for a number of years.
The Mariposa native joined UC Merced in 2004 as a founding faculty member and played integral roles in establishing the campus and the interdisciplinary Cognitive Information Sciences department and graduate group. She has held the McClatchy Chair in Communications for several years. A local with Indigenous roots, she is an active member of the American Indian Council of Mariposa County.
She was nominated for the Athena award by Professor Josh Viers, director of UC Merced's branch of the Center for Information Technology Research in the Interest of Society (CITRIS) and the Banatao Institute.
"Professor Matlock's academic achievements at the intersection of human cognition, communications and technology are exemplary, but this award also recognizes her achievements in other dimensions," Viers said. "Notably, she is a respected leader in diversity, equity and inclusion, and has positioned UC Merced for decades of successful faculty recruitment and retention. Furthermore, her local connections underscore the importance of building and maintaining a vibrant community beyond our campus."
At UC Merced, Matlock has broken down academic hierarchies and spearheaded an effort to hire new faculty using innovative approaches to inclusivity, and initiated the institutional membership to the National Center for Faculty Development and Diversity. Her commitment to guiding women to succeed in technology is reflected through the expanded career opportunities she has opened for her mentees. Her mentees have been accepted into top graduate programs, landed tenure-track positions in leading research or teaching universities, and taken competitive research positions in tech companies such as Google.
"I'm honored to have been chosen for this award and pleased that CITRIS acknowledges UC women who excel in key areas of technological innovation and education, including academic leadership contributions," Matlock said.
Over the years, Matlock has received awards for distinction in research, teaching and mentoring. She has served on the governing board of the Cognitive Science Society, as a member of the National Institute of Health's Language and Communication study section and on the University of California's systemwide Advisory Council on Campus Climate, Culture and Inclusion. Her Ph.D. is from UC Santa Cruz, and she completed postdoctoral training at Stanford University.
The fifth annual symposium for Women in Technology on "The New Era in Human Computer Interaction," will be held virtually March 12, and will feature the presentation of the 2021 Women in Tech Initiative Athena Awards.
Senior Public Information Representative
Office: (209) 228-4203
Mobile: (209) 628-8263