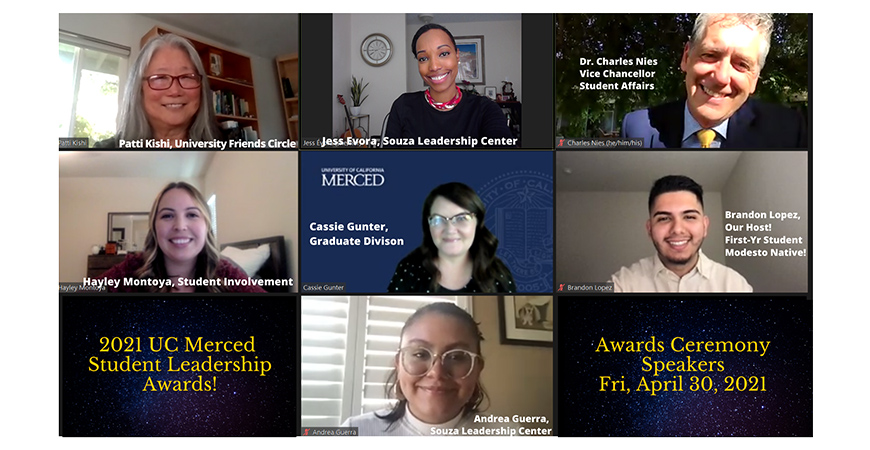 For the second year, the Margo F. Souza Student Leadership Center and the Office of Student Involvement (OSI) held the 2021 UC Merced Leadership Awards virtually. The April 30 event provided an opportunity for the center to acknowledge all student leadership witnessed by individuals at UC Merced and celebrate award recipients, including 21 individuals and four organizations.
"I'm inspired by the student leadership we saw during this past year. I'm proud that we're able to celebrate leadership in a creative way given we were not able to do so in person," Margo F. Souza Student Leadership Center Associate Director Jess Évora said. "I look forward to celebrating student leadership at an event on campus next year."
First-year mechanical engineering major Brandon Lopez emceed this year's event.
"I am honored to host the 2021 Leadership Awards because leadership means a lot to me. I have seen the power great leadership has and the lasting impact it can have," said the Modesto native. "Everyone is a leader in their own way, and I cannot express the excitement I have to celebrate my Bobcat family for all their accomplishments."
Awards were presented to the following:
Contribution to Student Affairs Awards: Aaron S. Alberto, Ragini Bomma, Diana Garcia, Yulissa Peñaloza and Lisa Trinh Vu
Most Outstanding Graduate Student Award: Jose Zamora
University Friends Circle Awards: Phi Delta Epsilon, RadioBio, Andrew King, Adrian Buitron Boada, Gehad Elhanafy, Joshua Jones, Emily Lichlyter and Nickolas Morales Guillen
Virtual Bobcat Hero Award: Sally Vargas-Zamudio
Rising Phoenix Award: Cheyenne Tompkins
Bobcat Sense of Belonging Impact Award: Derrick Vuong
Building Community Award (virtually or in person): UC Merced Graduate Student Association
Bobcats Leadership in Action Award: Pre-Med Central
Distinguished Leadership Award: Jason Baltazar, Jesscina Crawford and Allen Qian
Legacy Award: Yesenia Ramirez Sigala
Steve and Mia Kang Student Leadership for Social Change Prize: Ritwika VPS
Carol Tomlinson-Keasey Award: Kinsey Brock
Hayley Montoya, coordinator of Student Involvement and Developmental Programs in OSI, played an integral role in planning the awards program, including recruiting and leading the Review Committee and event logistics.
The Review Committee consisted of UC Merced administrators and staff, including Dr. Thelma Hurd, director of Medical Education; Jennifer Heinrich, Study Abroad advisor; Alexandra Navarro, administrative assistant, Protective Services; Cassie Gunter, Graduate Resource coordinator, Graduate Division; Jen Quiralte, Graduate Programming & Events coordinator, Graduate Division; Amanda Punzalan, health educator, Health Promotions; Jose Martinez, academic advisor, School of Natural Sciences; Luz Sandoval Manjarrez, academic advisor, School of Engineering; and Erin Meyer, Sustainable Food Programs coordinator, Office of Leadership, Service and Career.
"I'm grateful for everyone involved in making this event happen so that we can continue to celebrate student leadership," Évora said. "It was fun to see all the love in the webinar chat and watch the videos prepared by the student recipients."
Descriptions of each award the event recording are available online.
Senior Public Information Representative
Office: (209) 228-4203
Mobile: (209) 628-8263