As part of its commitment to inclusive excellence in graduate research and education, UC Merced has awarded its new Chancellor's Fellowship for Inclusive Excellence to four incoming Ph.D. students from the School of Social Sciences, Humanities and Arts whose studies will contribute to the representation of Black scholars in academia and beyond.
"The Chancellor's Fellowship for Inclusive Excellence is designed to attract top-notch doctoral students to our campus who will raise awareness of Black scholarship and help build more inclusive communities of research and higher education," interim Vice Provost and Graduate Dean Chris Kello said. "Our goal was to fund at least three awardees this fall, and we had an excellent selection of highly competitive candidates that resulted in four admissions-plus-fellowship offers being accepted."
The year-long, $30,000 recruiting fellowship is the result of a partnership between the Office of the Chancellor and Graduate Division, in consultation with graduate group chairs, Graduate Council, Office of Equity, Diversity and Inclusion and other stakeholders.
"We established this predoctoral fellowship to recruit the highest-caliber graduate student applicants who will contribute to the diversity and inclusiveness of our academic community, especially in terms of the research and education of Black scholars," Chancellor Juan Sánchez Muñoz said. "I am pleased this year's recipients accepted our invitation to join UC Merced as part of their academic journey, and I look forward to future cohorts of equally accomplished and compelling applicants."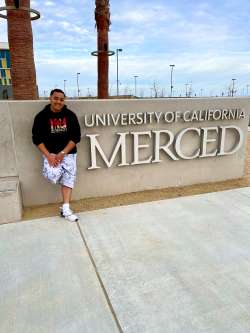 Jarrod Brown Jr. is entering the Sociology Graduate Group with Professor Laura Hamilton. His research interests are examining educational inequalities — something the San Francisco native knows about firsthand.
"Prior to my college experience, my educational experience was rough," Brown said. He struggled when issues arose during K-12 because his schools did not provide ample assistance and resorted to suspension and eventually expulsion. This resulted in him earning his high school diploma from a continuation school.
"To now be in a doctoral program and receive the Chancellor's Fellowship for Inclusive Excellence makes me feel valued as a future African American scholar," Brown said. "It is an amazing feeling to be recognized and awarded for my academic record and my future promise as a scholar."
For his master's degree thesis in sociology at Sacramento State University, he applied the theory of social reproduction to examine how teachers and faculty in a behavior-focused alternative high school perceive their roles in helping students return to traditional, comprehensive high schools. Brown said he will use the fellowship to learn the ropes and get a jump start on his second-year thesis.
"Graduate school is very rigorous and demanding," Brown said. "Being able to get one academic year to fully concentrate on my trajectory, my scholarship and research, and my professional development is a big advantage for me."
Sociology Ph.D. student Eliana Fonsah from Cameroon earned master's degrees from the University of Yaoundé 1, Cameroon, and Pennsylvania State University.
Fonsah will work with Professor Kyle Dodson to further develop her research in social movements, labor, transnational social movements and political sociology.
"Looking at where I come from, my journey so far and the barriers I've had to navigate as a woman, this fellowship means the world to me," she said. "In addition to the terrific benefits I will gain from this fellowship and the exchanges and impact I will have the opportunity to be a part of within the Merced student community and beyond, this fellowship sends a strong message to young women from rural, poor and traditional settings in Cameroon and the world.
"Nothing can stop you from achieving your goals and reaching your full potential. No amount of barriers can limit you; keep working and someone somewhere will recognize and reward your hard work."
We established this predoctoral fellowship to recruit the highest-caliber graduate student applicants who will contribute to the diversity and inclusiveness of our academic community, especially in terms of the research and education of Black scholars.
Sabrina Rawson from Sebastopol is joining the Interdisciplinary Humanities Graduate Group with Professor Christina Baker.
She completed her master's degree from the University of Illinois at Urbana-Champaign in Education Policy, Organization & Leadership.
The objective of her undergraduate senior thesis at Sonoma State University, "Activism of Septima Clark: The Necessity of Education as the Cornerstone of Freedom," was to recognize Clark's place in Civil Rights historiography with a clear explanation of why education was downplayed in the movement.
She plans to continue her graduate research on Clark's influence as an educated woman of color, role model for marginalized communities and multiracial pedagogy within the discourse of critical race theory in education.
"My contributions as a woman of color, my scholastic background as a non-traditional student, my view of complex social and cultural disparities enriches diversity in the graduate student body at UC Merced," she said.
Tevin Williams is a Cognitive and Information Sciences Ph.D. student from Raleigh, N.C. He earned a master's degree in Psychology from the University of North Carolina at Charlotte.
At UC Merced, Williams will work with professors Rachel Ryskin and Michael Spivey, and plans to further develop his interests in language, interpersonal coordination, dynamical systems and music processing.
"The fellowship makes me feel confident that I am becoming a part of a campus that prioritizes diversity and inclusion of graduate students regardless of institutional background. This also means that I feel confident mentoring students that have similar academic backgrounds as me knowing that they can achieve similar outcomes," he said. "Overall receiving this fellowship not only serves as a testament to all the strong mentorship and guidance that I have received in the past, but also that I am on track to be able to do the same for future students."
Senior Public Information Representative
Office: (209) 228-4203
Mobile: (209) 628-8263