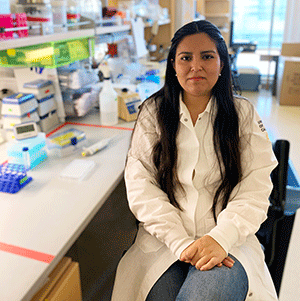 Graduate student Betsabel Chicana 's research into understanding how the immune system works when there's a problem inside the bones has earned her a prestigious fellowship from the National Institutes of Health (NIH).
Chicana, a fifth-year Quantitative and Systems Biology Ph.D. candidate who works with Professor Jennifer Manilay in the Department of Molecular and Cell Biology, has been awarded the Ruth L. Kirschstein Predoctoral Individual National Research Service Award.
The fellowship is focused on two goals: enhancing diversity in the scientific workforce, and mentored research training such that the recipient grows into a productive, independent scientist. Applying for NIH research funding is not a requirement for graduate students, but is highly encouraged, so that students gain experience in the process, Manilay explained.
"Betsabel took the initiative to pursue this fellowship and resubmit the application when the original proposal was not funded. She is now paying it forward by sharing her experience and advice with other graduate students," Manilay said. "Her research proposal, professional aspirations, perseverance and resilience are well-aligned with the fellowship's goals. Betsabel is well-deserving of this award, and I am excited for her future work and career."
The award comes with $36,901 for the first year and a potential for $26,303 in the second year.
"The bones of the mice I study have been modified to turn off a gene (Vhl) that controls the cell response to low oxygen levels. This defect leads to bones being dense, with little room for bone marrow, which is where immune cells and blood cells develop," Chicana explained. "This change particularly affects B cells, which are responsible for mediating antibodies against pathogens. We don't know the mechanism that makes this happen, and that is my main focus. That knowledge will help us understand how immune cells develop and it can lead to disease prevention, treatment and recovery."
Chicana was born in Lima, Peru, but grew up in San Francisco. She expects to graduate in spring 2022 and said she would like to get a postdoctoral research position or work in the biology industry. She is a member of the Health Sciences Research Institute, serves as a legislative affairs officer for the Graduate Student Association and helps raise funds and write grants for RadioBio, a student-led podcast aiming to make science more accessible to everyone.
She said she was ecstatic to learn about the fellowship and especially happy to learn that her proposal had been scored very high.
"I had built-up excitement and worry, so when I finally got the award, I was beyond happy," Chicana said. "Personally, it means that I'm on the right path professionally, and I feel proud and fortunate. To me, it is truly an honor to bring this award to UC Merced."