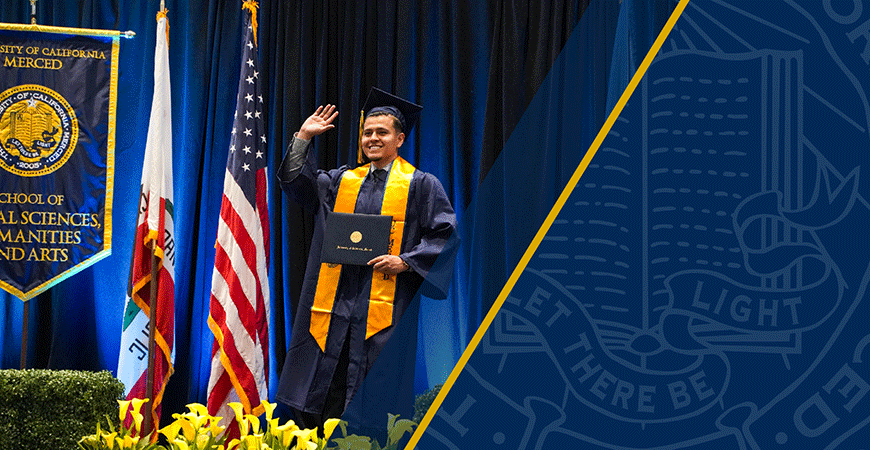 The pandemic has changed many aspects of life, but UC Merced Bobcats demonstrated their ability to overcome life's unexpected curveballs during an academic year unlike any other.
To ensure each student's accomplishments are celebrated, UC Merced will host its second virtual spring commencement ceremony at 10 a.m. Saturday, May 15, for the Class of 2021.
"Commencement is truly the culmination of all that we do for our students — and an important, public signifier that they have ascended great heights of education," said Chancellor Juan Sánchez Muñoz. "Students, their families and friends, and all of us at UC Merced celebrate these achievements with great ceremony and great joy."
Campus leaders will bestow the degrees upon graduates, who will also hear from fellow student speakers and keynote speaker Dr. Carrie Byington, executive vice president and head of University of California Health.
"With UC Merced's nationally recognized and expanding leadership in public health, and in acknowledgement of our priority of launching a medical education program with our partners at UCSF-Fresno beginning in fall 2023, Dr. Byington's message to our community will be significant and a fitting addition to our 2021 spring commencement exercises," said Dr. Thelma Hurd, UC Merced's director of medical education.
UC Merced continues to prioritize health and safety while appropriately marking this important date with a virtual ceremony.
"We wanted to make sure we followed the state's and the county's safety guidelines regarding large gatherings," Assistant Director of Protocol and Signature Events Trisha Koenig said. "Because guidelines were continuously changing, we anticipated hosting a virtual celebration but wanted to make sure we made improvements from previous virtual commencements."
In addition to the virtual commencement this year, graduates had the option to take part in in-person activities. Bobcat Walk allowed students to cross the commencement stage and get professional photos taken at iconic campus locations. The event was live streamed for families and friends to watch.
Unlike last spring's virtual commencement ceremony, the UC Merced's three schools – School of Engineering, School of Natural Sciences, and the School of Social Sciences, Humanities and Arts — will each have a separate virtual ceremony with a student speaker representing the school.
Keanu Velasquez, a sociology major from San Francisco, will address the School of Social Sciences, Humanities, and Arts. Sean Nguyen, a chemistry major from San Jose, will address the School of Natural Sciences, and Habibatu Mboka, a computer science and engineering major from Turlock, will address the School of Engineering.
To incorporate elements of the traditional in-person commencement, the names of the more than 1,500 graduates will appear on the virtual screen, along with photos and personal quotes submitted by students.
The campus hopes to give graduates the traditional in-person commencement celebration experience at a later date. Those details will be released when they become available.
"We hope to see a lot of our students thriving in new careers or continuing their education and understand that some may not be able to return when we are able to host an in-person ceremony. This way, we are making sure we are giving them a celebration no matter the circumstances," said Koenig.
UC Merced invites students, staff and faculty to submit their photos, videos and messages for the Class of 2021, and the campus will share some of the submissions throughout May.
Family and friends can join the May 15 celebration through UC Merced's commencement webpage.

Public Information Officer
Office: (209) 746-5137