UC Merced's support for students who are building leadership skills, engaging in community outreach or searching for careers is going strong during the campus's move to remote instruction, with the Office of Leadership, Service and Career providing new webinars, online workshops and virtual events.
"Students are sharing with us they are eager to continue to build and develop themselves personally and professionally, so we have pivoted our services to meet them where they are," said Brian O'Bruba, executive director of the Office of Leadership, Service and Career.
With the end of the semester fast approaching, many students are turning their attention to job searching. The Center for Career and Professional Advancement has quickly pivoted to virtual delivery of all its services for students and alumni and to create virtual recruiting events for partner employers.
UC Merced's Employer Relations team is working with Fortune 500 and regional employers to identify employment and internship opportunities. With a focus on industries where hiring is taking place, employers are connecting with UC Merced students and alumni through industry panels, information sessions and career conversations.
The campus is partnering with other UC campuses to offer a pair of systemwide virtual career fairs that will allow students to meet employers and network to learn about full-time positions, partnership experiences and internships.
A STEM-focused virtual career fair will take place May 26, followed by a general virtual career fair May 27, for non-technical careers. All students, from undergraduates to postdoctoral scholars, are welcome to participate.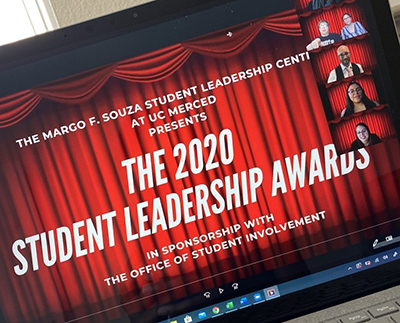 "It may seem like the world is on hold right now, but that doesn't mean employers aren't eager to find talented prospects for their open positions. The skills UC Merced students are gaining by learning to operate remotely will help them as they search for positions," said Elizabeth Atilano, interim director for Employer Connections and Internships.
Support for current Bobcats is also coming from alumni who are volunteering their time and talents to support career readiness. More than two dozen alums have agreed to help graduating Bobcats prepare for their job searches in a range of industries by reviewing resumes, offering advice and conducting practice interviews. Students can sign up through the Handshake career portal.
This week, the Souza Leadership Center kicks off a series of interactive workshops to address the specific needs students are facing during the COVID-19 pandemic. The workshops are open to all students, including graduate students. Register for the workshops online .
● A Fashion for Leadership! Identify Your Leadership Style
Tuesday, May 5 – 3:30 p.m. - 4:15 p.m.
● You Got This! Leading Confidently Through Uncertainty
Wednesday, May 6 – 3:30 p.m.-4:15 p.m. and Thursday, May 7 – 5:30 p.m.-6:15 p.m.
● Lead Fierce Like Beyoncé! 5 Effective Leadership Strategies for Women
Thursday, May 7 3:30 p.m.-4:15 p.m.
Semester-long development programs offered through the Souza Leadership Center continue to meet weekly such as the Yosemite Leadership Program; the UnDocu Bobcat Leadership Seminar ; Empower: Womxn's Leadership Development Program ; and the Leadership & Service Living Learning Community , which holds virtual "check-ins" to keep members of the residential community in touch with one another.
"There are so many ways for UC Merced Bobcats to continue learning ways to engage in leadership and to connect with their fellow students," said Jess Evora, associate director of the Souza Leadership Center.
"It may seem like the world is on hold right now, but that doesn't mean employers aren't eager to find talented prospects for their open positions."
The Community Engagement Center is helping students find and support their community outreach goals by helping Bobcats connect with virtual service opportunities that can be done remotely. More information can be found at the center's website. The center also continues to support basic needs security through programs such as the Bobcat Pantry and CalFresh. Information can be found online.
"We hope students will remember that we are here to help them no matter where they are. With finals and other pressures rising, it's important that our Bobcats know that no one should feel alone at this time," said Vernette Doty, director of the Community Engagement Center.
The Margo F. Souza Student Leadership Center drew more than 100 people to celebrate its annual Leadership Awards on May 1, capping Remote Leadership Week . Twenty awards were presented, and all participants in the center's programs were recognized.
Tamalyn Ya, a senior and applied mathematics major who served as master of ceremonies for the event, said the programs and opportunities at UC Merced "allowed me to continue developing my leadership skills in order to support and mentor peers."
"It was so beautiful to see all the love in the 'room' during the awards. To see the chat function during the event explode with love and encouragement for the recipients was extremely heart-warming," Evora said.