Esteemed archaeologist and anthropologist Mark Aldenderfer, the new Edward A. Dickson Emeriti Professorship endowed chair, brings his distinguished time on campus to a close this month, as he steps away from daily life of the university.
Aldenderfer joined the UC Merced campus in 2010, becoming dean of the School of Social Sciences, Humanities and Arts. He is best known for his comparative interdisciplinary studies of high-elevation adaptation from an archaeological perspective.
His many achievements also include recent archaeological research in Tibet and Nepal and serving as editor of Current Anthropology, one of the field's most prestigious academic journals. A native of Ohio, Aldenderfer was a faculty member at the University of Arizona and UC Santa Barbara before UC Merced.
Aldenderfer was one of UC Merced's first two professors to be named a John D. and Catherine T. MacArthur chair.
Aldenderfer, who officially departed UC Merced on July 1, is transitioning his life and work to Santa Fe, N.M., where he will continue his lifelong exploration of how the ancient past continues to shape the world's future.
Below, Aldenderfer shares thoughts on his career and his plans going forward.
Q: What have been the highlights of your time at UC Merced?
A: There have been many. I am proud to have been the dean of SSHA during a crucial growth phase. Over the 5½ years of my tenure as dean, I was able to bring to campus dozens and dozens of new faculty, many of whom have gone on to impressive careers — I think about 60 or 70 faculty came in under my tenure. In fact, the new dean of SSHA, Jeff Gilger, was one of my hires. He'll be a fine dean.
I also was able to grow the staff to a reasonable size. And many of my hires are still working and thriving in the school. I was pleased to serve on the chancellor's cabinet as a member of senior leadership as Dorothy Leland developed her plans for the remarkable expansion of the campus. As a scholar, two things stand out: my appointment as a John D. and Catherine T. MacArthur Foundation endowed chair and my achievement of the rank of distinguished professor. The MacArthur allowed me to expand my research, and my appointment as distinguished professor — the highest rank a professor can obtain in the UC system — was a great honor that helped to cap my career as a scholar.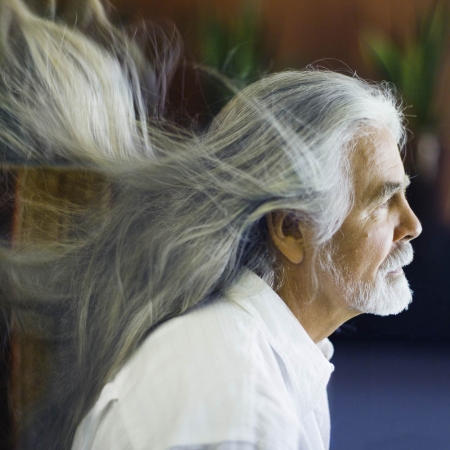 Q: What brought you to UC Merced? And what are your thoughts about where the university is going?
A: I had not been seeking a career in administration, but things happen. During my time at UC Santa Barbara, however, I became very interested in the IT issues on the campus, first at the college level, and then campus wide, when I was appointed to be the director of the Office of Information Technology. I was instrumental in getting such a position created at the campus and was especially pleased that it eventually evolved into a permanent, full-time CIO.
At the time, I reported to the EVC/provost, who left to become a head-hunter for an academic executive search firm. I was at the University of Arizona at the time and she calls me out of the blue and tells me she has the perfect job for me. I applied and was selected. I was anxious to get back in the UC system for a number of reasons and the challenge of building out UC Merced was intriguing.
Where is the university going? All bets are off due to the pandemic. It has aspirations to join the ranks of very high research-intensive universities. It will take continued expansion of the faculty, recruitment of graduate students, and more. And while I know UC Merced has students from all over California, I also think that it will be the most "regional" of the UCs. Indeed, it has taken on that role already and my sense is that priorities in funding faculty and departmental growth will favor those programs that fit most effectively within that emphasis.
Q: What inspired you to start on the career path you have made?
A: I've wanted to be an archaeologist since early childhood. I was raised by my grandparents; my uncle left many of his college books in the attic. I'd sneak up there and became fascinated by images of dinosaurs and their bones — somehow, I translated that to archaeology. But by third grade, I already knew the difference between archaeology and paleontology. My class wrote what they called a class future; for my bit, I explicitly said I wanted to be an archaeologist. In third grade, what do you know? But hey, it worked out.
Q: What has been the biggest surprise of your career?
A: Archaeology is full of surprises. Honestly, you never know quite what you are going to find when you start digging. But some discoveries stand out: One was the discovery of the earliest gold in the Americas at the site of Jiskairumoko in the Andes of Peru. We knew the site was going to be ideal for answering questions about the domestication of plants like potatoes or quinoa, but the discovery of the gold was wholly unexpected. It really shouldn't have been there, but it was! One of my Peruvian crew brought me over to a unit they were digging. It was a human skull; as I started working in the unit, I saw the tiniest glimmer of color near the base of the skull in the soil. The glimmer turned out to be what we interpret as a gold necklace composed of nine beads and 11 small blue disks of sodalite. It was found near the base of the skull which was the only human remains in that burial context. Gold had never been found in the early societies — the hunters and gatherers — of the Andes so the discovery was of real significance.
Q: You've traveled to many places during your career. Which place is your favorite?
A: Ah, a trick question! Almost everywhere I've been holds a special place in my heart and soul. I've enjoyed the contrasts of jungles and arid plateaus, of mountains and beaches. If I have to choose, it will be the high mountains of the Andes and Himalayas — stunning vistas, wonderful people and very cool archaeology!
"I will miss that daily grind. And while I will always have mountains to climb and enjoy, I will miss Yosemite and the Sierra Nevada very much. But as I write this, I can see the Jemez mountains off in the western distance. Some things never change."
Q: What do you plan to do next? How will you be spending your time?
A: The idea of retirement, at least in one sense, is frightening. I've spent 65 years of my life in some sort of school environment, from kindergarten to university. The pace of the academic cycle has provided a welcome structure, one punctuated by summer or longer field seasons. Leaving that behind is bittersweet and challenging. So while I will be leaving behind teaching and administrative duties, I will be have much more time to keep my research going. I have data from years of work that needs to be published as well as curated, and I still have plans (COVID-19 willing) for more fieldwork in Nepal. I'll keep that up until the wheels fall off. So, no make-work hobbies for me: I can't imagine making ships in a bottle or anything quite like that. And I still have more travel in mind. There are so many places to see before I check out.
Q: What are your hopes for the future?
A: Personal or global? I hope to remain healthy enough long enough to finish the ongoing projects as well as curate materials from earlier research. At a global level, I can only hope that we find a way out of the bitter divisions plaguing our country. I also hope we, as a global people, come to some sort of mutual understanding about mitigating the effects of anthropogenic climate warming. I hope that my grandchildren will have a stable and clean planet in which to live. Do I believe that it will happen? Let's just say I have my doubts and worries.
Q: What do you hope to see develop in the fields of archaeology and anthropology? What are the big questions that remain unanswered?
A: We know more about the past than ever before: Advances in archaeological science, or archaeometry, have made that happen. We can now address questions about the past, some of which were posed many decades ago, with realistic hopes of coming up with answers to them.
Using ancient DNA technologies, we can now track the movement of ancient peoples around the globe. Other technologies give us amazing data about ancient diets even back to millions of years ago. But one of the areas of archaeology that needs more attention is how archaeology can contribute insights into modern problems. I know it seems like a stretch, but it can be done. I've been working with a team of other archaeologists to look at how archaeology can work with indigenous peoples about how to cope specifically within the context of climate-related migration in an increasingly and rapidly warming planet. Our team submitted a grant to NSF and, while it was not funded, we got considerable encouragement for the effort and its value. We'll be revising it. So projects like these can "give back" and show that archaeology is not a "luxury" discipline. Archaeology also has a role to play in working with indigenous peoples worldwide to help them tell their own stories of the past. This kind of community-focused research has become increasingly common and it's a trend that deserves real funding and wider recognition.
Q: What advice do you have for the UC Merced community?
A: When I was dean, I often asked senior administrators, faculty, and staff this question: "What does UC Merced want to be when it grows up?" I wasn't being flippant (certain people may have thought so cue the eye rolls), but just asking people to start thinking about priorities. As you might expect, the answers varied by discipline and relative degree of overlap in common vision. The obvious problem is that UC Merced will never be a UCLA or Berkeley in terms of developing a very large range of research emphases, degrees, schools or whatever. Given the reality of funding, especially in the days of the pandemic, UC Merced must be far more deliberate in what it sees for its future. This means that some programs will grow while others will stay stable or even be combined.
UC Merced is making progress here. The focus on the Central Valley is one way this is being accomplished, and health, agriculture, engineering and community-engaged research in the social sciences and humanities are emerging themes. This is all good.
But as these themes develop, I would ask that everyone remember that a university is not an enterprise solely directed at instrumental outcomes. There is a life of the mind that must be encouraged and cultivated, and not every field can be neatly boxed into the emerging themes. I'm not asking for lavish funding. That would contradict my thesis. But the life of the mind beyond these themes must be tended and cultivated. Yeah, tall order, I know. And I've lived through way too many "strategic planning processes" to have much faith in them. But planning will have to happen, so you un-retired folks, buckle up for the ride.
Q: What will you miss most about UC Merced?
A: It's been a pleasure to have had a role in helping both the university but, perhaps more importantly, the people who have made it grow and thrive. Some of the hires I helped make as dean are now department chairs, and it's a real satisfaction to watch them move into leadership positions. Other colleagues have received academic distinctions for which I played a minor role. As I move out of daily life at UC Merced, opportunities to relive this sense of satisfaction will diminish. And while I and others have complained about the many bureaucratic chores that come with being a faculty member and chair, I often reflect that each task, no matter how small, keeps me a member of a community — a life in the university — that has been the focus of my career. In that way, I will miss that daily grind. And while I will always have mountains to climb and enjoy, I will miss Yosemite and the Sierra Nevada very much. But as I write this, I can see the Jemez mountains off in the western distance. Some things never change.