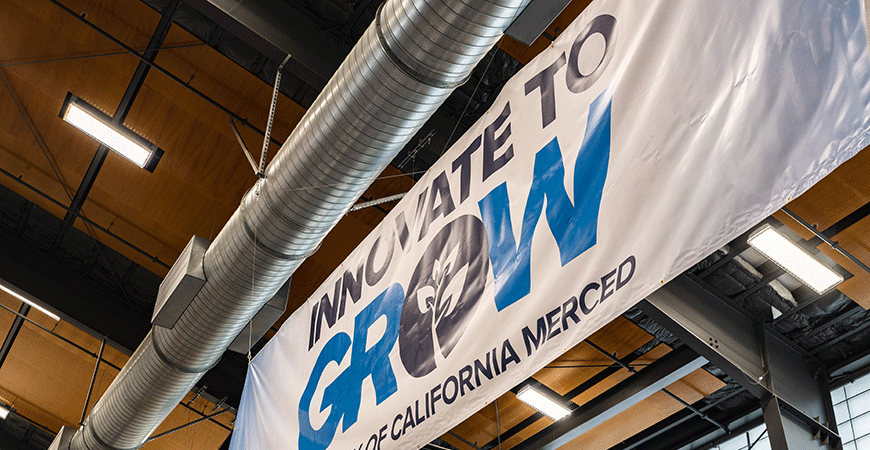 Innovation is nothing new at UC Merced, but this year, because of the coronavirus pandemic, everyone on campus has had to reimagine nearly everything they do.
But leave it up to the School of Engineering to wholly reinvent its annual Innovate to Grow showcase and competition on the fly.
The event, which has always been a day-long series of presentations, posters and judging, will be held entirely online this year in a streamlined format via Zoom on May 15. All you have to do is visit the Innovate to Grow homepage on May 15, and you will find the button for the event page, which will have buttons for you to select the correct Zoom meeting.
"One benefit of doing I2G remotely is that we can reach a wider audience," said Teaching Professor Alejandro Gutiérrez, the event's faculty lead. "Anyone in the world can join our live stream and see the amazing work our students are doing, right from the comfort of their own homes."
I2G began in 2012 as an expo to spotlight the achievements of graduating seniors who had completed the School of Engineering's capstone requirement through the Innovation and Design Clinic (IDC) but has grown into a huge event.
The work being highlighted this year includes that of 26 IDC teams; three teams from Engineering Service Learning; 23 teams from the Mobile App Challenge — which is part of a software design class; and a team from the inaugural Technology for Social Good program sponsored by the UC Merced branch of the Center for Information Technology Research in the Interest of Society (CITRIS). Faculty members have also overseen the many teams.
For example, viewers can see a five-minute video presentation by IDC Team 26, which is working with the Merced Irrigation District to develop floating islands that can be introduced to the Merced River to restore wildlife and mitigate climate-change effects. People can also tune in for the presentation from Team 2, working with The Almond Board of California on a solution to harvest almonds without producing as much dust. And they can watch as the CITRIS team presents a labor- and money-saving new database for the Food Bank of Merced, which feeds thousands of people each year.
The student team members will face live question-and-answer sessions with the industry representatives who will score and judge them. The winners receive cash prizes, but the competition is so much more than that — the students have participated in experiential learning and professional development, working together with real community partners in business, government agencies and nonprofits to engineer solutions to their challenges.
"Anyone in the world can join our live stream and see the amazing work our students are doing, right from the comfort of their own homes."
"I2G is all about real-life problems," Gutiérrez said. "None of the projects we're presenting are academic in origin. These are all actual challenges that our clients have that need engineering solutions. Innovate to Grow is meant to bridge the gap between the classroom and the workforce."
Leigh Bernacchi, CITRIS's program director, said the students in Tech for Social Good are excited to show their client how their work can benefit the community.
"The Merced Food Bank procures 4.4 million pounds of food every year, all of which has different expiration dates that need to be tracked," she explained. "Also, the food bank has to keep track of such information as dietary and cultural restrictions. The student teams are updating and optimizing a data-management system that will help with food storage and distribution, allowing the food bank to make sure it efficiently feeds the community."
Engineering Service Learning Director Chris Butler, who has been integral to I2G since its inception, said this year's event will stick to a strict schedule to make sure all 62 presentations can be accommodated.
"We want to make sure we are showcasing everyone's good work," Butler said. "We are really excited to reach out to everyone wherever they are. We're not limited by geography."
The judging will be completed through online surveys, he explained, after the judges have scored the teams on such criteria as the project's level of impact, its technical merit and the team's ability to communicate about it. Butler said he expects some creative video presentations, all of which will be available for viewing before the event.
While the students are still making research posters, there won't be a poster expo this year, and there will be no awards ceremony, which was the event's usual wrap-up.
Gutiérrez and Butler both said that once the COVID-19 crisis has passed, some of this year's changes to I2G will last, but Gutiérrez would like to see the event return to its basic format as a series of symposiums.
"The original format offers our students valuable experience in engaging potential employers and future colleagues in person. I2G is not just a competition or a design expo, it's also a professional development event and hopefully even a job fair," he said. "A lot of the benefits our students get from the event come from side conversations during the poster session, after they're done presenting or at the closing reception."
However, there's one change he wants to keep.
"We can still offer the live stream option to people who can't make it to campus," he said. "The more people in our audience, the better."

Senior Writer and Public Information Representative
Office: (209) 228-4406
Mobile: (209) 201-6255