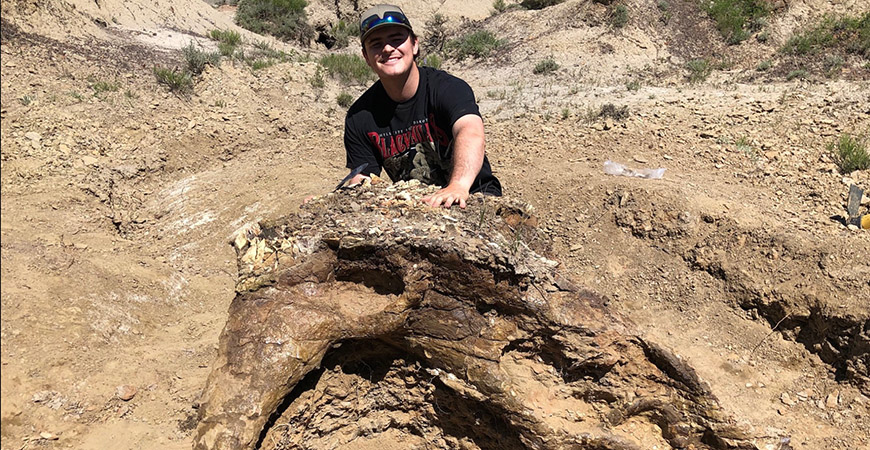 Harrison Duran has always wanted to discover 'the land before time,' and his desire to dig up dinosaur bones led him to the Badlands of North Dakota, where Alice the Triceratops was waiting for him.
Duran is a fifth-year biology student with an emphasis in ecology and evolutionary biology. A longtime fan of dinosaurs, he took a History of Dinosaurs course his first year with Professor Justin Yeakel in whose lab he met Ph.D. student Taran Rallings, who advised Duran on his studies. While Duran had on-campus academic support, he decided to take his interests outside the classroom on a paleontology dig in a remote area of North Dakota.
Duran accompanied Michael Kjelland on the two-week dig. Kjelland is an experienced excavator and biology professor at Mayville State University in North Dakota. The two originally met at a biotechnology conference and after discovering their common passion for dinosaurs, together they founded the nonprofit Fossil Excavators.
To the locals, Duran and Kjelland are known as "bone diggers." Kjelland arranged a dig at Hell Creek Formation, a world-famous dinosaur fossil site. Kjelland found a triceratops skull in the area a year prior and this time assumed the two would find plant fossils, but kept an open mind.
"You never know what's going to happen," Kjelland said.
To their surprise, Kjelland and Duran uncovered Alice — the partial skull of a 65-million-year-old partial Triceratops.
"I can't quite express my excitement in that moment when we uncovered the skull," Duran said. "I've been obsessed with dinosaurs since I was a kid, so it was a pretty big deal."
The two named the Triceratops skull after the land owner.
Alice was found among other Cretaceous period plant fossils. While less exciting to find, the plant fossils provide important insight into Alice's life all those years ago.
"It is wonderful that we found fossilized wood and tree leaves right around, and even under, the skull," Duran said. "It gives us a more complete picture of the environment at the time."
It took a full week to excavate Alice, whose fragile skull was meticulously stabilized with a specialized glue to solidify the fractured, mineralized bones, before an accelerant was applied to bond the structures. With the help of a local cattle rancher and his family, Alice was coated in foil and plaster, wedged onto a makeshift box and lifted onto a truck. Wrapped in a memory foam mattress for protection, she was driven to an undisclosed location until transport to Kjelland's lab.
The reason for the secrecy?
"There have been people in the past who have stolen dinosaur bones," Kjelland explained, noting dinosaur fossils can be extremely valuable.
While some fossils become part of private collections, Kjelland has another idea in mind — one that would allow others to experience the awe he and Duran felt upon discovering Alice.
"My vision is to have Alice rotate locations," Kjelland said. "The goal is to use this find as an educational opportunity, not just reserve Alice in a private collection somewhere so only a handful of people can see her."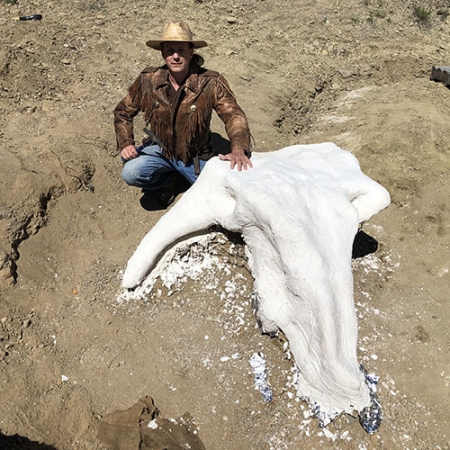 Now that Alice is safely in Kjelland's lab, Duran will return to North Dakota in the coming months to assist Kjelland in conducting further research and preparing the fossil for display. Alice's future is in the hands of Fossil Excavators and the exact location she will call home is yet to be determined.
In the meantime, Duran and Kjelland intend to create a cast of the skull, which Duran hopes to put on display at UC Merced. This wouldn't be the first time Duran displayed fossils at UC Merced — he helped curate a Columbian Mammoth exhibit of bones found near the campus as part of his Student Success Internship with the Library as a sophomore.
One day, Duran would even like to bring the real Alice to campus.
"It would be amazing for UC Merced to be able to display Alice on campus," Duran said. "It's such a rare opportunity to showcase something like this, and I'd like to share it with the campus community."
Senior Public Information Officer
Office:(209)585-6341