As UC Merced continues to expand, it becomes harder to find quiet spaces on campus to read and tackle class work. UC Merced Library staff members made it their mission to find a solution.
A survey of undergraduate and graduate students conducted by the Office of Space Planning & Analysis last year revealed a great need for additional study spaces of all types, including quiet areas. After months of renovation, the newly designed fourth floor of the Leo and Dottie Kolligian Library building was unveiled last month, providing an additional 232 seats for students to study.
The top floor of the oldest building on campus now serves as a quiet space with multiple seating options. Assistant Director of Space Planning and Analysis Allison Costa and Associate University Librarian Eric Scott collaborated to develop a seating scheme that maximizes the available space on the floor and provides AC and USB power at each seat. There is an array of table and seating alternatives that offer students comfortable options to work on their own — including café-style bar-height seating.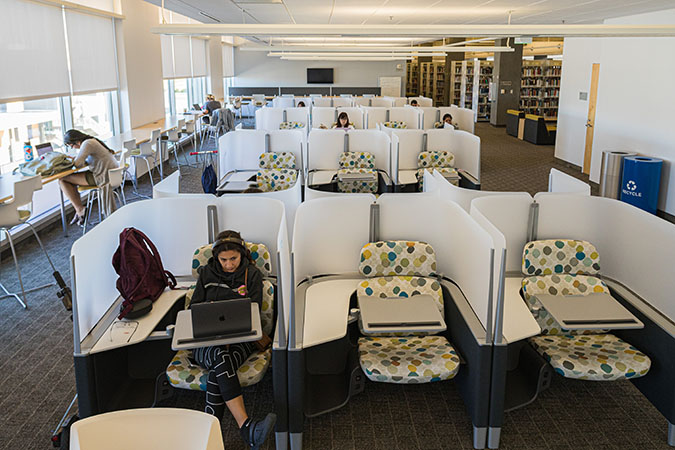 "We understand that every student has their own way of getting comfortable before working on their various school activities," Scott said. "With multiple types of tables and individual soft seating, our students now have more options for relaxed and active learning environments, as well as the same sorts of individual and group study spaces that we have offered for the past 15 years."
The renovation was made possible through support from the Chancellor's and Provost's offices and the Office of Undergraduate Education as well as Library operational funds. Costa and Scott worked with two vendors — Agati Furniture and Steelcase — to create seating arrangements that would work best for the space. Along with better utilization of the space on the other floors of the Library, additional improvements are planned when funding becomes available — including upgrades to the Collaborative Work Rooms.
"The UC Merced Library revolutionized higher education libraries across the country when it first opened in 2005," Scott said. "We will continue to make sure the space offers the best ways for students to learn and collaborate as the campus grows."