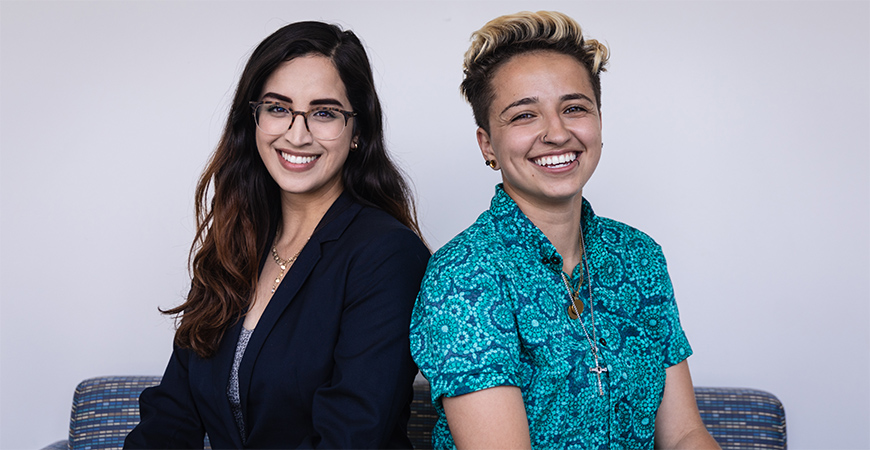 Undergraduates Victoria Arias and Cydney Caradonna entered UC Merced through different doors.
Arias was a freshman impressed with the campus and community. Caradonna was a transfer student and athlete sold on UC Merced's championship women's basketball team.
Now they've arrived at the same place — graduating members of the Class of 2019 and student speakers for their respective schools at commencement. Arias speaks May 18 to the schools of Engineering and Natural Sciences; Caradonna speaks May 19 to the School of Social Sciences, Humanities and Arts.
Both have messages of pride and gratitude.
"I really feel like UC Merced has taught me that it's not the name, but the experiences you have in school," Arias said.
Arias, of Clovis, initially was disappointed when she wasn't admitted to several big-name universities. Then she toured UC Merced.
"It just blew me away — the people and the type of community," said Arias, whose major is applied mathematics with an engineering emphasis. "I think about that all the time. UC Merced offered me so much that I just wouldn't have been offered anywhere else."
Her list of achievements includes an internship at the NASA Langley Research Center through UC Merced's MACES program — which stands for Merced nAnomaterials Center for Energy and Sensing. She also worked as an undergraduate researcher in two different campus labs and helped found the Society of Physics Students. Arias plans to pursue a Ph.D. in mechanical science and engineering at the University of Illinois at Urbana-Champaign.
Early on, the chance to become a DESCARTES (Data-Enabled Science and Computational Analysis Research, Training and Education for Students) Scholar contributed to her career path. In part, she spent several weeks of three consecutive summers developing programming, mathematical modeling and machine-learning skills and also completed an independent project.
"I had never programmed in my life and I didn't know much about technology or my own computer," Arias said. That experience helped launch an ambition to become a successful Hispanic female engineer and help others reach their potential.
She plans to research hypersonics — traveling roughly five times faster than the speed of sound — for her doctorate. Her goals also include becoming a pilot, an astronaut, a research engineer, a musician/DJ and a leader in education reform and STEM outreach.
Arias thinks fellow graduates can identify with her story.
"I want everyone to feel that excitement and feel proud of going to UC Merced," she said.
UC Merced offered me so much that I just wouldn't have been offered anywhere else.
Caradonna, of Gilroy, started her college career in Hawaii on a basketball scholarship. Youth and distance from home led to her return to Gilroy after one year.
Caradonna enrolled in community college and continued chasing her basketball dreams — ultimately, to UC Merced. First, she had to overcome the challenge created when some credits from Hawaii didn't count toward her athletic eligibility.
She talked with Coach Sarah Hopkins-Cherry, took a campus tour and worked out with the women's basketball team. A determined Caradonna added 20 units to her workload before a mid-year transfer.
"To feel like I was getting a second chance was big for me," Caradonna said. In 2017, she was part of the team's "three-peat" conference championship — just the start of her UC Merced experience.
Caradonna fell in love with academics as she dug into her Spanish major. She discovered empowerment in her studies and the "super-powers" that languages hold.
She also found a home in the Transfer, Returning and Veteran program, where she now serves as lead fellow and peer instructor.
"That really helped shape me and the teacher I'm going to be some day," she said. Next is a Fresno State master's program in higher education administration and leadership.
Caradonna feels gratitude toward UC Merced and the community that supported her when a concussion and other issues knocked her out of school for a month. She talks about leading and celebrating individuality as a gay Chicana with tattoos.
"There is an unspoken support on campus," she said. "Everyone pays it forward in some way. There's no way you can step on this campus without feeling it."
There is an unspoken support on campus.