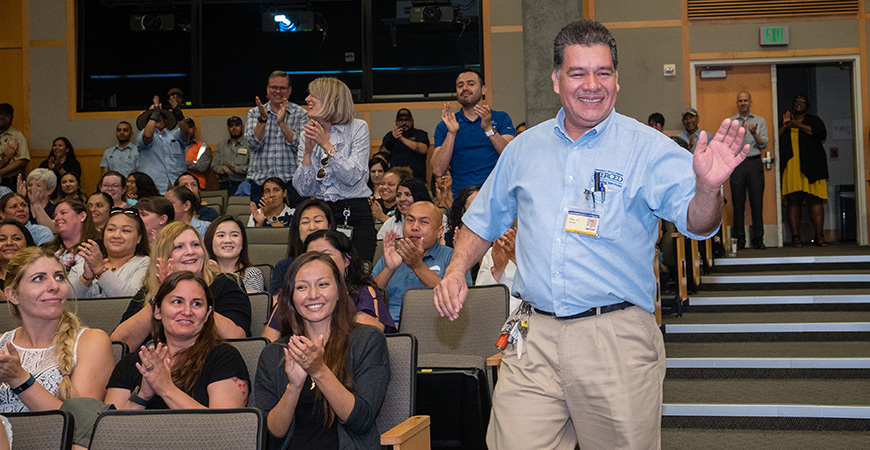 When it comes to campus icons, Guillermo Rivas is at the top of the list. The arches of the Beginnings sculpture might grace campus photos and brochures, but Rivas graces everyone he meets with his signature smile and infectious enthusiasm.
Vice Chancellor and Chief of Operations Michael McLeod said the senior custodian is the campus employee most frequently named as having a positive impact on the student experience in the annual student engagement survey.
"It's pretty cool, if you ask me," he said. "Guillermo carries out exceptional service in all he does." What's also pretty cool is the reaction staff had at the annual staff welcome in August, when Rivas was announced as the Staff Excellence Award winner in the outstanding customer service and job performance category.
Everyone cheered, some whistled, and then they all stood up. To accept his crystal award, Rivas walked down the steps of the Lakireddy Auditorium to the sound of thundering applause. Priya Lakireddy, president of UC Merced's Staff Assembly, which handles the awards process each year, said that's what the Staff Excellence Awards are all about: Honoring the exceptional staff members who make UC Merced great.
"What I love most about these awards is the equity they represent," she said. "Since I've been involved in Staff Assembly, I have seen the board each year work harder to make sure all staff are given opportunities to be recognized for both their efforts and accomplishments."
The following employees were also honored at the event:
Community Involvement and Public Service — Matthew Perez, Housing and Dining
Creativity — Erin Stacy, Sierra Nevada Research Institute
Diversity, Equity, Inclusion — Armando Contreras, Student Affairs
Organizational and Leadership Abilities — Karla Gonzalez, School of Engineering
Manager —Tony Smullen, Administrative Coordination Team
Team Work — Melanie Law, Recreation and Athletics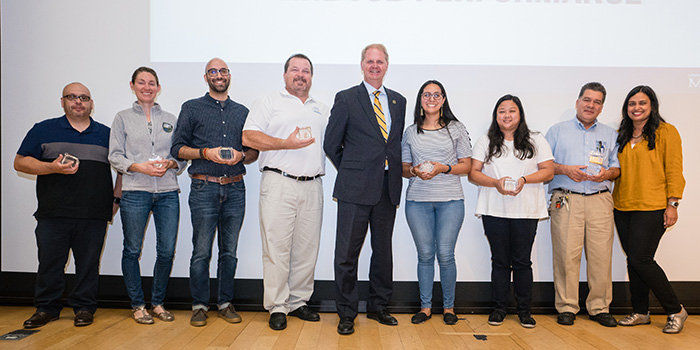 Contreras, who works in the Office of Associate Vice Chancellor and Dean of Students Jonathan Grady, is the first recipient of the award for diversity, equity and inclusion.
Lakireddy said the nomination for Contreras noted his influential participation in campus programs devoted to improving the experiences of all members of the UC Merced community. He has received grant funding to launch Building Community for Staff of Color, a program that should begin this academic year.
As a member of the Staff Assembly Executive Board when the category was presented and approved, Contreras advocated for the importance of recognizing the diversity work being done at UC Merced.
"To be honored with this award shows me that the work I do is valued and will continue to fuel future initiatives," he said. "I hope that this award category helps others to be recognized for their tireless efforts on diversity work."
For Staff Assembly Vice President Yesenia Curiel, the whole process was the right kind of overwhelming. The CARE Office director is new to the board and, in her role, has a key position in the awards process. But more than the position, she said it's the work that excites her most.
"I feel privileged to have the opportunity to listen and to advocate for staff members," she said. "I am happy to serve in the role of being a bridge to make sure that senior leadership is connected to our diverse staff members."