Growing up in San Juan Bautista, Vanessa Andrade loved hanging out with her father and his collection of cars and tractors.
She spent hours in the "barn" or shop, helping change the oil in cars, playing with tools and tinkering with her grandfather's old Allis-Chalmers tractor. So perhaps it's no surprise that this UC Merced senior — and Chancellor's Scholar — found her academic calling in mechanical engineering.
On Dec. 15, Andrade will participate in the university's fall commencement ceremony. She next plans to pursue a master's degree in mechanical engineering.
While she's still weighing her initial career path after college, Andrade eventually hopes to follow the passion that took root in childhood.
"I've always been interested in cars," she said. "My career goal would be to get into the automotive industry and design cars."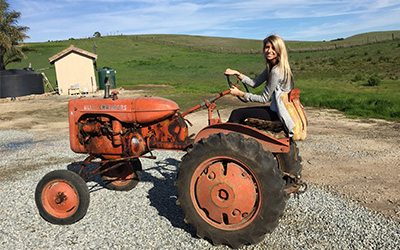 Andrade was about 10 years old when she first started helping her dad, Greg, in the family shop. He works in manufacturing engineering, which she acknowledges as an influence on her path.
"If he wasn't in engineering, I probably wouldn't have known what it was," Andrade said.
Academically, she excelled at math — even working as a tutor in high school — and her father and mother both encouraged her to take science and physics classes. But she wasn't sure of her college plans until she was introduced to UC Merced and took a tour of the campus.
"This school is really what sold me," Andrade said. "And I knew there were a lot of opportunities for internships here."
She came to UC Merced as a first-year student in 2014; she first planned to study computer science. That lasted just one semester.
"It wasn't for me," Andrade said. Mechanical engineering was the perfect fit.
She wanted to pursue an engineering discipline that was expansive and flexible. Many industries — from automotive to food processing — need engineers who can design, develop and create everything from small parts to large systems.
Andrade felt at home in the major and in classes with many other women.
"I feel like we almost don't even think about it anymore," she said of the number of female engineering classmates.
Throughout her semesters at UC Merced, Andrade found friends and supportive classmates along with helpful professors. She also took advantage of various internships and other opportunities.
In an Engineering Service Learning class, she worked on a project to design a more efficient way to pump water to cattle on campus land leased to ranchers. The goal was to swap a diesel-powered pump with one powered by solar panels.
"That was a good introduction into the real-world engineering design process," Andrade said.
I feel like there is a strong connection between the students and the professors. I love UC Merced — I wouldn't have gone to another school.
In fall 2017, she became the first Green Office Program intern. She helped develop a campus effort that encourages the adoption of sustainable practices. Offices can be certified "green" once they meet certain criteria.
Andrade gathered data and talked to various departments and offices about sustainability and ways to improve efficiency. Sometimes, she said, that was as simple as finding the most energy-efficient setting for a printer or asking folks to turn off lights when they leave offices.
"I really enjoyed that," she said. "It was interesting to meet with so many people from so many different departments."
Breeana Sylvas, assistant director in the Department of Sustainability, was Andrade's supervisor during the internship. She praised Andrade as smart, professional and responsible.
"She was great," Sylvas said. "Without her support in the development of the program, we wouldn't have been able to certify the offices we have certified now."
Andrade also worked last summer as a mechanical engineer intern for a company in the semi-conductor industry. She said she's ready for the next step in her journey and is happy that UC Merced provided the foundation.
"I feel like there is a strong connection between the students and the professors," Andrade said. "I love UC Merced — I wouldn't have gone to another school."