UC Merced staff members got the time to enjoy the company of their colleagues while being saluted for the tireless work they do to support students, faculty members and the university's mission during UC Merced's annual Staff Appreciation Week (SAW).
This year's event gave a nod to the past with its 1980s theme while heralding UC Merced's future.
"The music, decorations and fashion were clutch," Staff Assembly President Jeff Porto Jr. said during the SAW picnic. "The week's events could not have been possible without the hard work, dedication and creativity of many staff."
The annual SAW celebration is organized by UC Merced Staff Assembly with support from Human Resources and the Office of the Chancellor. This year, about 60 percent of all non-student staff members — just over 600 employees — participated in SAW festivities that included tours of several campus locations, a staff breakfast, Bobcat yoga, ice cream socials, and trivia and decorating contests. A whopping 458 people attended ice cream socials at campus, the Downtown Campus Center and the Fresno Center. Human Resources claimed the top prize in the office decor contest for its '80s-inspired "Welcome to the HR Jungle" theme. The trivia contest received 23 entries and the following staff members won prizes:
Bernadette Mello

Guadalupe Aguilar Munguia 

Destyni Murray 

Joan Rich

Melissa Tatham

Stephanie Stepp

Jordan Thaw

Annette Garcia
But the week wasn't only about fun and games. Eighteen staff members got into the giving spirit and donated a total of $304 to the UC Merced Staff Assembly Scholarship for Employees' Dependent Children, a scholarship earmarked for students who attend UC Merced and whose parents work here.
During the closing Staff Appreciation Picnic, attendees enjoyed picture-perfect weather as they dined on pre-ordered boxed lunches. DJ Lamont Walker entertained the crowd with '80s tunes, and an on-site photo booth sent staff members home with mementos of the picnic. Staff members also shared their own photos from week with Staff Assembly, and those images appear in a SAW 2018 photo album.
Time's Running Out, Cast Your Vote in Staff Assembly Board Elections
UC Merced staff members: If you haven't cast your ballot in this year's Staff Assembly's executive board election, the clock is ticking. Online voting for the 2018-19 executive board closes at 5 p.m. Friday, May 25.
All non-student staff members are eligible to vote for candidates in the following positions:
Vice president (three-year term)
Secretary
Finance officer-elect (two-year term)
Co-chair for communications (two positions)
Co-chair for programs, events and outreach (two positions)
Co-chair for fundraising (two positions)
A summary of the duties required for each position and an overview of the election process can be reviewed in the Staff Assembly bylaws. Staff Assembly will announce results May 31.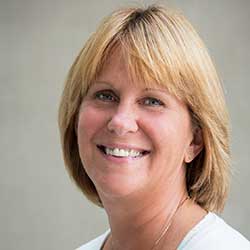 Staffer Honored With 'Hero' Award
Vernette Doty — who's well known both on and off campus for overseeing many of UC Merced's civic engagement programs -- has been recognized with a Hands-on Heroes award.
Doty, associate director for UC Merced's Community Engagement Center, received this year's Babatunde Osungboye Emerging Leader Memorial Award.
"I feel so humbled," Doty said. "So much of what I do is to engage our students with the community. I'm honored to be a part of this important work and to see the great impact our students are making."
Doty's efforts have placed student volunteers in every elementary school in Merced City School District with literacy tutors, pen pal programs, afterschool support and America Reads. She's also placed student volunteers with the Merced Boys and Girls Club, Merced County Library and Merced city sports programs.
Her work also supports the Merced County Project 10% , which has placed UC Merced students in 13 area middle schools to discuss the benefits of a college education and demonstrate the possibilities of dreaming big. The project's goal is to increase Merced County's high school graduation rate by 10 percent.
In his nomination, Vice Chancellor for Student Affairs Charles Nies commended Doty's dedication.
"The work she does not only enhances the experiences for youth in our community but helps the next generation of leaders understand their role as citizens for a better tomorrow," Nies wrote. "It is part of her commitment to ensure that the UC Merced students who volunteer understand their contributions to expanding the experiences for youth and their role in creating positive social change."
Doty received her award last month during Merced County's 15th annual Children's Summit.
Questions About Compliance? Find the Answers at This Forum
If you feel clueless about compliance issues, set aside time on June 14 to attend a forum hosted by the Ethics and Compliance office.
The forum — from 9:30 a.m. to noon in Room 110 of Classroom and Office Building 2 — will be packed with information about UC Merced's ethics and compliance program and related topics. The compliance office hand-picked subjects that faculty and staff members ask about the most.
Subject-matter experts will cover emerging topics related to policies, records management, workplace behaviors and more including:
Records management;

Phishing, cybersecurity and other information technology-related matters;

Abusive conduct; and 

Options and requirements for conveying improper behavior via Title VII, Title IX, whistleblower and the Office of Ombuds Services.
A general compliance briefing is part of the forum. Those who attend the forum will fulfill the general compliance briefing requirement that's due by June 25. Employees who've already taken the e-course are encouraged to attend the live forum, which has additional information tailored for UC Merced audiences.
To register, sign into the UC Learning Center and select the magnifying glass to search for "forum."
Employees are invited to submit questions by email to the Ethics and Compliance office no later than June 8.