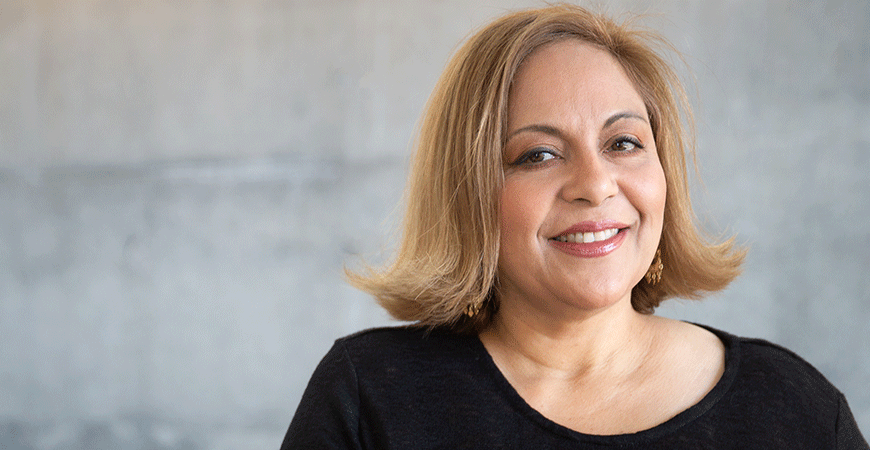 Violet Barton remembers her teenage years doing quadratic equations by candlelight to a soundtrack of bombs and bullets as the Salvadoran Civil War raged around her.
She was forced to migrate to the United States 36 years ago but will go back to El Salvador later this year as a UC Merced graduate student and a Fulbright scholar.
A fourth-year Ph.D. student in Interdisciplinary Humanities, Barton became the campus' second Fulbright U.S. Student scholar, following in her daughter Danielle Bermudez's footsteps. Bermudez became the campus's first Fulbright Student Award recipient just a few weeks ago.
This isn't the first time Bermudez has paved a path for her mother — it's because Barton was interested in Bermudez's graduate studies at UC Merced that she applied to grad school here, too.
Barton has already won several prestigious awards including the Miguel Velez, the UC Humanities Research Institute's Critical Refugee Studies Collective, the Center for the Humanities and the Eugene Cota-Robles fellowships.
"As a young immigrant woman of color, whose life was interrupted by war, I would have never thought I'd be able to get a Fulbright. That's something that happens to other people," Barton said. "And my daughter led the way — that makes me incredibly proud."
The Fulbright Program is a highly competitive scholarly program that aims to increase mutual understanding between the people of the United States and the people of other countries. Through this prestigious award, she joins distinguished Fulbright alumni around the world who have become heads of state, judges, ambassadors, cabinet ministers, CEOs and university presidents, as well as leading journalists, artists, scientists and teachers. They include 59 Nobel Laureates, 82 Pulitzer Prize winners, 71 MacArthur Fellows, 16 Presidential Medal of Freedom recipients, and thousands of leaders across the private, public and nonprofit sectors.
Barton and Bermudez, who already left for nine months of research in El Salvador, will likely cross paths, though Barton doesn't know exactly when she will ship out after her Fulbright orientation in June.
"It will be like getting to know my homeland all over again and writing about it firsthand through my research. This is going to be a transformational journey for me."
Barton plans to spend a year researching how Nahuat women survived through the Salvadoran Civil War (1979-1992), and what remains after war given that the impact of violence and war on indigenous communities is under-studied. Under Professor Ma Vang, Barton will work mainly with a group of Nahuat women who lead a new human rights movement since the country's constitution first declared indigenous peoples' rights in 2014.
"Nahuat identity, language and religious and cultural practices have survived in El Salvador despite colonialism, empire and war. Although as many as one-third of Salvadorans were forcibly displaced by the war — including Nahuat families — understanding how they have survived and demonstrated cultural resiliency is critical, as the country reckons with ongoing violence," Barton said.
"What does it mean to protect your culture in the aftermath of war and forced migration, when families are separated? I remember what it was like, enduring the violences of war. People are resilient and still get up and go to work every day and live their lives. I'm trying to understand that resiliency," she said. "What allows people to come out on the other side of such trauma envisioning a different future for themselves and their children?"
She likens Nahuat struggles for "survivance" to that of Kurdish stateless communities in Syria that have been forcibly displaced and dispossessed by colonialism, empire and war for decades and said she is juxtaposing the experiences of both indigenous groups in her dissertation.
The intersections of indigeneity and "refugee-ness" in El Salvador and Syria haven't been the site of much scholarship, she said, so there are many opportunities to understand what is like for indigenous communities to survive the violences of war. But having left her Salvadoran home in the 1980s as a teenager and only having gone back once since, this research trip will be a new experience.
"It will be like getting to know my homeland all over again and writing about it firsthand through my research," she said. "This is going to be a transformational journey for me."

Senior Writer and Public Information Representative
Office: (209) 228-4406
Mobile: (209) 201-6255