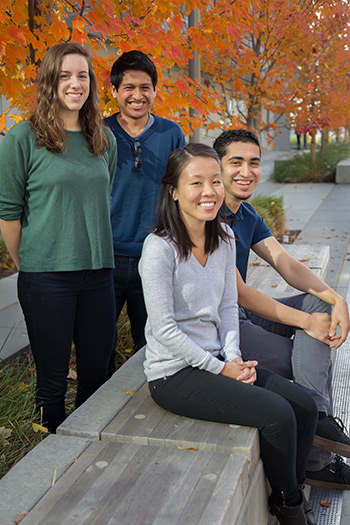 A small team of undergraduate students from UC Merced is gaining major exposure in a global competition to design portions of what could be the next big innovation in transportation.
Elon Musk, the billionaire inventor and co-founder of PayPal and Tesla Motors, has envisioned a "hyperloop" in response to California's plans for a high-speed rail system. As part of his SpaceX initiative to design, manufacture and launch advanced rockets and spacecraft, Musk started a competition to accelerate the development of the hyperloop.
The UC Merced Hypercats — four mechanical engineering students — was one of 1,200 entries from more than 160 universities and private companies, and the team's design for an emergency-brake system was one of 300 selected from that original pool. The Hypercats' design has now gotten the team to the third stage of competition.
"We considered some really crazy ideas," team leader Benjamin H. Bocanegra said. "We thought of rockets, parachutes … but in the end, we came up with a system that uses 'wings' on the top of the pod and air flaps on the side to slow the pod to a safe speed for a set of wheels with brake calipers to safely stop the pod."
The solar-powered hyperloop system would feature engineless pods traveling 760 mph using a near-vacuum inside pressurized smart tubes that sense speed and location. Musk believes the system could transport people much faster and more safely than a traditional rail system, and could cost less than the 10s of billions estimated for high-speed rail.
For example, passengers could travel the 400 miles from San Francisco to Los Angeles in about half an hour, on a trip that's as comfortable as a plane flight, for about $20 each, one way.
Musk started the Hyperloop design competition to accelerate the development of a functional prototype and to encourage student innovation, and invited universities and private engineering companies from all over the world to submit proposals for passenger-transit pods or sub-systems to support the pods.
At the end of January, the UC Merced team travels to Texas A&M University for Design Weekend, where about 100 teams that have made it this far in the contest will present actual models of their designs.
Because the pods would be traveling so fast, "They would be slowed to a stop over about 14 seconds and 3 kilometers to avoid serious injury or death to passengers," team member Isabella Domi said. "That meant we had to design a very different kind of system."
The students plan to take 3-D-printed models of their system to Design Weekend, and will have cost analyses as well as computer simulations and calculations to support their proposal. If the team makes it to the next round, their system will be tested on a 1-mile track built by SpaceX in June 2016.
"To see our design come to life? That would be amazing," team member Salvador Uvalle said.
But the students, including fellow teammate Huong Phan, feel honored to have made it this far, especially knowing their competition. Some universities have teams of 90 or more people, with faculty advisers who study hyperloop technology. Some even have financial sponsors.
"We've worked really hard to get this far, and I definitely think we have a chance to compete at this global scale," Phan said.
Most members of the Hypercats have been or are part of the MESA Lab for mechatronics research, and Professor YangQuan Chen, who runs that lab, has been chosen as a judge for Design Weekend. The team, though, works with two of UC Merced's leading-edge School of Engineering professors, Ashlie Martini and Venkattraman Ayyaswamy.
"I am extremely proud of the team's success so far and am looking forward to working with them as they prepare for Design Weekend," Martini said.
At the Texas event, each entry will be presented to a panel of SpaceX officials, Tesla Motors engineers and university professors. The event will also be an opportunity for the students to network with other researchers and representatives from the various companies, including SpaceX and Tesla Motors. Part of the submission process for the event includes a copy of each student's resume.
"I'd love to work for SpaceX," Domi said.
Bocanegra said this is his first experience leading a team that's doing something of this magnitude, and getting a chance to move on in the competition would mean a lot to him.
"It's pretty exciting just to be a part of something like this," he said.

Senior Writer and Public Information Representative
Office: (209) 228-4406
Mobile: (209) 201-6255