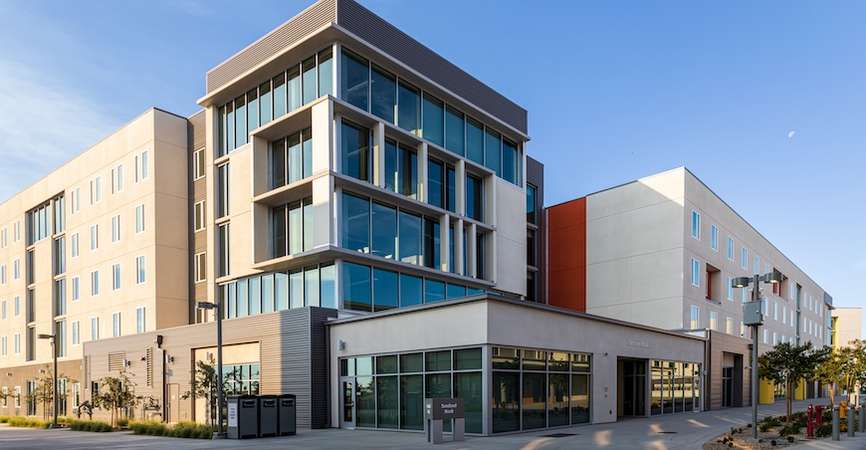 Since its completion three years ago, the Merced 2020 Project has amassed numerous accolades. Most recently, the landmark project that, in essence, doubled the size of the university's campus, was selected to receive the Urban Land Institute (ULI) Americas Award for Excellence.
The 2020 Project was one of 10 developments across North America to earn the distinction, which recognizes "superior development efforts in the private, public and nonprofit sectors." The project is now eligible for the 2023 Global Awards for Excellence, competing against others from the Europe and Asia Pacific regions. Winners will be named in October.
ULI evaluates submissions on overall excellence, including achievements in design, planning, amenities, innovation and sustainability. According to the ULI website, winning projects represent "the highest standards of achievement in the land use profession and encompass a wide range of land uses, sizes, investments and geographic locations."
The 2020 Project added 1.2 million gross square feet of critically needed facilities at UC Merced that addressed existing academic and student life needs as well as anticipated enrollment growth.
Key enhancements of the project include the following:
● Academic and research space - wet, dry and computational labs, plus graduate student space
● The Student Wellness and Counseling Center
● Student life facilities and multi-use student organization and activity spaces
● 1,700 on-campus student residential beds integrated with student life space
● 1,500 parking spaces
● Competition pool
● Conference center
Construction on the 2020 Project began in October 2016 and was completed in fall 2020.