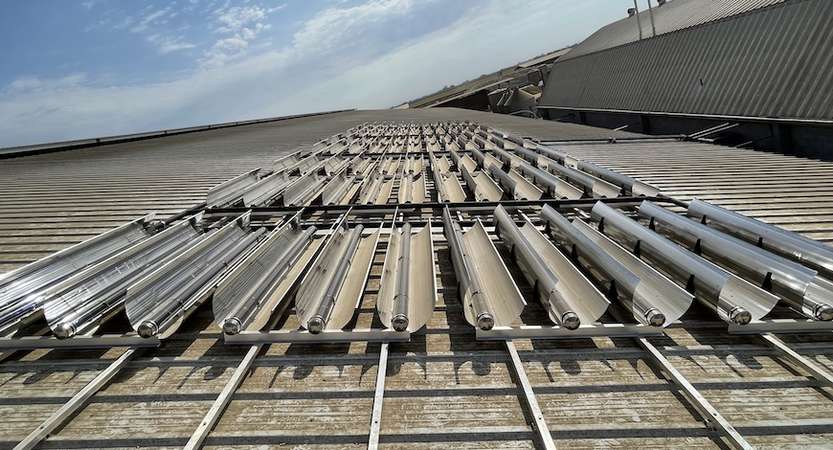 A company started by UC Merced founding faculty member Roland Winston - and staffed by alumni - is looking for partners for some exciting solar projects. And the government could cover the costs.
Winston Cone Optics seeks to develop pilot projects that use solar energy to heat water, evaporate waste and remove salt from wastewater.
"Solar energy isn't a new concept, but what makes our solar thermal collectors unique is the use of nonimaging optics to concentrate sunlight year-round from a stationary position," said Winston. "The result is less maintenance, fewer components, and better efficiency and reliability."
Professor Aldo Steinfeld of ETH Zurich university was asked by his campus's president to present an example of basic research that led to a highly practical application comparable to Albert Einstein's photoelectric effect that led to the development of photovoltaics, he cited Winston's work.
Nonimaging optics allow the collectors to achieve the higher temperatures needed for industrial processes at a fraction of the cost of competing collectors. WCO's thermal collectors generally collect 55 percent of the available solar energy, compared to 18 percent collected by typical solar photovoltaic panels.
The company recently installed its first pilot solar thermal system on the roof of a dairy in Merced with support from the California Energy Commission. The system pre-heats water that is used to sterilize milking equipment.
One of the main challenges for solar energy is that it only works when the sun is shining. The Winston Cone installation, however, has been able to stretch that into the night using hot water storage.
"(The dairy) requires hot water around the clock at 180 degrees Fahrenheit," said Bennett Widyolar, Winston Cone's chief technology officer, who graduated from UC Merced in 2018. "We are able to provide them that over a 24-hour period, which we think is pretty exciting."
In addition to being more energy efficient, the solar system has the potential to save farmers money.
"A lot of dairies are operating on propane, which is really expensive," Widyolar said. "We're hoping to leverage this pilot to get more systems online, get more traction and hopefully become the standard practice in a state with such an excellent solar resource."
Winston Cone Optics has also secured $350,000 in cash through its participation in the American-Made Solar Desalination Prize - and is working to get more. The team has partnered with TREVI Systems and Global Water Innovations to develop a brine treatment system that can take the salty wastewater from a reverse osmosis (RO) system and bring it all the way to zero-liquid discharge. This is a key step to eliminating brine disposal costs and unlocking vast amounts of brackish (salty) water for inland consumption.
"One of the things with the desalination equipment is that it wants to operate 24/7," Widyolar said. "We're excited to be working with UC Merced Professor Sarah Kurtz and graduate student Mahmoud Abido to demonstrate a solar plus storage (system) that can provide thermal energy around the clock."
Abido, a mechanical engineering student, is collecting data to develop a model that will predict the system's output.
"Using this model, we can also predict how much carbon emissions can be decreased by implementing our technology in the industrial and commercial sectors," Abido wrote in describing his work.
The company is also working on a project with the Naval Research Institute to reduce the energy needed to rid areas of perfluoroalkyl and polyfluoroalkyl substances, or PFAS. These "forever chemicals" are used in industries such as aerospace, automotive, construction and electronics, according to the National Institute of Environmental Health Sciences. They are not easily degraded, so they must be shipped out for incineration. Winston Cone Optics' solution is to use solar thermal to evaporate and separate pure water from a contaminated stream, leaving behind a more concentrated PFAS solution. Reducing the volume of PFAS-contaminated wastewater can lower the disposal costs.
Along with grant research, Winston Cone Optics is working with UC Merced's NSF I-Corps and Engineering Capstone programs. The I-Corps program provides students an opportunity to engage industry contacts, potential customers, partners and competitors. The Capstone teams develop innovative solutions for real-world problems.
"We also want to support our alma mater and fellow alumni by providing opportunities to gain industry and networking experience," said Jordyn Brinkley, the company's application engineer, who graduated from UC Merced in 2022.
The company is now looking to increase its solar footprint by partnering with local companies. "If you have thermal process heat needs up to 300 degrees Fahrenheit, WCO can help you with a low-cost and environmentally friendly solar heating solution," said research and development engineer and fellow UC Merced graduate Yogesh Bhusal.
Funding could come from the Department of Energy's Investment Reduction Act, which is providing $5.8 billion for industrial decarbonization.
"We're contacting all the industrial and commercial sites we can find to see if they are interested in partnering for future grant applications," Widyolar said. "The amount of funding available is an order of magnitude more than we've seen in the past, so it's an exciting time to be in the industrial decarbonization space."
"And not only in the U.S.," Winston added. "We have solar collector systems set up in India, Dubai, Israel, Mongolia and China and are looking to expand our global outreach to maximize our impact."
For more information on the projects, or to contact the researchers, reach them through their website, winstonconeoptics.com.