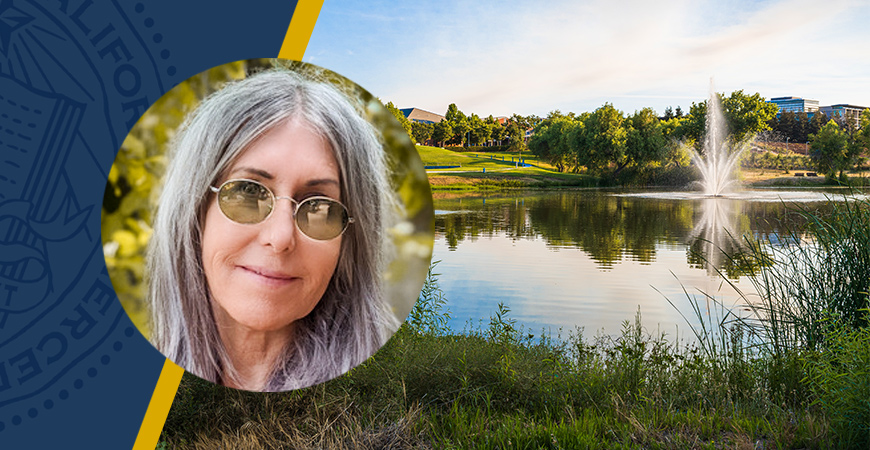 Teenie Matlock, Cognitive and Information Sciences professor and the McClatchy Chair in Communications, has been awarded the fourth Jeffrey L. Elman Prize for Scientific Achievement and Community Building — one of the highest honors in the Cognitive Science Society.
For Matlock, it's a true honor to be selected for this prestigious international award.
"This recognition comes as a wonderful surprise," she said. "It means a lot to me personally, given that I knew Jeff Elman for 30 years and always greatly admired his skills as a scientist, mentor and leader. He will always be known for his many valuable discoveries in cognitive science, and for being an insightful role model and leader."
The annual Elman Prize "is given to cognitive scientists whose accomplishments exemplify the twin strands of scientific excellence and commitment to community-building and service that were so evident in Jeff Elman's career."
A cognitive scientist and linguist, Matlock has published more than 100 articles in cognitive science and related fields. Her research investigates how language, including metaphor, is used in everyday communication, including in discourse about climate change, wildfire risk, cancer, political campaigns, time, technology and disease.
Over the years, Matlock has received awards for distinction in research, teaching and mentoring. Most recently, she was awarded the Athena Academic Leadership Award by the Women in Technology Initiative at the University of California. She has served on the governing board of the Cognitive Science Society, as a member of the National Institute of Health's Language and Communication study section and on the UC's systemwide Advisory Council on Campus Climate, Culture and Inclusion. Her Ph.D. is from UC Santa Cruz, and she completed postdoctoral training at Stanford University.
She has been awarded numerous grants, mostly from the National Science Foundation, and was issued a patent for rapid symbolic input in small electronic devices.
From 2019-22, Matlock served as vice provost for Academic Personnel. In this role, she oversaw all processes and policies pertaining to the hiring and advancement of academic appointees at UC Merced, while contributing leadership efforts to various initiatives in the UC system, including equity and inclusion, mentoring and Native American relations and opportunities.
"Dr. Teenie Matlock continues to garner the praise and acknowledgement she has unequivocally earned as a productive cognitive science researcher and thoughtful leader," Chancellor Juan Sánchez Muñoz said. "The campus has benefited greatly from her leadership since 2004, when she arrived as a founding faculty member, and as founding chair of what became the Department of Cognitive and Information Sciences, and most recently as Vice Provost for Academic Personnel."
In addition to her UC Merced faculty position, Matlock is currently serving as special adviser to the UC Santa Cruz chancellor, providing leadership and consultation on various matters, including Native initiatives and opportunities.
This honor will be celebrated this summer at the CogSci 2023 conference in Sydney, Australia, with a prize ceremony and a dedicated symposium.
Senior Public Information Representative
Office: (209) 228-4203
Mobile: (209) 628-8263