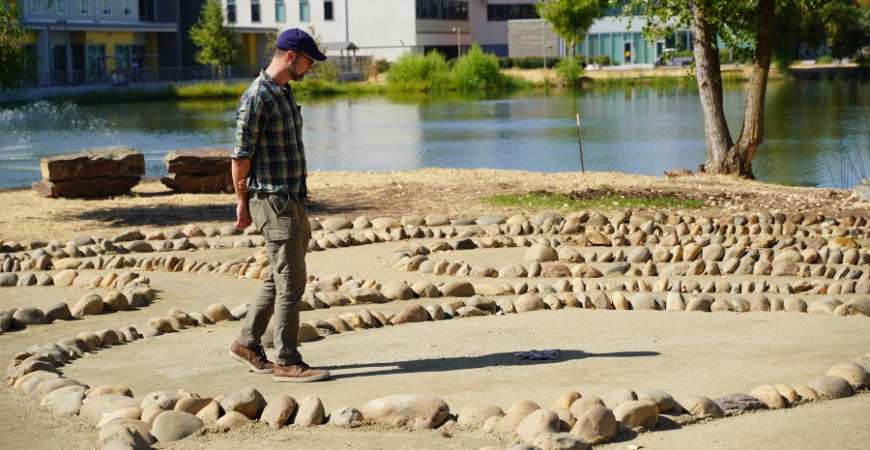 Just in time for the start of the academic year, UC Merced's newest landmark has opened —The Labyrinth.
Located in Kelley Grove overlooking Little Lake, UC Merced Art Director Collin Lewis calls The Labryinth "a testament to our university's commitment to fostering creativity, contemplation and community engagement."
Labyrinths date back to ancient times. They are patterns people walk to reflect and have been found in multiple cultures and communities around the world. Labyrinths are not mazes, which involve decision-making, analysis of where you've come from and where you're trying to go. Labyrinths do not involve choices, but rather mindfulness and awareness of the moment.
"Installing art like this directly into the landscape of campus adds to the university's ambiance by not only elevating the visual landscape, but also by stimulating intellectual conversations and encouraging moments of introspection and mindfulness," said Lewis.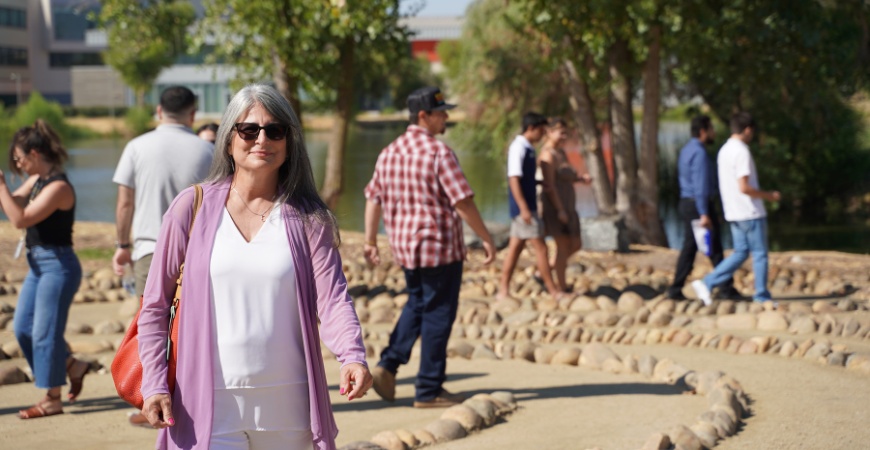 On Aug. 18, the UC Merced campus community celebrated the opening of The Labyrinth with a dedication ceremony. Former UC Merced Programs Development Director De Acker spoke about how walking a labyrinth can be a different experience for everyone. Some walk it while meditating, while others use it to reset or reflect on a question that has been on their minds.
"We hope that this new sanctuary on campus will have a positive impact on all who visit and walk its path, allowing folks to experience a temporary escape from the demands of daily life," said Lewis.
Lars Howlett designed The Labyrinth at UC Merced and said those who approach it are invited to take it by whatever means they see fit in the moment. Howlett is an expert in the creation of custom labyrinths, from replicas of classical and medieval designs to one-of-a kind installations. He has built labyrinths throughout the country and continues to research historic and new labyrinth sites around the world.
There are four phases of walking a labyrinth, according to the nonprofit Veriditas, an organization aimed at inspiring change through the labyrinth experience.
Remember and center your mind on a topic or question before walking the path.
Release the rest of the world as you walk the pattern itself.
Receive your clarity or inspiration as you reach the center of the labyrinth.
Return as you walk out of the labyrinth.
Once the walker reaches the center of the Baltic Wheel design, an immediate exit is available. But many people choose to walk back through the way they came to close out their experience.
"I can't wait to see how the community incorporates this new space into their campus experience, and I hope that generations after us will continue to enjoy all that The Labyrinth has to offer for many years to come," said Lewis.

Public Information Officer
Office: (209) 413-9330