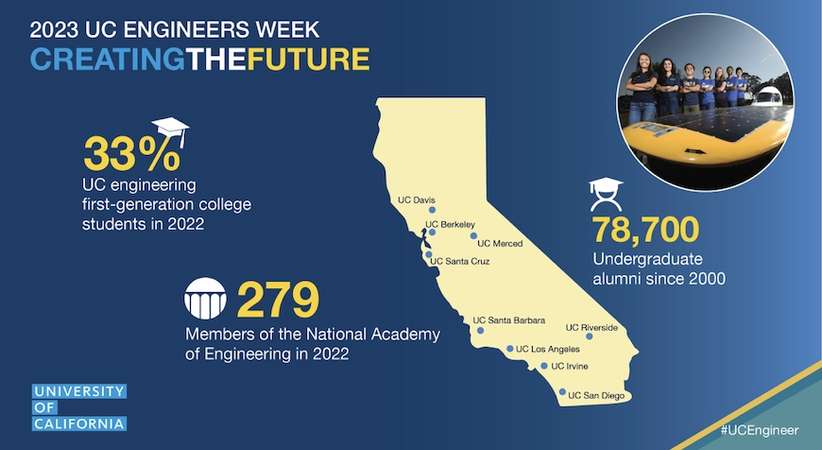 Engineering gets its annual turn in the spotlight next week, and UC Merced is planning a number of events to celebrate.
Engineers Week, often shortened to EWeek, was founded by the National Society of Professional Engineers (NSPE) in 1951. This year, it takes place from Feb. 19-25 nationally. At UC Merced, events will take place Feb. 21-28.
More than 70 engineering, education and cultural societies, and more than 50 corporations and government agencies take part in the event, according to the NSPE website. It's designed to raise public awareness of engineers' positive contributions to the quality of life, as well as promote "recognition among parents, teachers and students of the importance of a technical education and a high level of math, science and technology literacy," the website says.
One main goal of the event is to motivate young people to pursue engineering careers. Toward that end, UC Merced will host 60 third- through sixth-graders from Pioneer School on Feb. 28. The young students will take part in hands-on solar circuit activities and tour the Central Plant.
UC Merced students from the Vanguard organization of the School of Engineering, supported by the STEM Center's outreach Young Engineer and Scientist (YES) Academy, will lead the activities. Vanguard is the umbrella organization of the school's registered clubs and organizations (RCOs)
Mechanical engineering student Ethan Murica is leading the Kids Day event. Though Kids Day is aimed at sparking interest in younger people, the college students who participate get a lot out of it, as well, Murica said. That includes the opportunity to learn how to teach and explain topics, how to break down concepts, and valuable interpersonal and communication skills.
In addition, he said, "Engineering students gain gratification in contributing to the Merced community and seeing the joy" of the younger participants.
Other events planned include panel discussions, a career expo and a session on speaking in public.
Mechanical engineering student Xavier Vega said the return to in-person gatherings after the COVID pandemic distancing provides the opportunity to grow the clubs.
"We noticed that the return of our student body post-quarantine brought many challenges to our UC Campus and Engineering RCOs," said Vega, president of Vanguard. "Hence, the reason we strategically decided on hosting workshops that will grow our student body professionally and careerwise."
Though the events are geared toward engineering, many are open to students of any major who might be interested in the subject, or just curious, said Karla Gonzalez, director of undergraduate services for the School of Engineering.
"It's a great opportunity for students to come talk to other engineering students," she said. "They just have to register."
Registration is available through the QR code on the event flier, or at the Vanguard website.