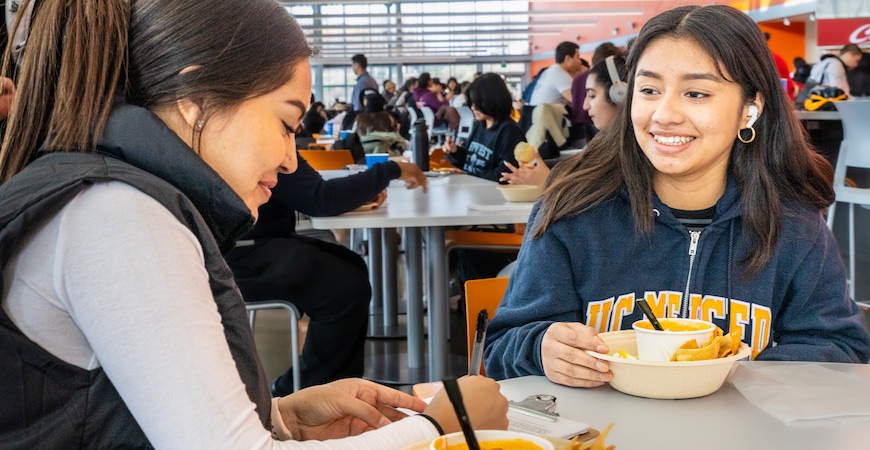 After weathering a pandemic shutdown and some fairly withering criticism, UC Merced's food service programs have emerged better than ever.
The shutdown that started in 2020 brought about abrupt changes to food service operations - prepackaged items were the order of the day to feed students, and for catering, there were no orders of the day.
As the restrictions were eased, some students weren't happy with what they were getting. That's nothing new - complaints about food served on college campuses likely date back to when the first meal was served to the first student. Last year, some students posted photos on social media, and their complaints got picked up by local news organizations.
But rather than get defensive about the complaints, those charged with feeding the students, staff and faculty at UC Merced have been working to fix the issues and improve the meals they are serving.
And it's working.
Anthony Pangelina, executive chef at the Yablokoff-Wallace Dining Center (YWDC), said he has gotten only two complaints since he took over last fall - and one of them had to do with someone not familiar with eating salmon (it's supposed to be pink).
At the Pavilion, executive chef Matt Perez has had a similar experience.
Perez regularly solicits student feedback, whether in meetings or "table touches" - impromptu visits to tables of students to ask their opinions about what they're eating.
"Interacting with students helps us build great relationships," Perez said.
The change has been marked, but it took some work. Perez said the chefs worked with a consultant and communicated more regularly with vendors to ensure they were getting high-quality food to serve.
Prior to the COVID pandemic, the Pavilion had been a self-serve establishment. During COVID, that option was removed. And given that so many items, such as salad, were purchased in single-serve sizes, that led to a lot of waste with the packaging. It also made it more difficult to customize meals for students.
Now, they come in and can pick more or less of whatever they want.
"We gave students back the power to create their own meal," Perez said. "It provides full creativity and what you're going to get is less food waste."
And he's been open to trying new options, such as a deli station that allows for sandwiches that can be customized with a variety of options. So far, open Tuesday through Thursday, the deli station has been a popular stop and is something Perez hopes to provide daily.
"We get 5,500 to 6,000 (card) swipes per day," Perez said. But since some students get more than one meal, that results in 7,000 to 8,000 meals per day.
Both chefs said they are working with student groups to bring in more activities, as well as a menu that reflects the diversity of the student population and the local cuisine.
Pangelina said he's been working with student groups on hosting events such as karaoke nights and club meetings.
One big area of success has been "Wacky Wing Wednesday."
The wings are marinated overnight in house-made seasoning, then baked before being finished in the fryer and tossed in sauce.
"We go through 600 pounds of chicken every Wednesday," Pangelina said. The dish generally sells out within a couple of hours.
A recent sampling of customers at the Pavilion found that students are appreciative of the chefs' efforts.
"I like the butter chicken," said first-year student Nirvan Mehra. He was eating with fellow first-year student Natalie Parker, who said she's a big fan of the facility's french fries.
And both are happy with the return of serve-yourself dining.
"It's much better," Mehra said. "We don't waste that much food."
Added Parker, "It makes the lines a lot shorter, too."
Andrea Ramos, at a nearby table, said while some of the offerings are "hit or miss," overall the options are good. She particularly likes pozole.
Her tablemate, Evelin Esteban, agreed. "I do appreciate when they try to do Hispanic food," she said.
One thing Perez and Pangelina want to do more of is engage with the larger Merced community. While their primary focus is providing excellent meals and service to the campus, the community is welcome to come experience what UC Merced Dining Services has to offer. Anyone can come in and eat, paying with a debit or credit card (the facilities don't accept cash).
The cost is $10.95 for breakfast, $11.95 for lunch and $12.95 for dinner. That includes all the customer can eat and drink.
"For a family of four, you could get dinner for $50, and as much of it as you want," Pangelina said. "There aren't a lot of places you can get that kind of a deal."
Catering services have had profound change, as well, over the last three years.
The shutdown due to the pandemic put an abrupt end to the program in 2020. With the return to campus and in-person learning, catering started up again. But that meant putting together a staff and an operation basically from scratch.
"We lost our entire staff," said Jorge Herrera, who oversees Lakeside Catering. He has been hiring both career and student employees. "It was a little struggle to get everybody going again."
The silver lining: "COVID gave us time to revamp our menu," Herrera said. "We normally don't have time and are trying to create menus on the fly."
Now, Herrera said, the organization is up and running and well on its way to hiring a staff that will ultimately number about 70. "Breakfast has been very big, but lunchtimes are our busiest," he said.
A new program aimed at helping students is called "No Food Left Behind." Herrera said it works like this: At the end of an event, if there is food left over, a text message will go out to students explaining what's available and where. It's given away on a first-come, first-served basis. In addition to providing meals for students who are food insecure or just busy, "No Food Left Behind" reduces the amount of waste produced by any event.