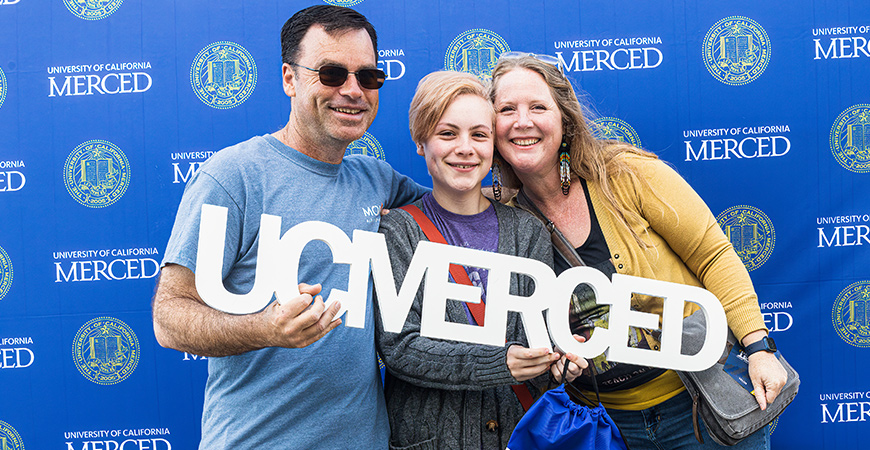 UC Merced is hosting its annual open house event Saturday, April 22, to give admitted, prospective and transfer students the opportunity to learn more about what the university has to offer.
Bobcat Day kicks off at 9 a.m. with a campus information fair, as well as tours of the campus, housing and labs. Attendees are invited to the Carol Tomlinson-Keasey Quad, where Chancellor Juan Sánchez Muñoz will provide welcome remarks.
Faculty and staff from the School of Engineering, the School of Natural Sciences and the School of Social Sciences, Humanities and Arts will be on hand to provide information about majors, minors and research opportunities.
While the event is the perfect opportunity for future Bobcats to get answers to questions about admissions, academic programs, financial aid and more, it's also a great way for their families and the local community to explore the campus.
Families are also invited to a presentation on how they can be partners in their students' success.
To give students an idea of what they can experience outside the classroom, members from student clubs, organizations and athletics will share their experiences in extracurricular activities. Musical and cultural performances will also hit the stage.
Alumni are available at the "Ask an Alum" table to answer questions and share stories of their journeys at UC Merced and beyond. Prospective students can network with them and even get some insider tips, such as where are the best spots to study in the library and how to land internships.
Food is without a doubt an important part of a student's daily routine. Future Bobcats can get a taste of the meals and snacks available on campus at the Pavilion and Yablokoff-Wallace Dining Center.
Throughout the day, future Bobcats will be encouraged to submit their Statements of Intent to Register at SIR Central, located next to the registration table at University Plaza, where they will ring a cowbell and take photos to memorialize the special moment.
Students are encouraged to share their event photos and videos on social media using #BecomeABobcat. UC Merced will post memorable moments and highlights on Facebook, Twitter, Instagram and TikTok.
Visitors can expect to spend a lot of time outdoors, so sunscreen, a hat and comfortable shoes are recommended. Multiple stations are available where reusable water bottles can be refilled. Parking is free in the Bellevue lot.
More information about Bobcat Day, including the day's agenda, is available online.