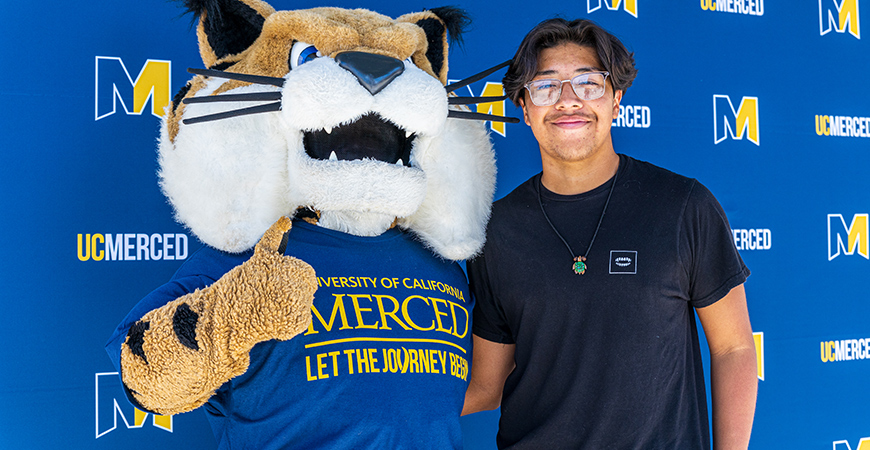 The excitement was palpable at UC Merced as a record number of people descended on the campus for Bobcat Day. More than 5,700 students, family members and friends attended the annual open house event April 22 to learn about the university and its offerings.
Informational tables stretched from University Plaza, along Academic Walk and up to the Carol Tomlinson-Keasey Quad. Hundreds of current students, faculty and staff were on hand to provide information about majors, research opportunities, financial aid, housing, student clubs and much more.
Tour guides kept busy providing visitors a first-hand look at classrooms, labs, dorms and other buildings that make up the Merced 2020 project, as well as those that have stood since the university opened.
With the Beginnings sculpture behind him, Chancellor Juan Sánchez Muñoz welcomed the large crowd and personally invited students to join the UC Merced family.
"Our intention with Bobcat Day is to convey uniqueness and the future-focused mission of UC Merced," he said. "We want you to come to a place that's affordable, safe and convenient; a place that acknowledges you and provides you with every opportunity to succeed and distinguish yourself in California, in the Central Valley and anywhere in the world."
The event is held every April and attracts thousands of admitted, prospective and transfer students to Merced. This year, hundreds of students who fell in love with the campus submitted their Statements of Intent to Register (SIR) right on the spot. The special moment was hard to miss because cowbells were ringing, families were cheering and some even shed a tear or two.
"Bobcat Day is truly a one-of-a-kind event because students' lives are changing over the timespan of a few hours," Director of Admissions Dustin Noji said. "Some students come with their families, not knowing really what to expect. But as soon as they set foot on campus, they are enveloped with an unmatchable experience that convinces them to say 'yes' to UC Merced."
Bobcat Day provides an opportunity for community members to explore the campus, too. Merced Mayor Matthew Serratto was in attendance to greet families and show support for the university and its students.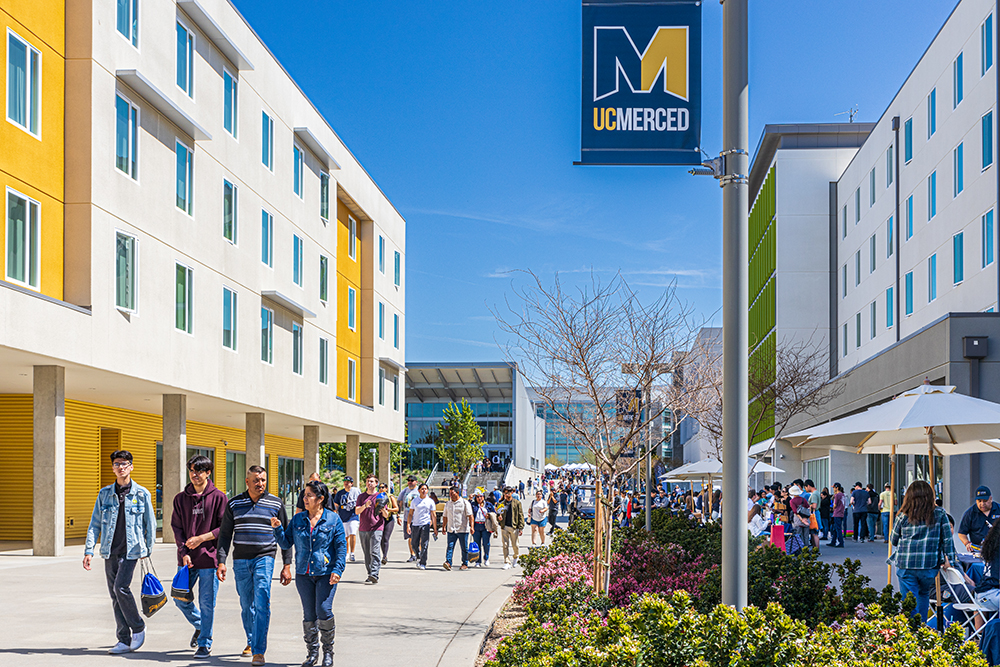 California was well-represented at the open house. Families arrived from southern, central and northern portions of the state.
Among the future Bobcats was Analee Muñoz Luna of Orosi, who was glad she attended.
"Bobcat Day was a great way to get to know the campus better and become more comfortable with the environment and different opportunities," she said. "The event was helpful because I was able to connect with people from the campus to answer questions I had. It made me feel more comfortable asking questions in person."
Adam Rodriguez of Tracy thought the open house event was "very informational and quite accessible."
"I was able obtain the necessary details about campus life and was able to see everything I wanted to just in the length of Bobcat Day," he said. "I am excited to begin my life at UC Merced, especially moving into campus dorms and meeting my roommate."
Anna Dickinson of Manteca was thankful she found out about the event beforehand. She and her parents were able to take their time to talk with several professors and staff members.
"Bobcat Day was a great experience because I learned much more about the university," she said. "I am greatly looking forward to attending UC Merced in the fall to study environmental engineering."
The students making up the first cohort of the new Bachelor's of Science-to-M.D. pathway were invited to a special reception to learn more about the medical education program. The new partnership between UC Merced, UCSF Fresno and UCSF will educate and support the Valley's future physicians in serving the needs of the local communities.
Each first-year student looking to start their journey at UC Merced in the fall must submit their SIR by May 1. The deadline for transfer students is June 1.
More information for admitted students, including next steps and frequently asked questions, is available online.
The UC Merced Newsroom has put together a slideshow with dozens of photos from the event. Click to scroll through the images. A recap video is also available.