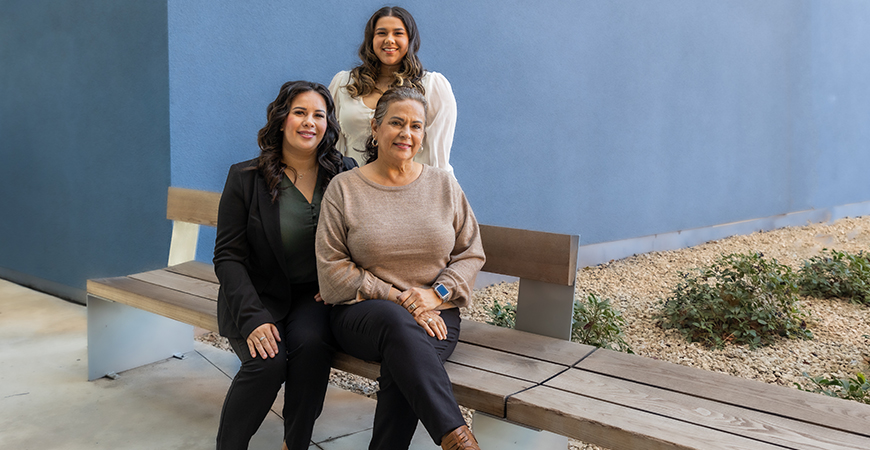 "A family that works together, stays together" is not usually how the saying goes. But for one family at UC Merced, it describes their relationship perfectly.
Diana Maravilla has worked at the campus since 2011, her daughter Sharee Sok joined in 2015, and her granddaughter Korynn Maravilla recently graduated from UC Merced and is now a staff member as well, making three generations currently on UC Merced's staff.
But all good things must come to an end. Diana is set to retire in early January.
Diana first joined the H. Rajender Reddy Health Center as a front office supervisor and later became an operations supervisor. She has seen firsthand how UC Merced has developed not only because she's been a part of the campus community for more than 10 years, but because she's lived in the area since the 1960s.
"In the early days of the campus, I would walk up Scholars Lane from the main parking lot, and it felt like entering Emerald City from 'The Wizard of Oz,'" she said. "Now, when I drive away, you can really see the beautiful glow of the growing campus."
Diana said she's proud to be part of three generations who are working at the campus. She added that the unwavering support they've given each other has been vital.
"It's been a family affair," she said. "We would support each other in things that needed to be worked on, we would share what we had learned about the campus, staff members or departments. We were there for one another."
Sharee got her start at UC Merced in Transportation and Parking Services (TAPS) before branching out to the School of Natural Sciences, where she works as a graduate programs assistant.
"It's a blessing to work at such an amazing university and to work with my mom and daughter on campus," she said. "We are a lucky few, for not many individuals get to say they work with their mom and daughter at the same organization."
Sharee said she loves being a part of the university's mission of student success and research.
"As a staff member, it's inspiring to know we provide support that is an integral part of the next cure for a disease or the next engineering design that will resolve a worldwide issue," she said. "I truly enjoy supporting the faculty, students and staff of UC Merced."
While it's bittersweet to see her mother retire, Sharee said she's excited for her and also looking forward to collaborating with her daughter and the lunch date memories she will continue with Korynn.
"I am proud of my mom for all that she has done in her time here at UC Merced, for students and the health center," Sharee said. "If it weren't for her leading the way to UC Merced, I probably wouldn't be working here for the university. She is the one who started our paths with the UC. I am going to miss my mom being that resource on campus since the first day I started and especially our lunch dates. She was a tremendous help when I first started and now, I get to be that resource for Korynn."
During her time as a student, Korynn was part of the Gateway Scholarship Program and first to graduate from the program cohort. She played on the UC Merced softball team and is now the coach.
Korynn completed her undergraduate courses in three years and graduated over the summer with a bachelor's degree in sociology. She was among the nearly 450 Bobcats who participated in the recent fall commencement.
Earlier this year, she accepted an academic coordinator position with Graduate Division.
Now that Diana is about to retire, Korynn takes great comfort in knowing that she has a great relationship with her mother and grandmother. She said no matter what they've faced during the day, they've made it a point to get together for lunch.
"Lunch has always been a big thing for us, even when I was a student," she said. "That's one of the big memories of us all being here. That's what brought us together even more."
During her last days as a staff member, Diana has been taking inventory of her accomplishments. Since she won't be on campus anymore, Diana hopes her daughter and granddaughter will continue working hard and lifting each other up.
Diana, Sharee and Korynn have this message for anyone who may want to join the university:
"If you have been thinking about applying to UC Merced to pursue your education or a career, know it is in your reach. Nothing is impossible; just be persistent. UC Merced is its own world of opportunities, right here in the heart of the Valley."