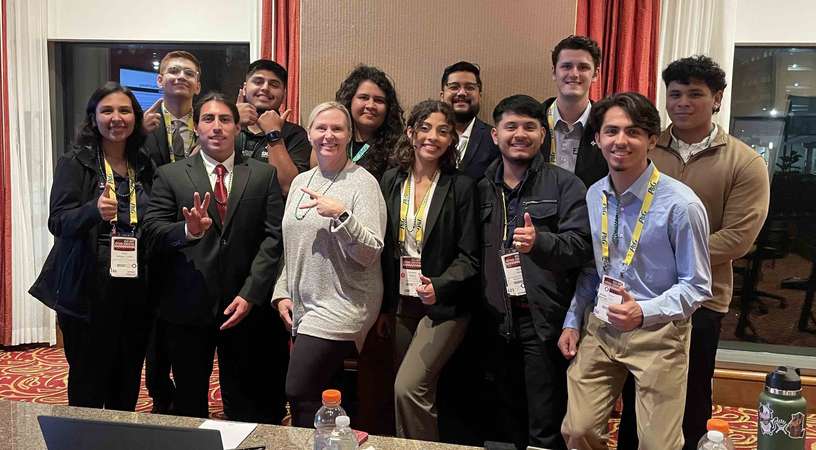 UC Merced students came away from a national engineering conference with some big wins — including a first-place finish in a famous design competition and job offers from some of the most prestigious companies in the United States.
UC Merced sent 34 students to the Society of Hispanic Professional Engineers (SHPE) national conference in Charlotte, N.C. SHPE is the largest association in the country for Latinos in STEM, mainly focusing on the engineering field but also including natural sciences and math, said Assistant Teaching Professor Alejandro Gutiérrez.
Leo Lujan, a sophomore majoring in mechanical engineering, participated in the Extreme Engineering Challenge, a design competition hosted during the convention every year in which selected students are given 24 hours to design, develop and promote the solution to an engineering problem. Lujan emerged the winner from among engineering students throughout the country. It wasn't his only win of the conference: Lujan received a full-time job offer from Lockheed Martin, Gutiérrez said.
"SHPE has changed my life completely," said Lujan, who only joined the organization a few months ago. "I have learned so much through the familia; without them none of this would have been possible."
Lujan said he was able to network with "amazing" people at the conference, and that his win wasn't for him alone.
"This victory was for UC Merced," he said. "If they didn't know about us before, now they do. Anything is possible in the life when you put hard work, imagination and heart into the vision."
Lujan was not the only UC Merced student to come away with more than just a valuable experience.
Senior Valeria Cortez earned a fulltime job offer, as well.
"SHPEnNationals was a huge success for me as it made me grow professionally and socially," she said. "From getting interviews, expanding my connections and getting an offer with L3HarrisT."
And senior Jessica Romero participated in interviews with a number of companies, including
John Deere, Caterpillar and GE.
"This year's SHPE National Convention was definitely one to remember," Romero said, "from having the opportunity to serve as our region's student representative to being able to interview with my top companies.
"I am truly grateful to have experienced my last conference with the group because they truly deserve all the opportunities coming their way and seeing them all succeed makes me feel like a proud mother because they are all truly familia to me."
School of Engineering Dean Rakesh Goel said he was gratified by the students' success.
"As not only a designated Hispanic Serving (HSI) Institution but one which has been created to serve the needs of the Central Valley, UC Merced is fulfilling a tremendous dream by providing such networking opportunities for our students," Goel said. "Employers with access to our students will also gain a diverse and uniquely qualified group of talent."