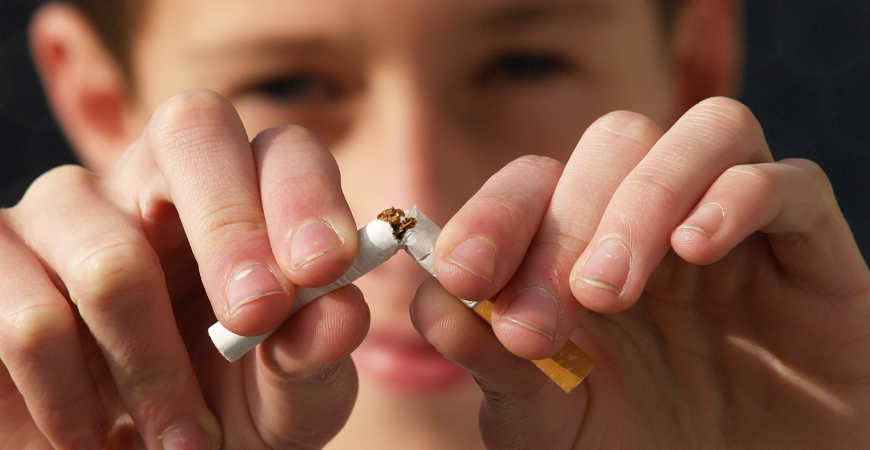 UC Merced's Nicotine and Cannabis Policy Center (NCPC) and California State University, Stanislaus, are partnering on a large project as part of California Endgame's goal to end tobacco use in the state by 2035.
The two universities have been awarded a $1.4 million Smoke and Vape Free Scholars Initiative Program Award collaborative grant from the Tobacco-Related Disease Research Program (TRDRP). The state agency program is aimed at training the next generation of tobacco control advocates in the Central Valley, with the goal of producing scientific tobacco control advocates through classrooms, research labs and fieldwork.
Each campus brings its own strengths, and the project is an example of multi-campus collaborations in the Valley, organizers said. Students from each campus will have the opportunity to enroll in courses to learn about the basic tenets of tobacco control research.
"UC Merced is proud to join with our Central Valley colleagues in advancing knowledge that will benefit the long-term health of people in the Valley and beyond," said UC Merced Chancellor Juan Sánchez Muñoz.
"Stanislaus State is excited to partner with UC Merced on this collaborative grant," said Stanislaus State President Ellen Junn. "This is a real opportunity for our campuses to band together and have a unified voice to advocate for better health in our region. By leveraging the strengths of our institutions, we will accomplish fantastic work within the Central Valley."
Stanislaus State students will also have opportunities to participate in cutting-edge research projects at UC Merced, ranging from research on the metabolic process to policies at the local and state level. Lastly, students will be assigned to collaborate with multiple county Local Lead Agencies (LLAs) to conduct tobacco control advocacy projects and make substantive contributions in their communities and gain hands-on experience.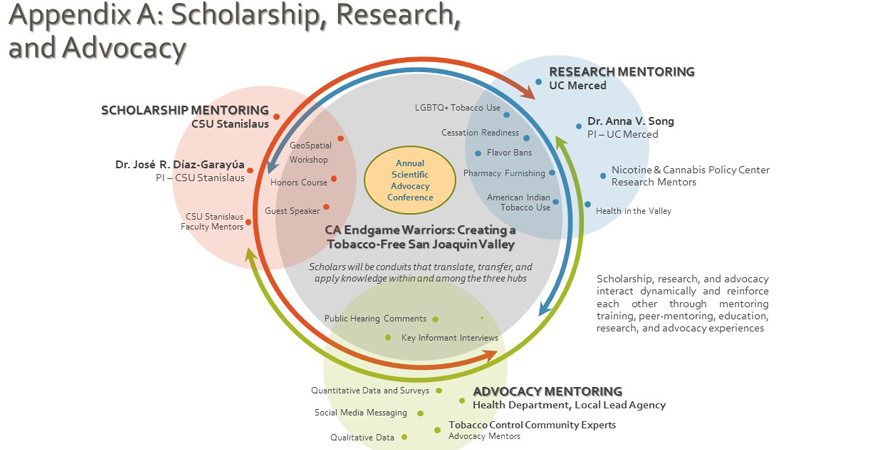 "Our goal has always been to build capacity in our communities," said health psychology Professor Anna Song, NCPC director. "Our efforts have traditionally been focused on building capacity through research and teaching, but what's exciting now is that we're going to build a bridge from the classroom to the lab and straight into our communities. This is a chance to empower communities by strengthening the pipeline into the community-health workforce.
"The Central Valley is critical to California's overall health strategy. We are part of California, and so we can't reach a tobacco Endgame if our communities are still using tobacco."
Song partnered with Stanislaus State Professor José Díaz-Garayúa, co-director of the Center for Applied Spatial Analysis (CASA) and professor of human geography and geographic information systems (GIS), in writing the grant proposal. Díaz-Garayúa will work with his team to draw from this pool of resources to recruit students and provide workshops.
"This project will provide one more tool to continue reducing tobacco consumption," he said. "This project will provide the tools in which we can funnel students into the right areas, including additional research opportunities and graduate school."
Joining Díaz-Garayúa's team is Stanislaus State sociology Professor Meggan Jordan. Jordan has a decade of experience in coordinating multi-disciplinary health interventions. She will act as the program's recruitment and educational coordinator, and will mentor scholars and provide guidance and advice as they progress through the program.
"I am thrilled to be working with such a vibrant team on a central goal to nurture the next generation of tobacco control scholars," said Jordan.
The Endgame goal in 2035 does not mean the work will end then. Song explained that scholars from this pipeline will continue to be trained to think about the community.
"We are producing amazing scientist advocates," she said. "They're not just going to think; they're going to do. They're going to go and change our world."
While students will reap many benefits from this project, instructors also have been immersed in the experience over the past year and will continue to do so in tandem with the future advocates.
"I think we are the right group of people for this undertaking," said Díaz-Garayúa. "We are here to create but also to learn. It's important to establish how we can learn more from this process and how we can help our students to learn and be innovators — we are setting the example for our students."
The funding from this award started in March and is slated to last through 2025, but organizers are already applying for other grants. TRDRP has awarded similar grants in the past, but this is the first time a partnership between a public teaching institution and a research university has been required to obtain the award.
TRDRP is administered by the Research Grants Program Office (RGPO) at the UC Office of the President and is solely funded through the California State tobacco tax and individual contributions.
NCPC is part of the Health Sciences Research Institute (HSRI) at UC Merced. More information about the center's research and resources is available online.