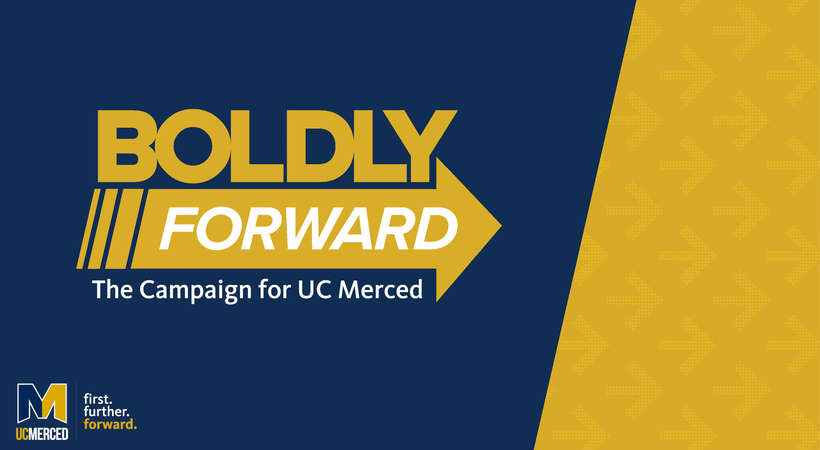 ---
Editor's note: Since the launch of the "Boldy Forward" campaign in September, UC Merced has doubled the campaign's fundraising goal from $100 million to $200 million, thanks in great part to the prolific support of campus donors including the recent donation made by Fred and Mitzie Ruiz. 
The University of California, Merced, announced today (Sept. 14) the launch of the public phase of its first comprehensive fundraising campaign. The institution has set an ambitious goal of raising $100 million by 2030.
"Boldly Forward: The Campaign for UC Merced" will enhance the university's ability to meet the greatest needs and find solutions for pressing issues facing the Central Valley and beyond. The initiative will also help the campus prepare for increased student enrollment, which is expected to reach 15,000 by the end of the decade.
"In our short history, UC Merced has already accomplished so much in our research, teaching and public-service mission," Chancellor Juan Sánchez Muñoz said. "The Boldly Forward campaign will allow us to build on our important foundational work to continue evolving as a 21st century research institution."
Funds raised through Boldly Forward will support three pillars: Leading Through Discovery, Cultivating Healthy Societies and Empowering Student Excellence.
Campaign Chair Denise Watkins, a trustee and immediate past chair of the UC Merced Foundation Board of Trustees, is a staunch advocate for public education access throughout California.
"As a longtime and avid supporter of UC Merced, I am honored to be a part of the next stage of the university's growth and development," Watkins said. "I look forward to working with Chancellor Muñoz and the entire campus community on Boldly Forward as we garner the philanthropic support that will ensure UC Merced's success well into the future."
From July 1, 2019, through June 30 of this year, UC Merced has raised more than $54 million — the most successful three-year fundraising period in the university's history — including a transformational gift from philanthropist and author MacKenzie Scott and her husband, Dan Jewett. Boldly Forward will enhance the unprecedented momentum of the campus's recent fundraising records.
"This is an incredibly exciting time for UC Merced," Vice Chancellor and Chief External Relations Officer E. Edward Klotzbier said. "Getting this campaign off the ground has been a team effort, and we wouldn't be where we are today without the terrific work of so many internal and external campus partners, including our UC Merced Foundation trustees."
An invitation-only donor kickoff event will be held at UC Merced on Oct. 22 to celebrate the campaign's launch.