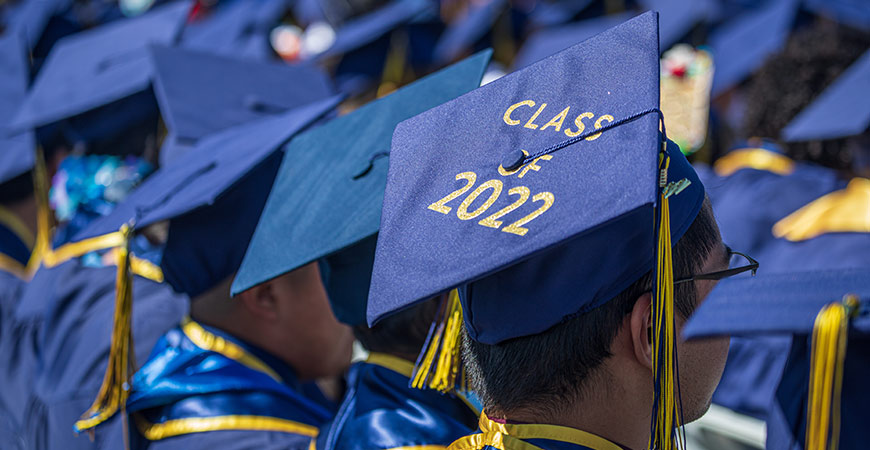 A wave of blue and gold covered the recreation fields at UC Merced as more than 2,400 students walked the stage during the first in-person spring commencement in three years.
The three-day ceremony weekend started by welcoming back 1,000 alumni from the classes of 2020 and 2021 — who were previously honored with a virtual ceremony because of COVID-19.
On Saturday and Sunday, another 1,460 graduates from the School of Social Sciences, Humanities and Arts (SSHA) and the schools of Engineering and Natural Sciences had the opportunity to celebrate their accomplishments in front of their families and friends as they were bestowed their degrees, including doctoral, master's and bachelor's.
The ceremonies featured keynote speakers Fred Ruiz, chairman emeritus of the UC Board of Regents and co-founder of Ruiz Foods, and immediate past UC Regents Chair Cecilia Estolano, the CEO and founder of Estolano Advisors.
Student speakers Cathryn Flores, who majored in English and minored in writing, and Maya Morris, who majored in chemical sciences with a chemistry emphasis, both shared messages of unity and perseverance as they stood center stage congratulating their classmates on their successes after navigating life and remote learning during the pandemic.
"UC Merced students have the opportunity to create their own legacies for the next generations of college students. We're innovators, artists, scientists, social scientists and the ambitious leaders of tomorrow," Flores said.
"This is a place where anyone, from any background, can go and feel welcomed and accepted. The atmosphere here is one of diversity, equity and inclusion. Instead of competing, people here lift each other up," Morris said.
A pre-recording of the spring commencement ceremonies can be seen here.

Public Information Officer
Office: (209) 746-5137