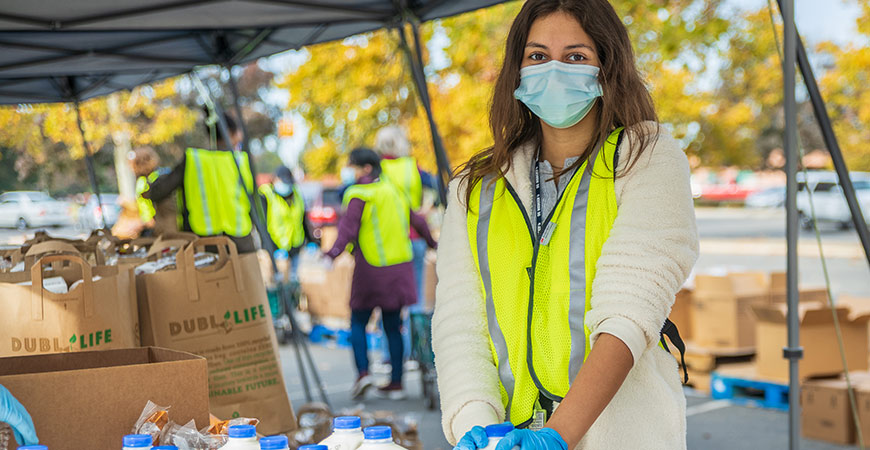 For the first time, through March, UC Merced's Student Alumni Association (SAA) will partner with the Office of Alumni Relations to host a month-long initiative dedicated to building a culture of philanthropy on campus.
"Philanthropy is so much more than making large monetary gifts. We want our students to learn about and engage in the act of giving, including board service, community engagement and activities that help them give back in meaningful ways," Executive Director of Annual and Special Giving Amber Flores said. "We want to demonstrate how they can make an immediate impact in this community and the ones they hail from by simply giving their time, talent and treasure."
Student Philanthropy Month empowers students to raise funds and engage in community service activities that promote the Bobcat community's charitable work and make a difference.
Each week, students can take part in different events that will help them get involved in philanthropy. To start the month-long celebration, students are invited to participate in a Dinner for Champvocates, highlighting alumni in the nonprofit world, and featuring keynote speaker President and Chief Executive Officer of the Stanislaus Community Foundation Marian Kaanon.
"Philanthropy is defined as love of humanity, not the love of money," Kaanon said. "But we often call wealthy individuals philanthropists if they provide some financial support to nonprofits. But the love of humanity is about so much more than financial giving. It's a generosity of spirit, an extension of one's highest aspirations, an orientation to our problems that starts from a place of abundance, not scarcity. Given this truer definition, all of us, including UC Merced students, can choose to be philanthropists."
The dinner will be followed by other weekly community engagement opportunities that will showcase ways individuals can donate their time, skills and experience to create a better world:
 For more information on Student Philanthropy Month, visit UC Merced's engagement page.

Public Information Officer
Office: (209) 746-5137