Yosemite National Park is once again serving as the backdrop for a loose adaptation of one of Shakespeare's comedies. Shakespeare in Yosemite's "Love's Labor's Lost" will finally hit the stage at the Curry Village Amphitheater later this month. The show was initially planned for 2020 but was postponed due to the coronavirus pandemic.
English professors Katie Brokaw and Paul Prescott worked with several of their students to create the production, which is a tribute to the youth movements of the late 1960s that led to the first Earth Day, the Environmental Protection Agency and important environmental legislation. It is also a celebration of music of that era and its important social messages.
"We hope people make connections between the youth movements of 50-plus years ago and today's climate and environmental justice activists. We need intergenerational cooperation to address the challenges facing our precious planet," said Brokaw.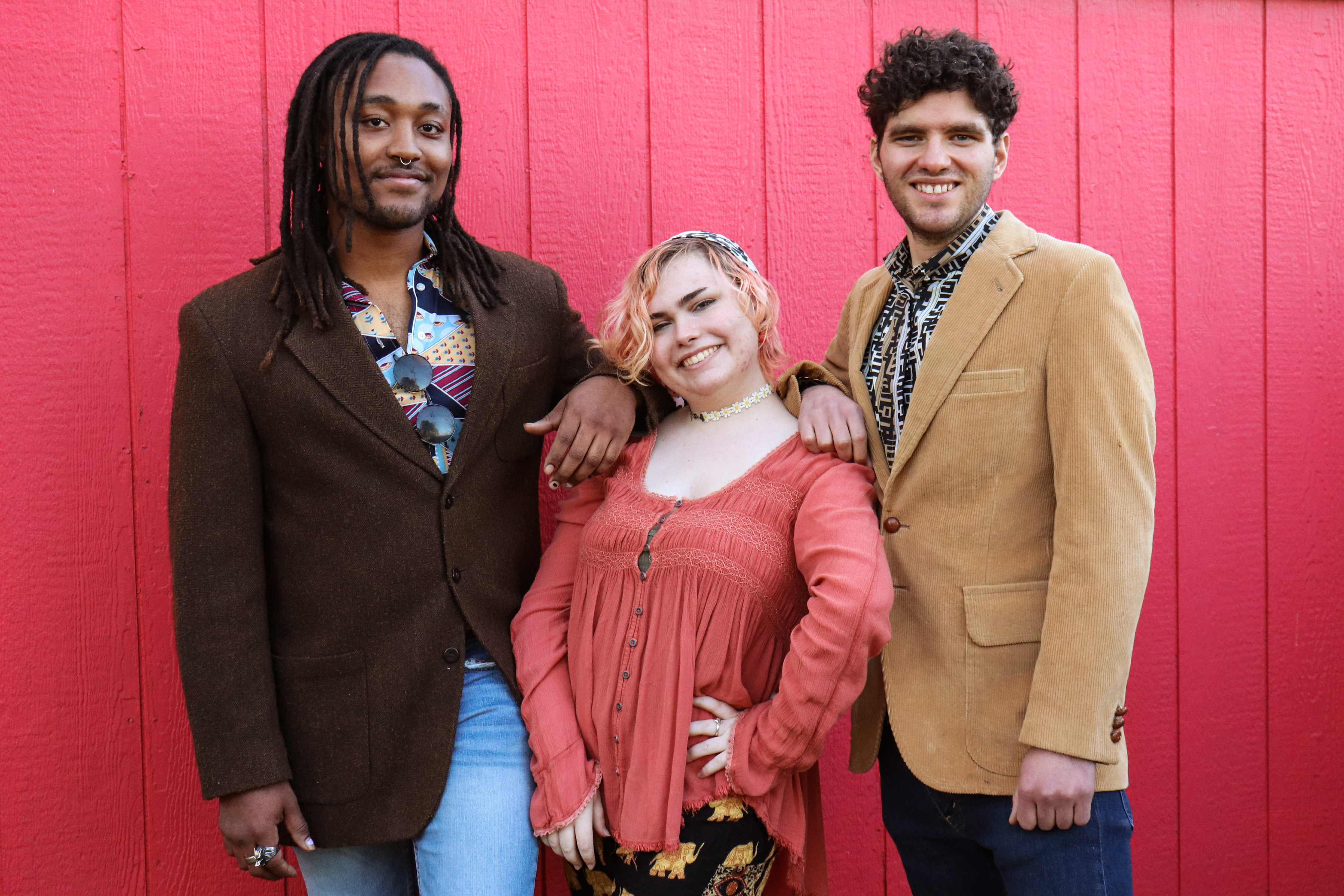 The original "Love's Labour's Lost" tells the tale of the King of Navarre and his three companions as they attempt to swear off the company of women for three years to focus on study and fasting. Their infatuation with the Princess of France and her ladies makes them break their oath. In the adaptation, with its title Americanized to "Love's Labor's Lost," two bands — one all-female and the other all-male — are on a Yosemite songwriting retreat in 1969 and fall in love with each other, and with a world that urgently needs protection.
Several UC Merced students make up the cast, including Sofia Andom, who plays the role of Rosaline. She said this production is extra special given that her time at the university is coming to an end.
"I am so excited that we are able to perform live theater again," she said. "As this is my last semester at UC Merced, this is a bittersweet moment for me. I am so blessed to be a part of a major movement here at UC Merced, in using art for environmental advocacy and giving free access to quality Shakespeare theatre."
Cathryn Flores was chosen to play the role of Katharine. Flores, who is working on a music career, said she is anxious to share her work related to the show.
"I'm grateful to co-directors Katie and Paul for allowing this cast to have creative freedom with the show's musical choices," she said. "I'm very excited to debut an original love song I wrote specifically to be performed in Yosemite National Park."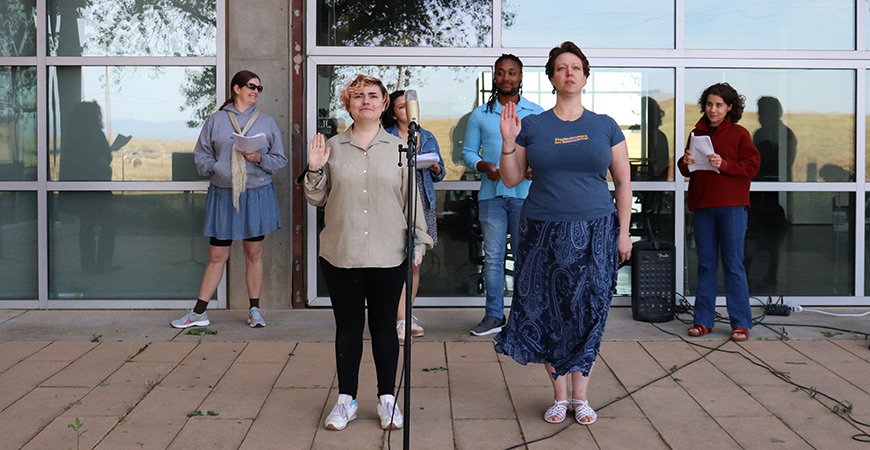 Putting on a production like this one is no easy feat, but students working behind the scenes said it's worth it. Photographer and poster designer Darah Carrillo Vargas hopes the public goes to the park and supports the show.
"Working with Katie, Paul and my English department peers has been so much fun. I couldn't work on my creative endeavors much during the pandemic, so I was really grateful that Katie believed in me to take on this position this semester," she said. "As a local student, seeing all these amazing projects is really inspiring, and I'm glad to see the UC Merced family bringing these experiences to the community."
Mahealani LaRosa, a lead designer, is anxious to show off the crew's hard work and said there are lots of fun things to watch out for during the show.
"As one of the lead designers, I've worked with my team to create some fantastic animal masks that depict species native to California, as well as worked on other super cool crafts for the show using recycled and sustainable materials," she said. "It's also been fun working on costumes for the cast and trying to find colorful and groovy, but accurate, '70s clothes. I am very excited for the final production, and I can't wait to see it all come together on stage!"
Even though this show's cast is a bit smaller than in past years, the team has been able to push through to get to this point. UC Merced alumni and park staff have also been assets to the show.
People interested in watching "Love's Labor's Lost" at the Curry Village Amphitheater can do so on the following schedule:
Friday, April 22 (Earth Day): 5:30 p.m.

Saturday, April 23 (Shakespeare's birthday): 2 p.m. and 5:30 p.m.

Sunday, April 24: noon
All shows are free and open to the public. No tickets are required.
Visitors looking to leave the driving to someone else can hop on a YARTS bus to the park. Information about fares and schedules is available on the website.
If a trip to Yosemite is not possible, there is no need to worry. The team is also making a film of the production, which will be released on Shakespeare in Yosemite's YouTube channel in late spring.
More information about "Love's Labor's Lost" and other Shakespeare in Yosemite productions can be found online.